Rankings:
Minnesota
Boston College
Wisconsin
Boston University
Harvard
Clarkson
North Dakota
Cornell
Minnesota Duluth
Quinnipiac
The Round-Up
1. Minnesota Golden Gophers
The Gophers swept Wisconsin on the road a couple of weeks ago to take back their No. 1 ranking in both national polls, and then earned a sweep over North Dakota to keep the momentum going. Minnesota's most recent win, a 5-0 decision over UND, was by far its most convincing performance of the year; the Gophers outshot North Dakota by a 51-7 margin. Though the performance against UND was remarkable, Minnesota has not been as domimant as it was over the past couple of years. They've been outplayed multiple times, by Minnesota Duluth, Wisconsin, and North Dakota, though they have shown the same ability to get the job done, as the Gophers found ways to tie or win all three of those games. Hannah Brandt and Dani Cameranesi are having little trouble getting things going offensively, and Amanda Leveille has been sound in goal. Minnesota is still the clear No. 1 team to me, but there isn't much distance between the Gophers and the next-best.
2. Boston College Eagles
In their first big test of the year, the Eagles' offense exploded against Cornell with a pair of 6-2 wins. Coming into the year, there were some concerns about strength on defense and consistency in goal. So far Katie Burt is undefeated with a 5-0-1 record, and BC limited the Big Red to just 21 and 24 shots on goal in each game despite some big names up front for Cornell. The Eagles' offense is playing extremely well and looks capable of taking down anyone in the country. Their forwards are a confident and highly-skilled bunch, which is a dangerous combination because they're not afraid to try things to make a play and they'll most likely be very successful when they do, as we've seen so far this year. At this point, Boston College will just be looking to stick to current form and maintain consistency in every game.
3. Wisconsin Badgers
The Badgers were swept by Minnesota at home two weeks ago, with a 4-1 loss and then a 2-1 overtime loss, so they have yet to break out of whatever funk they've got going on against the Gophers. But there were some extremely encouraging signs from that series, despite the results. Wisconsin was truly competitive in that series and, in the overtime loss, outplayed Minnesota for the first time in a while. The Badgers then traveled to Bemidji this weekend and picked up a 2-1 win and a 4-3 win against the Beavers, who despite four losses in a row are still looking very dangerous thanks to some quality goaltending. Wisconsin's offense has been very balanced, with Brittany Ammerman, Annie Pankowski, and Karley Sylvester all leading the way, and I think we could see Sarah Nurse go on a tear soon with the way she's been playing.
4. Boston University Terriers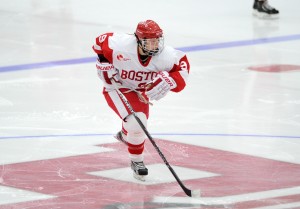 The Terriers looked dominant in a sweep over Clarkson on the road two weeks ago, defeating the Golden Knights by scores of 3-1 and 5-2. They jumped out to multi-goal leads in both games and for the most part didn't have an issue controlling play. Things were again going well for BU in a 3-0 win against Maine this past weekend, but the Black Bears earned the split with a 4-2 upset win the following day. The Terriers bounced back with a 3-2 win over Northeastern on Tuesday night. Sarah Lefort and Marie-Philip Poulin have led the way offensively, while Rebecca Russo, Rebecca Leslie, and Victoria Bach have also made an impact. Shannon Doyle's return on the blue line has been a welcome one, though I think Boston University would still like to get more out of its goaltending if it wants to compete among the nation's best.
6. Clarkson Golden Knights
Clarkson fell to 3-3-0 on the year after being swept by BU, but has since rebounded, sweeping Syracuse in a home-and-home this past week and defeating St. Lawrence on Tuesday night. The offense, which only really looked good in spurts against the Terriers, has picked up; the Golden Knights exploded for nine goals against the Orange on Friday night and they've totaled 18 goals in those last three games. Cayley Mercer, Shannon MacAulay, and Geneviève Bannon are all in the midst of break-out years; Mercer is second in the country in scoring while Bannon and MacAulay are tied for third. Freshman defenseman Savannah Harmon has been a very nice addition, putting up two goals and six points so far to match the production of teammate Erin Ambrose.
7. University of North Dakota
After beating Minnesota Duluth in overtime two weeks ago, UND is now on a three-game losing streak after falling to the Bulldogs and then getting swept by Minnesota this past weekend. North Dakota had been fairly sound defensively going into the series against the Gophers, and played well the first night despite a 5-2 loss, but the second loss highlighted almost every concern for the team. UND lost 5-0 and was thoroughly dominanted, mustering up just seven shots on goal compared to Minnesota's 51. North Dakota couldn't get anything going, either offensively or just in transition, and had no answer for the Gophers' offensive pressure. Things aren't going to get any easier with a series against Wisconsin coming up, and UND absolutely needs to be better if it hopes to slow down the Badgers.
8. Cornell Big Red
Cornell kicked off its season this weekend with a non-conference series at Boston College, and it's safe to say that the Big Red did not get the results they were gunning for. They suffered a pair of 6-2 losses to the Eagles and just had no answer for the BC offense all weekend. Cornell actually held a 2-1 lead over the Eagles in the first game, but couldn't hang on to it as Boston College scored the game's next five goals. Despite having two dominant players up front in Brianne Jenner and Jillian Saulnier, the Big Red were outshot by nearly a two-to-one margin. They spent a lot of time pinned in their own zone, and goaltending is a big question mark as of right now. The Eagles are a very strong team, but Cornell has a lot of work to do if it wants to become a serious contender this year.
9. Minnesota Duluth Bulldogs
After playing Minnesota to a tie, the Bulldogs earned a split against North Dakota last week and then swept Lindenwood this past weekend with 3-1 and 6-2 victories. Minnesota Duluth did a good job of limiting UND's offense in that series, falling 2-1 in overtime and then earning a 1-0 shutout win the following afternoon. The Bulldogs let North Dakota back into the game late in the loss, giving up several quality chances in the third period and finding themselves pinned in. They did much better controlling the game on Saturday, though it was still hard for them to break down the UND defense. Their offense had no such problems with efficiency against the Lions, however.  Minnesota Duluth is now on a three-game winning streak, and there is potential for this group, even in the always-tough WCHA.
10. Quinnipiac Bobcats
The Bobcats remain undefeated this season after sweeping Maine two weeks ago and earning a 4-1 win over New Hampshire on Friday. Against the Black Bears, Quinnipiac gave up just 20 shots in the entire series while cruising to a 4-0 win and a 2-0 victory. Rookie forward Taylar Cianfarano has been an excellent addition so far; she's currently leading the team in goals with six and in game-winners with three. Chelsea Laden's 0.20 goals-against average, .982 save percentage, and four shutouts are tops in the country, while Cydney Roesler, Taryn Baumgardt, and Kristen Tamberg have been impressively efficient on the blue line. The Bobcats are second in the country in shots on goal differential with a +171. The real question for them, however, is consistency, which has been a recurring problem in the past. They'll get their first big test of the year this weekend when they face Cornell on Saturday.
Three Stars
1. Chelsea Laden, Senior, Goaltender, Quinnipiac: Laden's numbers so far this year, as stated above, speak for themselves.
2. Hannah Brandt, Junior, Forward, Minnesota: Brandt's five-point game (two goals, three assists) led the Gophers in their 5-0 win over North Dakota, and she now has nine goals and 18 points in eight games to lead the nation in scoring.
3. Shannon MacAulay, Junior, Forward, Clarkson: She's scored 11 points in the past three games to dominate offensively for the Golden Knights. Her four-point game in a 9-0 win against Syracuse led Clarkson, and a hat trick and another four-point game against St. Lawrence again set the tone for the Golden Knights.
Top Play
Just going to leave this Amanda Pelkey goal right here.
Gabriella Fundaro also covers the women's game over at her own website, At Even Strength.