With the NHL season three weeks old, most teams are starting to get a sense of how their rosters are shaping up and are down to making those final few decisions.
One of those decisions for some teams is the dreaded 9 game mark for junior aged players. As most know, when a player plays that 10th game the first year of the player's three-year entry-level contract gets burned, even if the player is sent back to junior at later point in the season.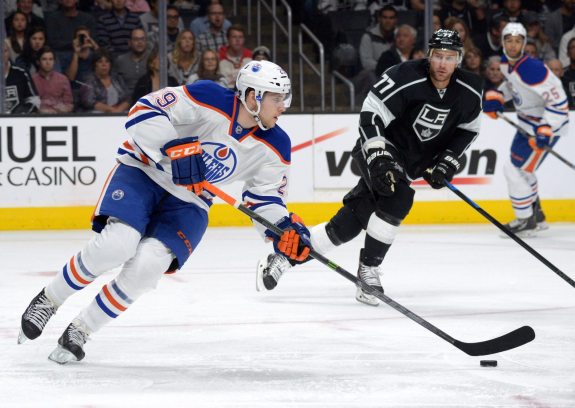 As TSN's Bob Mackenzie notes, teams are becoming less concerned about the 9 game mark, and are focusing more on the 39 game point in the season.
If a player plays in his 40th game of the season, it counts as an accrued year of service counting towards the seven years required to become an unrestricted free agent. Put more in terms us laymen can understand: if your favourite team's underage junior plays in 40 games this season, the clock starts ticking on his seven-year countdown to unrestricted free agency.
That doesn't mean the 9 game rule has been disregarded, however there is a growing trend of teenagers sticking with their NHL clubs, that has not been there in years past.
There have already been decisions made on some players after a few games of NHL experience. Edmonton recently sent defenseman Darnell Nurse back to Sault Ste. Marie of the OHL, Max Domi was returned to the London Knights of the OHL and Sonny Milano was also returned to the OHL and the Plymouth Whalers to name a few.
Here's a look at those teenagers still in the NHL, for now….
Sam Bennett
NHL: Calgary Flames
CHL: Kingston Frontenacs (OHL)
Bennett is technically still on the NHL roster but is injured and undergoing shoulder which will keep him out six months with recovery. Likely to be sent back after that point, but will be a decision made down the road.
Likelihood of being sent down: n/a
Andre Burakovsky
NHL: Washington Capitals
CHL: Erie Otters (OHL)
Burakovsky has been the Capitals second line centre so far this season, which is impressive in itself for a 19 year old rookie, and even more so considering he played wing in junior.
He has outplayed fellow prospect Evgeny Kuznetsov for that spot and has been productive with 7 points. He's not going anywhere at this point.
Likelihood of being sent down: Very slim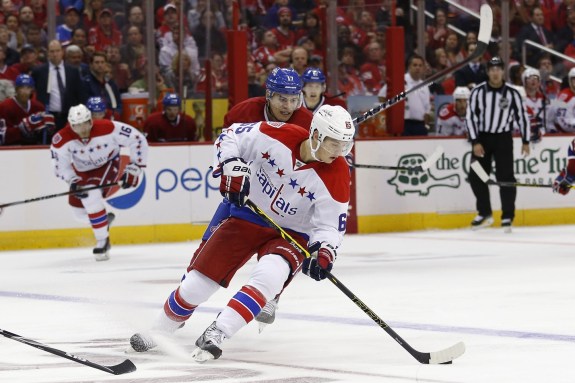 Leon Draisaitl
NHL: Edmonton Oilers
CHL: Prince Albert Raiders (WHL)
Draisaitl's case is one where what should happen and what will happen could conflict.
In a perfect world Draisaitl would get another year of junior to work on his skating and hone his two way game. However the Oilers are woefully thin at centre and Draisaitl has the size and offensive skill they need.
Unless GM Craig MacTavish pulls the trigger on a deal, Draisaitl will stay. He played his 9th game last night in Edmonton, and reports indicate he will suit up for #10 this week against Nashville.
Likelihood of being sent down: Very Slim
Can confirm Leon Draisaitl will play his tenth NHL game vs Preds Wednesday. Not going back to junior for now.

— Ryan Rishaug (@TSNRyanRishaug) October 28, 2014
Jonathan Drouin
NHL: Tampa Bay Lightning
CHL: Halifax Mooseheads (QMJHL)
Drouin missed the first few games of the season due to injury, but has found his place in the Lightning's top six upon his return. He has elite level vision and extremely gifted hands.
He has been among the forward leaders in ice time for Tampa Bay and on a team that has their sights set on winning the Eastern Conference, Drouin will be a key piece.
Likelihood of being sent down: None
Anthony Duclair
NHL: New York Rangers
CHL: Quebec Remparts (QMJHL)
A player that I initially thought would be sent down already, Duclair has continued to impress and scored his first goal last night.
He has progressed in each game and his speed and skill is NHL ready. The question is whether he will be able to handle the rigors physically and keep his level of play up to the point where he keeps himself in the top 9.
For a Rangers team that is a Cup contender in the East they will have to determine how big an asset potentially keeping his skill in the NHL is versus what is best for his development.
The Rangers no doubt had originally planned to have him play another year of junior, hopefully with a trip to the World Juniors to futher his development. Duclair has made that decision now very difficult for them.
Likelihood of being sent down: 50/50
Aaron Ekblad
NHL: Florida Panthers
CHL: Barrie Colts (OHL)
Eklbad was seen as NHL ready coming into the draft and he has done nothing to disappoint. He has shown poise and awareness that are far beyond his years.
He has already cemented himself in the Panthers top four and has been playing alongside Brian Campbell. Ekblad looks to be in the NHL to stay for a long time.
Likelihood of being sent down: None
Bo Horvat
NHL: Vancouver Canucks
CHL: London Knights (OHL)
Currently in Utica of the AHL on a conditioning stint, Horvat has yet to play an NHL game, which gives the Canucks some time to make their decision.
Horvat will have to impress to crack a Vancouver lineup that has played well to start the year, but certainly has the two way ability to do so.
Likelihood of being sent down: Not enough info
Curtis Lazar
NHL: Ottawa Senators
CHL: Edmonton Oil Kings (WHL)
Lazar has played well enough to warrant playing his nine games and past that point. An excellent two way player, Lazar appears to be as NHL ready as any prospect.
Barring any dreadful performances over the next couple of games, Lazar should stick for the season.
Likelihood of being sent down: Slim
TSN That's Hockey have slated #Sens Curtis Lazar as a "probable" to stay with the big club after his 9-game audition.

— Paül (@PaulGb_) October 27, 2014
Mirco Mueller
NHL: San Jose Sharks
CHL: Everett Silvertips (WHL)
Mueller has been a pleasant surprise through camp and into the season where he has suited up for 7 games with the Sharks so far.
The issue will be whether the Sharks feel he will be able to help them enough towards competing for the Stanley Cup that will warrant him staying.
He has been averaging 18:09 of ice time which puts him sixth amongst Sharks defensemen and his play alone has given the Sharks a tough decision. If he stays he will battle NHL veteran defensemen Jason Demers, Matt Irwin and Scott Hannan for playing time on the third pairing.
Mueller could be someone that gets evaluated at the 39 game mark.
Likelihood of being sent down: 50/50
Sam Reinhart
NHL: Buffalo Sabres
CHL: Kootenay Ice (WHL)
I for one thought Reinhart would play his first few NHL games and never look back. His hockey sense and skills are NHL ready, however it has become apparent that physically he just is not there.
He has played 8 games so far and primarily played on the fourth line. He has averaged only 10:41 of ice time in those games.
A return to junior appears to be in the cards for Reinhart in order for him to add some strength and muscle. He will also get a chance at redemption on home soil with Canada at the World Juniors and very likely as team captain.
Likelihood of being sent down: High
"He will sit tonight and play on the weekend. I expect he will be sent back to junior next week." Hoppe on Sam Reinhart #Sabres

— Jason Gregor (@JasonGregor) October 23, 2014
Nikita Zadorov
NHL: Buffalo Sabres
CHL: London Knights (OHL)
Zadorov's situation appears to be a little more sticky than his fellow prospects. He has played just one game and only 6:12 in that game. It's no secret the Sabres were not happy with the shape he came to camp in or his play so far.
They no doubt want him back in London, but Zadorov's agent has been making waves about threats of his client going to the KHL.
The rules are pretty clear that if the Sabres don't want him on their roster he is to go back to the OHL. That will likely happen, but not without multiple issues it seems.
Likelihood of being sent down: High
Carl covers the Edmonton Oilers for THW as well as providing additional prospect coverage. Follow him on twitter @carlTHW, connect on Facebook or contact at carl.maloney@hotmail.com for questions, comments or if you're interested in him writing for you.