Rankings:
Minnesota
Clarkson
North Dakota
Wisconsin
Cornell
Boston College
Quinnipiac
Harvard
Boston University
Robert Morris
The Round-Up
1. Minnesota Golden Gophers
The Gophers ended 2013 with two significant wins over Ohio State, beating the Buckeyes 9-2 on Saturday and 5-1 on Sunday. They were once again nothing short of dominant as they held Ohio State to 39 shots on goal over two games and scored 14 times themselves. As per usual, their dynamic offensive was on display; though Minnesota received contributions from a score of different players, Milica McMillen was an especially important factor. She tallied two goals and three assists on the weekend, and is now just six points away from tying last season's point total. She's stepped up in a big way production-wise for the Gophers and it has really helped them control the puck and push the pace of things offensively.
2. Clarkson Golden Knights
Clarkson earned a split with North Dakota, falling 2-1 on Friday but then winning by the same score on Saturday. Despite losing that first game, the Golden Knights did a good job of limiting UND's quality chances and keeping them to the outside. In the second game, they were able to jump out to a 2-0 lead thanks to a pair of goals from Jamie Lee Rattray, and though they definitely played more conservatively with the lead, Erica Howe was there to make all but one save. Clarkson did a great job on the penalty kill in that win, going a perfect 5-for-5. Overall it was a very even match-up and the Golden Knights were able to make it much more defensively-oriented, which played to their strengths in the win.
3. University of North Dakota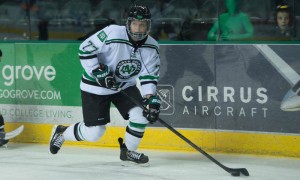 Things went pretty well from a UND perspective, too. It wasn't a wide-open game with grade-A chances left and right, but they showed that they can play that kind of style and still find ways to capitalize, despite also being without all-world forward Michelle Karvinen. What was most striking, to me, was how good their breakout was. Clarkson definitely made an effort to challenge North Dakota players with the puck in their own zone, but UND was for the most part successful in moving it out and getting through the neutral zone. They were by no means perfect or dominant, but they were able to establish themselves against a very good team.
4. Wisconsin Badgers
The Badgers had no issue handling Bemidji State, skating to a 7-2 win on Friday and a 5-0 win on Sunday. Goaltender Ann-Renée Desbiens was solid in Alex Rigsby's absence, and their offense really got going. Led by Madison Packer, Wisconsin's forwards were very productive, but defenseman Courtney Burke was also extremely efficient, tallying five assists in the series. Bemidji State is one of the WCHA's weaker teams, but even so, the Badgers have reason to be happy about their offensive output. They went 3-for-7 on the power play this weekend, and that continues to be a difference-maker for them.
6. Boston College Eagles
Boston College was able to tie Harvard 1-1 on Saturday, thanks to an Emily Pfalzer extra-attacker goal with 1:27 left in regulation. The Eagles threw 52 shots at the Crimson net, but could only get one past Emerance Maschmeyer. It was definitely a good offensive effort for them, but they didn't completely control things; Harvard recorded 36 shots on goal themselves. There were defensive lapses on both sides all game, but the goaltending kept it low-scoring. Boston College has strung together a few strong offensive showings now, though the goal for the new year has to be shoring things up defensively.
7. Quinnipiac Bobcats
The Bobcats defeated Union 4-2 on Friday, and then defeated Rensselaer 3-1 on Saturday. Shiann Darkangelo had another big weekend, scoring three goals and an assist in the two games. Nicole Brown and Morgan Fritz-Ward also got on the scoresheet multiple times. Though there have been times where they've struggled to find the back of the net, they've been able to work with what they have despite some limited options up front, and it's because of multiple players chipping in when needed. Quinnipiac doesn't have the depth to blow teams away every game, but scoring issues haven't defined them at all, either.
8. Harvard Crimson
Harvard was able to earn a 5-0 win over a struggling New Hampshire squad on Friday before tying Boston College 1-1 on Saturday. Hillary Crowe, Miye D'Oench, and Dylanne Crugnale were all productive once again. D'Oench in particular has stepped up as a true leader for the team offensively. She's been able to create things for herself and her teammates and has consistently been a threat for opposing defenses. Maschmeyer was fantastic in net against the Eagles, making 51 saves, but the Crimson have really been leaning heavily on her this year, and they need to improve in negating opportunities and taking care of the puck in the defensive zone.
9. Boston University
The Terriers had a great weekend, sweeping visiting Minnesota-Duluth with a 6-5 win and a 4-2 win. They had a difficult time handling the Bulldogs' offense; they were outshot by a pretty wide margin in both games, 40-26 on Friday and 35-21 on Saturday. Boston University definitely deserves credit, however, for coming away with the sweep. They were beat defensively and didn't win many battles in that regard, but the Terriers' offense did come through, as well as their goaltending. There's plenty for BU to work on, but I think sweeping a big non-conference match-up provides them with a good confidence boost.
10. Robert Morris Colonials
Robert Morris swept CHA opponent RIT after a 2-1 victory on Friday and a 4-2 victory on Saturday. The Colonials just continue to roll. Their offense was more than serviceable this weekend, as they put a respectable 32 shots in the first game and then racked up 47 in the second. Rookie goaltendier Jessica Dodds still has yet to lose, and top players like Rebecca Vint, Brittany Howard, and Thea Imbrogno were able to lead Robert Morris to another couple of wins. Though they've certainly got good players, there's not a whole bunch of star power throughout their line-up. Instead, they're winning with smart and determined team play in all three zones.
In the News
This week's headlines from around the women's hockey world
Three Stars of the Week
1. Phoebe Staenz, Freshman, Forward, Yale: She tallied four goals in the Bulldogs' game against Providence in a pretty great rookie performance.
2. Madison Packer, Senior, Forward, Wisconsin: She scored a hat trick and four goals and six points total in the Badgers' series against Bemidji State.
3. Rachael Bona, Junior, Forward, Minnesota: She also netted a hat trick for the Gophers and added three assists for a total of six points in the series.
Play of the Week
This pretty decent shot from Quinnipiac's Emma Woods.
Gabriella is now in her third season of covering NCAA and international women's hockey for The Hockey Writers. She is the founding editor of At Even Strength, a website dedicated to providing full-time coverage and analysis of women's hockey. She is currently working towards a degree in Communication at the University of North Dakota, and is also interning with UND Athletic Media Relations. She can be reached on Twitter (@gabfun) or via e-mail (gfundaro10 [at] gmail [dot] com).