Rankings:
Minnesota
Clarkson
Wisconsin
North Dakota
Boston College
Cornell
Harvard
Robert Morris
Quinnipiac
Boston University
The Round-Up
1. Minnesota Golden Gophers
The Gophers swept St. Cloud State with a 3-0 win on Friday night and a 3-1 win on Saturday night to remain in first place in the WCHA. Minnesota is currently one point ahead of Wisconsin in the standings with a game in hand. Although they tied Ohio State a couple of weeks ago, I think at this point the Gophers have done enough to separate themselves from the pack. They once again look like they're a clear step ahead of every other team, and a big reason for that is their constant offensive pressure. Minnesota always seems to be in attack mode; the shot totals by period this weekend were 18-3, 12-2, 17-10, 17-5, 15-7, and 15-6, all in favor of the Gophers.
2. Clarkson Golden Knights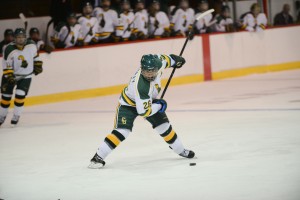 Clarkson defeated Colgate 5-2 on Friday night, and then beat Cornell 3-1 on Saturday. The Golden Knights have only lost four games all year, all to teams who are under consideration-Mercyhurst, Cornell, Harvard, and North Dakota. They've got the nation's leading scorer in Jamie Lee Rattray, a top-three goaltender in Erica Howe, the country's second-best offense, and its fourth-best defense. They dominated the Raiders, and then stifled the Big Red. Clarkson's not an explosive team, but they're extremely well-rounded, and showed in that game against Cornell that they have the tools to handle an offensively-adept opponent.
3. Wisconsin Badgers
The Badgers earned a big sweep over conference rival Minnesota-Duluth with a 3-1 win on Friday and a 2-0 win on Saturday. On Friday, they took a 2-0 lead into the first intermission and then completely controlled play in the second period. In the second tilt, Wisconsin poured it on in the first period, spending a good chunk of the period on the power play and outshooting the Bulldogs 19-5. The Badgers did a good job of taking advantage of some sloppy play by UMD in those periods by pressuring them and getting plenty of shots on net.
4. University of North Dakota
North Dakota tied Bemidji State 3-3 on Friday night but earned the 1-0 win in the shootout before beating the Beavers 2-1 on Saturday. Bemidji State, always a pesky opponent, made it difficult for UND to generate chances at times, but North Dakota eventually found a way to get things going in transition in both games. Some breakdowns defensively led to the Beavers tying up the game on Friday and taking a 1-0 lead the next afternoon. I think UND's probably a bit disappointed that they couldn't come away with three points in that first game, but they settled down the next night and capitalized when they needed to in order to come back and win.
5. Boston College Eagles
The Eagles swept New Hampshire with a 5-3 win on Saturday and a 3-2 win by Sunday. It wasn't the best series on BC's part, but they still found a way to win both games. Boston College jumped out to a 3-0 lead in the first tilt, and Corinne Boyles then made 19 of 20 saves in the second period to keep the Eagles ahead. The Wildcats actually outshot Boston College in both games, and put up an especially good fight on Sunday. They outshot the Eagles by 10 and had 1-0 and 2-1 leads, but couldn't hold on to either. Boston College is still having trouble defensively, which is not the best sign as we get closer and closer to the postseason, but they're now 7-0-2 since losing to Cornell on Nov. 29.
6. Cornell Big Red
Cornell tied St. Lawrence 1-1 on Friday, then fell to Clarkson 3-1 on Saturday afternoon. The Big Red just couldn't solve Saints goaltender Carmen MacDonald despite firing 52 shots on goal, including 23 in the second period alone. They were able to tie it up late in the third, though, despite clearly being frustrated by MacDonald for the majority of the game. Cornell had a much tougher time against the Golden Knights the next day. They couldn't get a lot going through the neutral zone and even when they could, didn't sustain too much offense. Clarkson's solid defense seemed to stump the Big Red's attack, and Cornell doesn't play the kind of style that benefits them in a defensive battle.
7. Harvard Crimson
The Crimson picked up two victories this weekend after beating Union 2-0 and Rensselaer 3-1. The Harvard defense did a good job of stumping the Dutchwomen on Friday, but they had a tougher time against RPI. The Engineers actually outshot the Crimson 31-21, and really battled hard in the third period, but they could only squeeze one past Emerance Maschmeyer. Hillary Crowe also had a nice game for Harvard, scoring two goals to lead her team to the win. The Crimson haven't been particularly dominant this season, but they're doing enough little things well and finding ways to win.
8. Robert Morris Colonials
Robert Morris earned a split with CHA opponent Mercyhurst, defeating them 3-1 on Friday but falling 5-3 on Saturday. The Colonials were powered by a two-goal game from Mackenzie Johnston and a fantastic effort in the second period in the victory. The next day's tilt proved to be an interesting one, with each team having 10 power play opportunities. Only two of the eight goals scored that game were even-strength goals. The Lakers smothered Robert Morris in the first period, going up 2-0 and outshooting them 17-0. Though the Colonials would get a couple of goals back, they were playing catch-up all game as Mercyhurst kept widening its lead.
10. Boston University Terriers
The Terriers were swept by Vermont on the road this weekend, falling 4-2 on Friday and 5-1 on Saturday. It's pretty safe to say that BU is in a slump. Even after a good effort in the third period on Saturday, the Catamounts still outplayed them for most of the series. They just didn't respond well enough to the first loss to at least earn the split. The Terriers' top players missed on some chances, and they're no longer getting production out of secondary scorers like Rebecca Russo and Jordan Juron. Boston University has now lost five of their last six and is no longer comfortably ahead of the rest of the pack in Hockey East.
In the News
This week's headlines from around the women's hockey world
Three Stars of the Week
1. Jamie Lee Rattray, Senior, Forward, Clarkson: She continued her torrid scoring pace this weekend with a hat trick against Colgate and a total of four goals and six points in two games.
2. Carmen MacDonald, Junior, Goaltender, St. Lawrence: She was huge for the Saints in their 1-1 tie with Cornell, stopping 51 of the Big Red's 52 shots.
3. Taylor Wasylk, Senior, Forward, Boston College: She posted three goals and five points this weekend in the Eagles' sweep of New Hampshire.
Play of the Week
Because who doesn't love Amanda Pelkey cutting down the wing, slipping past a defender, and backhanding it in?