After a solid 2016-17 season in the KHL, Yaroslav Dyblenko was signed by the New Jersey Devils. In this translated interview, originally appearing on the popular Russian website Sport-Express, Yaroslav Dyblenko talked about his debut with the Devils in the pre-season, his adaptation to the US, and his future in the NHL.
* You can enjoy the original Russian language article by Alexei Shevchenko here *
New Jersey Devils Pre-season
Alexei Shevchenko: Frankly speaking, I was worried for you. Just 13 seconds into your first game and you got hit from behind, hit the boards with your head and your helmet fell off.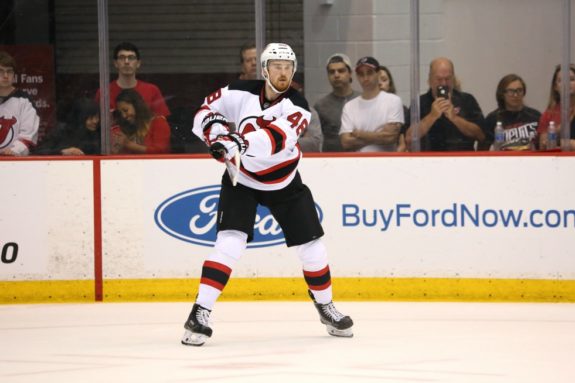 Yaroslav Dyblenko: Nothing terrible, all is ok.
AS: Maybe before the game you started thinking that it would be like the KHL?
YD: No, what are you talking about? Did you see the pass I got? And then, [Lars] Eller. He hit me with his elbow.
AS: Doesn't sound good.
YD: He played dirty. I already understood that, here in North America, I'm going to get hit more often. The hits are hard but legitimate. But that was a gross penalty. The refs gave him two minutes right away. But did you see the way the refs whistled?
AS: Yes, they gave out a lot of penalties. Four times they assigned penalties at the faceoff dots. It was really strange. Are there new rules in place?
YD: No, nothing like that. But I need to keep on working. You need to be in the correct stance, put your skates in the correct position and not try to outsmart the refs. The first time you will get a warning but then you get a penalty.
AS: You took two penalties, and not at the faceoff dots.
YD: The first one, I did nothing. I didn't hold the jersey like the ref said. The second one was a penalty. I wanted to take a risk. I tried giving a pass but it was intercepted and I needed to run behind and stop the opponents' attack. But if they made it through then our player would have been all alone against the goalie. Too bad.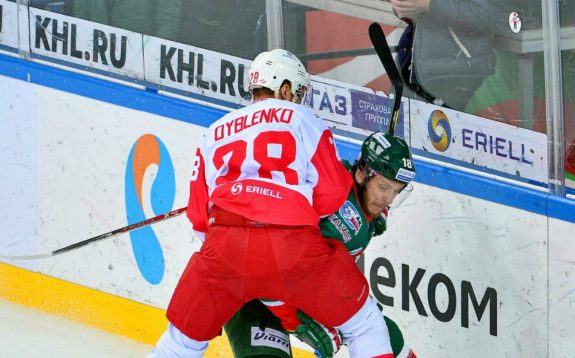 AS: You finished the game plus-3. Are you proud?
YD: I understand very well what those numbers mean, therefore I think it's nothing special. When I was with Spartak last year, I was a minus-4 in one game, but I had no fault in any of the goals. It was the same here. I didn't do anything in two of the "plus" plays. But I deserved the other one. We read the opposition's attack, stole the puck and had a great counterattack.
AS: You didn't play much in the first period and at first it looked like you were going to get only a couple of shifts per period.
YD: We had a lot of power play time, I don't play on the man advantage. But look how much I played on the penalty kill, almost five minutes. But I don't play on the power play. Yes, the first period was strange. I had my first shift at the start of the game, then nothing for some eight minutes. I was worried, but the coach told me, "Don't worry, everyone will play." He was right.
Dyblenko and Adaptation to New Life
AS: "The coach told" as you learned English?
YD: I won't hide it, English is my weak point. I'm doing my best to learn. I'm listening and trying to absorb it. But now I can't really communicate a lot. But I noticed that everyone is ready to help you. People come up to me and ask how they can be helpful. It's pretty much the same for everyone, from the leaders to the younger players.
AS: Are you the only Russian player?
YD: We had Nikita Popugaev, but he was assigned to the junior leagues. Now I'm alone, but I don't think I will have a hard time.
AS: Alexey Marchenko has told me that there is a difference in the physical strength of NHL vs. KHL players. Do you feel the same?
YD: Not really. I practiced in Moscow then I went to California where I practiced with some players from the Anaheim Ducks. Do you know what surprised me?
AS: No clue.
YD: You know, in Russia, we are used to practicing our way. But here [in North America] it's full contact. You need to hit. Not really play dirty of course but hit. I didn't want to hit a player that was skating by me. I didn't find any sense in it. Training camp was still far away. So he got back and said, "Hit me next time. How can we prepare for the new season without hitting?"
AS: Again talking about the physical play, in your first game, you almost had a fight.
YD: Yes, we had some shoving, but it ended fast. It's not always the same thing with fights. I fear no one and am always ready to step up for my teammates. But at the same time, challenging someone to fight or just throw punches around for the sake of it, I think it makes little sense. During the rookie camp, I saw a fight. Players went on for a good minute of exchanging punches without stopping. And I had a fight against Team Latvia, against a non-fighter, but he cut my face.
AS: I do remember that.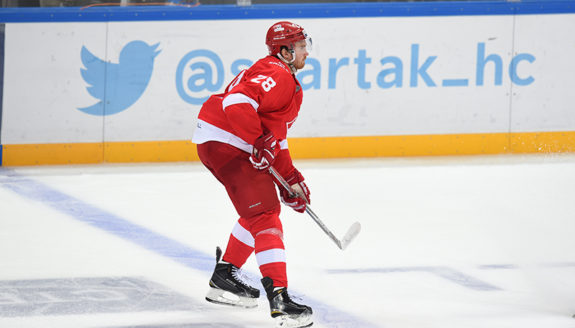 YD: You need to use a good judgment. But it doesn't mean that the opponents can hit our goalie or play against the rules.
AS: Did you have any problem during the practices due to your lack of expertise in English?
YD: No, I have learned all the terms fast and I can understand what the coaches say. He even had some good words about me. Probably. I can't guarantee it as I'm not good in English yet.
AS: That's funny.
YD: Maybe he is sarcastic? But I try hard. But I don't think that I don't understand him. In the first game, I did what he asked me.
AS: What did he ask?
YD: To play hard and skate fast. You know, here it's hard to get lost. There are a lot of shots. You need to block your opponents very often, but I don't have any problem with it.
Future in the NHL
AS: A hard question now. what about your future in the NHL?
YD: Hard to say. I can't hide that. It's a big business here, and I am on a two-way contract. Sometimes it has a meaning. But for some reason, I'm sure that everything will be okay. I don't need to overthink it. It will be the way it will be. I just don't want to play in the AHL.
AS: Will you go back to Russia [if you don't make the NHL]?
YD: I don't have a Euro-clause in my contract. So, I need to work hard and gain a spot.
AS: Did you talk with SKA? Your KHL rights this summer were traded there from Spartak Moscow.
YD: It happened when I was still in Russia. I was sleeping and I start getting messages on my phone. Well, a trade is just a trade. Right now, I'm just thinking about the New Jersey Devils.
A professional hockey writer and translator. Loves Russian culture, language, and hockey. Reachable on twitter @AlexSerenRosso