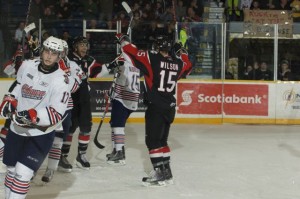 NEW YORK – New York Rangers president and general manager Glen Sather announced that the team has agreed to terms with 21-year-old forward Jason Wilson, who played the 2011 season with the Ontario Hockey League's Niagara IceDogs.
In 64 games with the IceDogs, Wilson recorded 18 goals and 25 assists for 43 points, while also maintaining a plus-20 rating and picking up 94 penalty minutes. In his three season OHL tenure, Wilson competed in 162 regular season games, racking up 47 goals, 48 assists, 95 points and 299 penalty minutes.
The 6-foot-3, 208 pounder is known as an aggressive, all around power forward who can chip and offensively while also using his size to play a tenacious physical game.
Wilson went undrafted in his first year of eligibility, but was picked up in the 2010 draft by the Rangers in the fifth round (130th overall).
Now, after completing his over-aged year in the OHL with Niagara, he has reached a deal with the NHL club.
"It feels great to get signed; it's definitely a sigh of relief," Wilson said. "It's something I've dreamed of doing ever since I was a little kid and since being drafted last year by the Rangers, it's something I've really been working towards."
Though the signing is an obvious thrill for Wilson, he knows how much work lies ahead of him.
"Getting signed is a step but making the team is another, but training is something I take very seriously and I will be working extremely hard at over the summer."
Hard work was also evident this season as he established career-highs in games played, goals, assists, points and plus/minus rating.  He also recorded a career-high 10 multi-point performances. He also had an impressive playoff run with the IceDogs as he tallied another career-high of five goals, 12 points, and 19 penalty minutes in 14 playoff contests.
Wilson hopes to continue improving and now that his junior career is ended, his number one priority is to make himself of use to the New York club.
"In order to make the team I feel as if I have to stick to a simple, aggressive, honest style of play," he commented. "I try to mold my game after a player like Brandon Prust, who plays in all situations and works hard game in and game out to perform his role."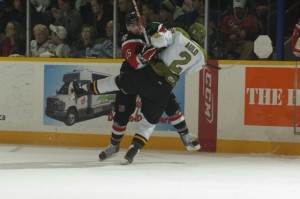 Like Prust, Wilson will likely fit into and third or fourth line role as an energy player, penalty killer and secondary contributor with an added physical edge.
With the Rangers eliminated in the first round of the 2011 post-season, the club will be looking for up and coming role players such as Wilson to eventually step up, adding some grit and secondary to the line up.
No contract details have been released at this time, but more information on Wilson can be found here: http://rangers.nhl.com/club/news.htm?id=562629&navid=DL|NYR|home
Journalism grad from St. Catharines, ON, Canada. Newfoundland heritage. Passionate about hockey whether it's junior or pro. News junkie and literature fanatic. Sun Media Reporter, The Hockey News intern, former Media Relations with the Ontario Hockey League's (OHL) Niagara IceDogs, contribute to an OHL radio show called In the O Radio (www.intheoradio.com), and write prospect features for Andy Strickland's TrueHockey.com. Follow @JeffBlay on Twitter.