After a few weeks of patient waiting, news broke that the New York Islanders had agreed to terms on a four-year deal with netminder Jaroslav Halak. With Garth Snow trading away a 2014 fourth round draft pick to the Capitals in order to acquire the rights to talk with Halak, Islanders Country was undoubtedly elated when it was announced that the Slovak goaltender and the Isles had worked out a four-year $18 mil. deal.
Signing Halak not only solidified the Islanders' situation in their crease for the next several years, it gave the team a bonafide position player that they have been seeking for some time now without having to give up major assets via the trade market. However, Halak's signing, coupled with the departure of Anders Nilsson to Kazan Ak Bars of the KHL, essentially leaves the Islanders with a question mark in regard to their number two goalie – one which has the potential of playing out in a multitude of ways.
Going With Familiarity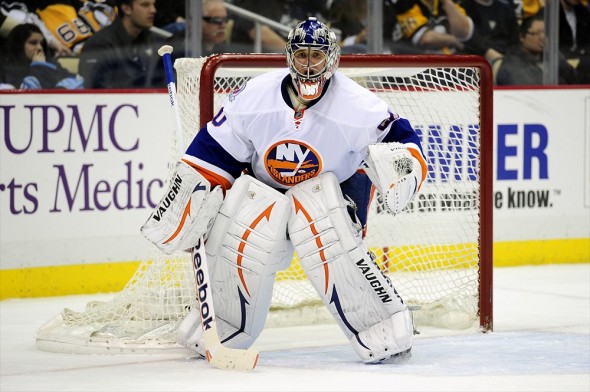 One might look at the fact that Evgeni Nabokov will turn 39 in July and think it to be against a team's best interest to sign an aging goalie, but that certainly shouldn't be the case. Sure, Nabokov is an older goalie, but he is one with a winning pedigree and the veteran knowhow that could greatly benefit Halak.
Inking Nabokov to a contract likely wouldn't be a problem for the Islanders, but it is unknown whether or not Nabokov and/or upper management have an interest in continuing their relationship. From a purely monetary standpoint, Nabokov would likely have to take a pay-cut from his previous year's salary of $3.25 mil. – which is understandable given the fact that he won't be performing that same duties that he has been tasked with over the last few years.
Coming to terms on a one-year deal worth around $2.5 mil. probably shouldn't be that hard, but it remains to be seen if Nabokov would want to take on a back-up role and if the Islanders would want to pay Nabokov a bit more money than they would spend if they looked elsewhere in the back-up goalie market.
Why overpay for Nabokov when there could be other younger options available? Well, it comes down to familiarity and Nabokov's role with New York both on and off of the ice for the last three years. Of course, controversy surrounded Nabokov's initial arrival to Long Island, but the Russian netminder has proven himself to be a key member of the Islanders' locker-room. Not only is Nabokov seemingly always available to speak with the media, and have his trademark chats with Stan Fischler, he has embodied a warrior-like mentality (both mentally and physically) that has helped the young Islanders along in their maturation process.
Playing in 20-25 games in a season shouldn't be a problem for Nabokov as he was ready to start every game that the Islanders called upon him over the last three years. Even though Nabokov won't be receiving constant reps as New York's starter, a lesser amount of starts could mean less wear and tear for the goalie, thus preserving his body in case Halak sustains a substantial injury. With Nabokov finishing off last year with serviceable numbers (15-14-8, 2.74 GAA, .905 Save Percentage), there is no question as to whether or not the goalie can perform in a number two spot, and there is even less doubting about the impact that the netminder has had and could continue to have with a budding team.
Another Familiar Face?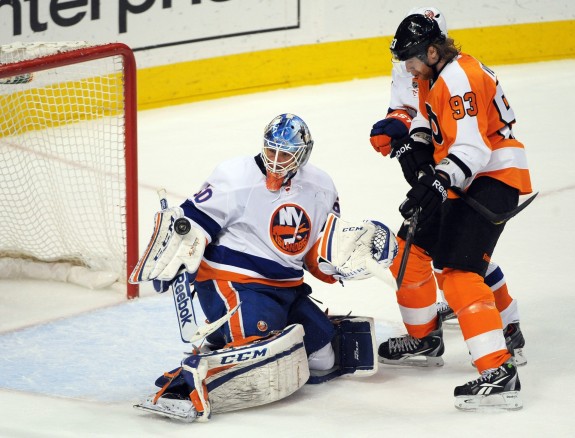 To put it simply, Kevin Poulin was too inconsistent last season – to the point that it was hard to gauge how the goalie could fit into the Islanders' organizational plans. Poulin had two stretches of play as New York's starting goalie when Evgeni Nabokov went down with a groin and then a leg injury.
Although Poulin played well when Nabokov suffered his leg injury, he was sent back to Bridgeport during the last portion of the season in favor of Anders Nilsson. Poulin did receive more playing time in Bridgeport, but one has to wonder what kind of performances the goalie will put forth when relegated to a role in which one doesn't know when or how often they will be starting.
This is not to say that Poulin doesn't have the talent necessary to play in the NHL, but he just hasn't shown enough to be judged on an accurate scale. To be fair, Anders Nilsson was just as inconsistent as Poulin, but the latter hasn't expressed his dissatisfaction with a potentially prolonged stint in the AHL if worst comes to worst.
As it stands now, Bridgeport could use some stability in between the pipes if the Islanders do happen to sustain a rash of injuries to their netminders. Kenny Reiter (also a UFA) and Parker Milner might be able to handle the goaltending duties while goalies such as Eamon McAdam and Stephon Williams both develop at their respective levels, but having Poulin in Bridgeport might not be such a bad idea – it just once again comes down to whether or not the netminder will accept such an assignment or try to test his luck elsewhere.
Free Agent Back-ups
Chad Johnson (Boston Bruins)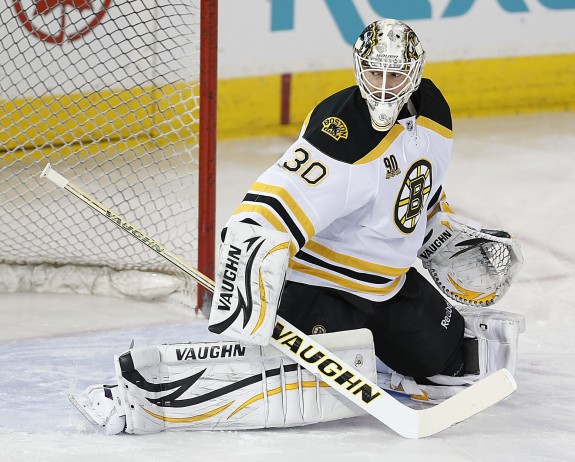 Being Tuukka Rask's back-up is probably no easy task. After all, it's not like one would have too much room to play poorly behind Rask if they had any desire to remain on the Bruins' roster.
In 27 games played last year, Johnson managed to record a 2.10 GAA and .925 Save Percentage, and will likely net himself a good payday for his next contract. Seeing as how Johnson was making $600,000 last season, it wouldn't be surprising to see the 27 year old receive a substantial raise from whichever team signs him.
Not only do the Islanders have the cap space and money necessary to sign Johnson to a multi-year deal, they have a good estimate as to what Johnson can do in a back-up role. Over the last several years, Johnson has been a part of three different NHL organizations, but he hasn't failed to put forth strong performances in both the AHL or NHL.
Age certainly won't be a factor with Johnson and there is a strong chance that he could receive a fair amount of attention from NHL teams this summer. Johnson could very well find himself in the same situation that Anton Khudobin was in last year when the Carolina Hurricanes signed the Russian netminder to an $800,000 contract, but there could likely be a more aggressive market for the Canadian goalie as he has a bigger sample size from which NHL teams could judge his worth.
Al Montoya (Winnipeg Jets)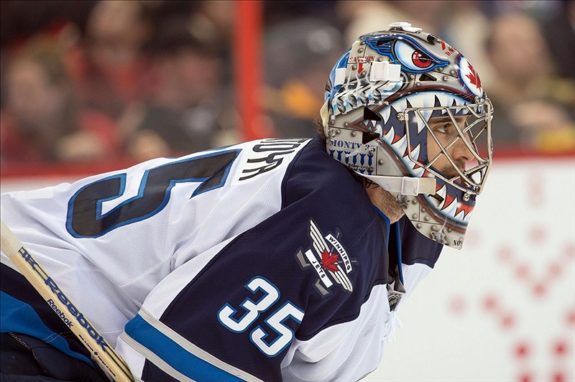 Much like Chad Johnson, Al Montoya was drafted by the New York Rangers, spent some time playing with their AHL affiliate, and had a cup of coffee with the Phoenix Coyotes. Despite the fact that Montoya didn't have much work during the '12-'13 lockout shortened season (7 GP, 2.91 GAA, .899 Save Percentage), he made the most of Pavelec's inconsistencies this past season as he appeared in 28 games and played to the tune of a 2.30 GAA and .920 Save Percentage.
Add in the fact that Montoya made slightly more than $600,000 last season and there is ample reason to believe that the goalie could be obtained at a relatively cheap price. Montoya also has some familiarity with the Islanders' organization as he played for the team from 2010-2012 and his efforts were also appreciated by the Isles' fan-base, so bringing back the netminder might not be such a farfetched idea.
Since Montoya has seemed to be comfortable in a back-up role wherever he has went, one has to think that there would be a minimal chance of the goalie demanding more playing time and a greater possibility of the goalie competing for the team's best interests.
Thomas Greiss (Phoenix Coyotes)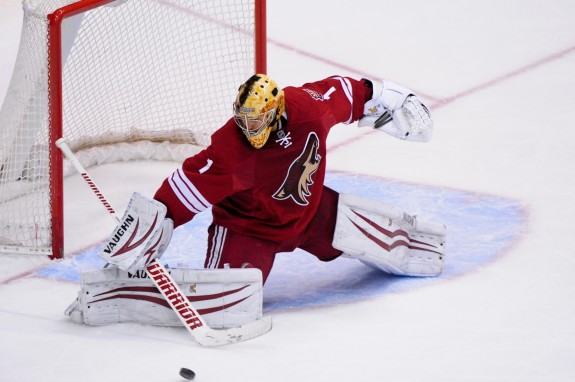 Ever since the 2009-2010 NHL season, Thomas Greiss has shown just how valuable he can be to his team as a reliable back-up goalie. Greiss has proven himself to be a formidable back-up option over the last several years, but he could have a decent shot at landing a starting job somewhere in the NHL because of his track record with the Sharks and Coyotes.
With Greiss making $750,000 last year, it would likely cost the Islanders less money to sign the goalie than it would to re-sign Nabokov as a back-up. Despite the fact that Greiss might not possess the same qualities as an experienced netminder such as Nabokov, he is coming off of a season where he probably received lots of tutelage from Sean Burke – who isn't referred to as the "Goalie Whisperer" for no reason.
Burke certainly worked his magic with Ilya Bryzgalov and Mike Smith as both goaltenders were able to seemingly refine their game and become more efficient in their crease. Not only did Greiss improve his peripheral statistics (2.29 GAA, .920 Save Percentage) to the best of his career with the Coyotes, he did so while shouldering the most amount of games (25) that he has ever played in the NHL.
Consistency has always been key with Greiss, and with the goalie showing maturation and an ability to shoulder a considerable workload there will probably be a fair market for Greiss' services this summer.
A Bevy Of Back-ups
The New York Islanders sure do have a lot of options when it comes to signing a back-up goalie from free agency, but it is unknown which route the team will take until a move is actually made. Garth Snow could opt to go a different round and make a trade to acquire someone like James Reimer – whose wife became the target of Maple Leafs fans' anger last year.
While a concrete course of action may be unknown, Islanders fans are probably more at ease knowing that the starting goaltending situation was resolved before the free agency period even began. Who would be the best back-up for Jaroslav Halak is anyone's best guess at this point in time, but one thing is for certain, and that is the fact that the Isles are in a good position to fill out their needs with a plethora of options at their disposal.