The New York Rangers are in the Stanley Cup Final for the first time in 20 years after defeating the Montreal Canadiens 1-0 last night at Madison Square Garden and winning their best-of-seven Eastern Conference Final series 4-2.
And make no mistake; they have earned it with gritty, hardworking defensive play in front of world class goaltender Henrik Lundqvist in addition to riding a wave of emotion brought on by the passing of a teammate's mother. As an impartial observer of the game I love so much, credit is given where credit is due.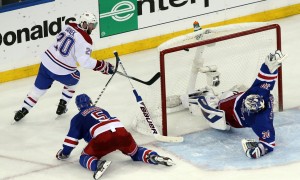 However, there is no fan base on the planet that feels worse about this than the people who cheer on the blue and orange of the New York Islanders.
To put things in perspective, I have been a fan of this franchise for 35 years. I have been lucky enough to witness and enjoy five consecutive trips to the Stanley Cup Final and four consecutive championships when I was between the ages of nine and 14. You would think after winning all those titles and being on top of the hockey world year over year, it would have made me less upset when Wayne Gretzky and the Edmonton Oilers exacted their revenge and stopped the Islanders' Cup streak for a very, very long time in the spring of 1984. But it didn't matter.
I remember being at my cousin's house in Hempstead, Long Island on the night the Islanders were eliminated, and at the age of 14 feeling such sadness that I cried like someone had just punched my dog. I could not comprehend not being on top anymore. Not that the Rangers of that era were any real threat, mind you, as I grew up across the street from five die-hard Blueshirt fans and played hockey with each and every one of them day after day, even in the hottest summer months. I knew there was not much ridicule that they could conceivably put on me even in defeat in those days.
Lack of Respect Continues on Social Media
Ridicule, I feel, is the biggest factor driving social media interaction these days, especially among the core group of younger fans. The fact that some fans cannot win with dignity and respect, and instead choose to mock and taunt their closest and most-hated rival in their times of celebration is something Twitter and Facebook and Reddit can do without. It is not necessarily fear, per se, but more of an 'I don't want to hear it' mentality that drives some people to hockey fandom ridiculousness.
Back when the Islanders were winning, there was no social media. No Twitter, no Facebook, no Instagram. Nothing. You had to wait to have your say about the game until the next time you and your friends reconvened for any kind of sporting activity, whether it be roller hockey, wiffle ball, or swimming in a neighbor's pool. There was no hiding behind a keyboard in tighty-whities, spewing insults like you were raised on a pirate ship. The words back then were said, with feeling, right to your friends' faces. And that, somehow, kept everything in perspective and real.
What has transpired with the Islanders over the course of the preceding 31 years has been at times  unbelievable or remarkable; at other times, downright silly: ownership follies that would make for a great full-length feature film on how not to run a professional sports franchise, or trades that even the artificial intelligence in EA Sports's NHL video game series wouldn't make. (And those are just a few of the highlights. Or lowlights, I should say.)
The last Islanders team with any real sense of accomplishment was back in 1993, when New York lost in the Wales Conference Final 4-1 to the very Montreal Canadiens franchise that bowed out of this year's postseason last night. 1993 was the infamous playoffs that saw Pierre Turgeon get blindsided by Dale Hunter in still what is one of the most brutal cheap shots the game has ever seen.
Tough Go for the Islanders
Who would have thought that after that loss to the Canadiens, the Islanders would only see the playoffs six times in the next 21 years, winning only 8-of-24 postseason games in the process.
As far as the Rangers are concerned, they won the championship back in 1994 behind arguably one of the greatest leaders sports has ever seen in Mark Messier, only to suffer through their own drought of sorts. Since that infamous year, they have returned to the postseason 11 times in 20 years, going 60-64 in that time, and making the Eastern Conference Final twice, losing both times to the Philadelphia Flyers and New Jersey Devils, respectively.
One could argue that with the Rangers' financial backing, the numbers should be much better than what I just laid out for you, but use that information at your own discretion. I take no responsibility for the arguments that could come out of it.
My son, now 17 years old, is a Rangers fan. This story has been laid out before but I will offer up a condensed version for those who don't know. I had him as an Islanders fan for one year, at the age of six, when he was just getting into hockey before my wife sunk her claws into him and would not allow it to go any further. Personally, I hate sleeping with one eye open, and the influence of a mother on her son is only weaker than Gorilla Glue.  (In the future, maybe sports contractual agreements instead of prenuptial agreements will be the norm.) I knew my wife was a Rangers fan when I met her, so the blame is put squarely on my shoulders and I own it.
I cannot sit here as a lifelong Islanders fan and say I want the Rangers to win hockey's ultimate prize this season. By the same standard, I would love for my son to able to experience just a portion of what I was able to in my youth. It truly was a remarkable experience and one that I will never forget.
See, for me, sports does not trump all. It does not transcend the importance of family and life's everyday responsibilities. It should not come in between two lifelong friends who have shared so much with the exception of the professional sports team for which they each root.
The players make millions of dollars each year to do their job. Our job as fans is to sit back and marvel at their wondrous talents and be entertained, excited, disappointed, and frustrated all at the same time.
Tomorrow morning, when the sun rises anew, we all have to get back to our daily lives. Trudge off to work, take the kids to school, break out the vacuum cleaner, or mow the lawn.  There is absolutely nothing you can do to change the outcome of what you are witnessing on the ice, but what you can control is your reaction to it.
Can this version of the Islanders—John Tavares, Kyle Okposo, Travis Hamonic, Jaroslav Halak, and a slew of young, exciting prospects—be this generation's version of Bryan Trottier, Mike Bossy, Denis Potvin, and Billy Smith? Hell, I don't know. But what I do know is that this team's time is coming. As an Islanders fan, it's what I have to believe.  Young Islanders fans will soon have a chance to cheer as I did.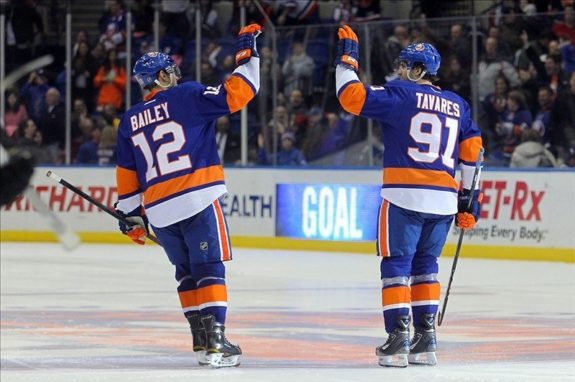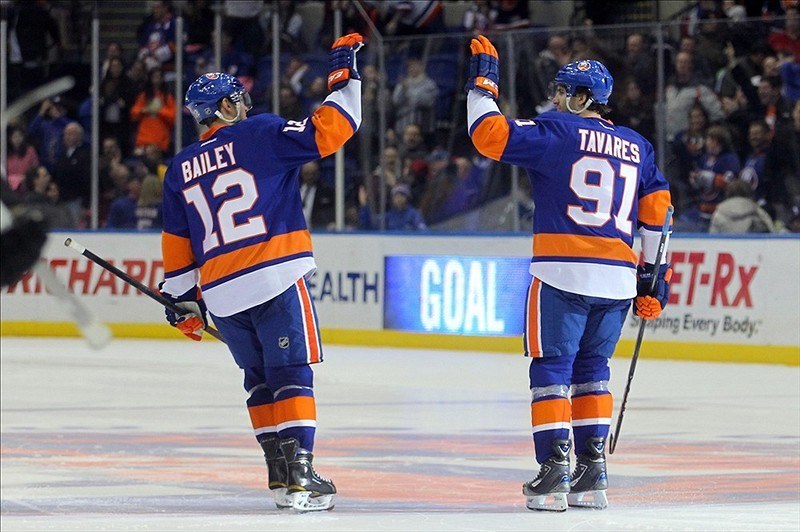 Cheer loudly. Be proud that you are a New York Islanders fan, no matter the results. I am. You might call me a 'Kool Aid drinker' for being optimistic about this team's future, but maybe, just maybe, it's simply the way I choose to look at sports. As you grow older and your priorities change, you might end up looking at it the same way.
As far as the Rangers go, whether they play the Los Angeles Kings or the Chicago Blackhawks, I will be watching with my son and staying totally impartial to the events playing out on my TV screen. I will expect my rival fans to be as respectful to me as I have been to them.
And if they aren't, isn't that what an 'Unfollow' button is for? A simple problem always has a simple solution.
This article was originally published at Islanders Insight.
************
**  This post is part of THW's Hockey Blogger Syndication Program. Click here to see if this might benefit your website.