David Desharnais has been one of the lone bright spots for the New York Rangers in the midst of this early season slump. In the offseason, he signed a one year, $1 million contract. Also in the busy offseason, the Rangers traded Derek Stepan and Antti Raanta, signed Kevin Shattenkirk and bought out Dan Girardi. So it is understandable that this signing went under the radar.
David Desharnais appears to be close to signing with #NYR, and it would be a really smart investment. https://t.co/n29q3jPn7O

— Adam Herman (@AdamZHerman) July 4, 2017
However, Desharnais is quietly putting together a nice start to the season and could play an important role in turning this season around. Center depth is a huge question mark on the Rangers roster, but his play on the third/fourth line has not been a problem. Desharnais currently leads the team in PDO at even strength, which is the sum total of shooting percentage and save percentage. He was brought in to fill in the role of Oscar Lindberg and is doing his small part to keep this Rangers team afloat.
Related: Rangers Have Leadership Questions
Face-Off Prowess
Desharnais currently sits at a 62.7% winning percentage in the face-off circle heading into tonight's home game against the San Jose Sharks. That percentage is good for second best in the entire NHL. When the Rangers signed him, they surely did not expect this sort of impact in winning face-offs. For his career, he has a 50.4% winning percentage, so this jump is quite high.
Interestingly, he only won 47.8% in 31 games for the Montreal Canadiens last season before being moved to the Edmonton Oilers. In his final 18 games for the Oilers, he won 54.3% of face-offs. Something has clicked since that move and he has built on it early in this season.
Face-offs have been an issue for the Rangers over the years, so Desharnais's ability to win in the circle could be a crucial element heading forward. As a team, the Rangers are currently 13th in face-off winning percentage in all situations winning 51.5% of them. However, that percentage drops down to 44.6% when shorthanded. One reason for this drop could be the fact that, at this time, Desharnais has yet to appear on the penalty kill for even one second this season.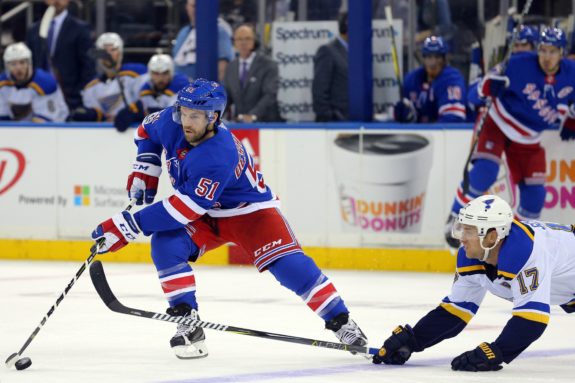 Currently, the Rangers have the 22nd ranked penalty killing unit in the league. If they continue to perform poorly short-handed, perhaps Alain Vigneault slots in Desharnais. But early on, it appears as though Vigneault does not place much trust in him to defend. Desharnais has only started 39% of his shifts in the defensive zone, which is 16th on the team.
However, a quick way to kill penalties is to win face-offs and clear the puck. Not winning face-offs can only add to the struggles. If Desharnais can continue to perform in that area, it would be foolish to not consider putting him out there to try to win face-offs. And not for nothing, but Desharnais is one of the few players on the team with a positive plus-minus. Vigneault should give him a chance. It is not as though their penalty kill can get much worse.
Related: Rangers Giving Away Their Season
Improved Production
In nine games played, Desharnais has two goals and three assists, which is improved compared to last season. In 49 combined games played for the Canadiens and Oilers, Desharnais only managed 14 total points. It is still early, but he seems to be settling in well on the Rangers.
His five points this season have all come in the last four games. He scored his first goal as a Ranger last Tuesday night against the Pittsburgh Penguins. He took a little pass from J.T. Miller on the wing and snapped a quick wrist shot that beat Matt Murray top shelf. Although the Rangers wound up losing the game in overtime, the goal was important for the Rangers. Down 2-0 and heading towards yet another loss, Desharnais's goal sparked a comeback and saw the Rangers get a deserved point. He did all he could to avoid the loss, as his sweet give-and-go with Michael Grabner gave the Rangers a third-period lead.
At the very least, the loss to the Penguins showed the Rangers had some fight. For a team looking for positives, you have to take what you can get. After the game, Desharnais talked about taking those positives and building off of them. It is really all you can do when you start the season as poorly as the Rangers have. Take the positives and move on. A point against the Penguins after being down 2-0 is sadly one of the better performances for them this season.
🚨 Desharnais got #NYR on the board in the first.

Stay tuned in on @MSGNetworks. pic.twitter.com/ZPLWkrdaKn

— New York Rangers (@NYRangers) October 19, 2017
Overall, Desharnais has had a positive impact on the offensive end. He has even shown a willingness to head to the front of the net, despite the fact he is only five-foot-seven. Last Thursday, he scored from that area against the New York Islanders. He starts the play by winning the face-off and finishes it by deflecting a point-shot that ties the game. Again, the Rangers did not end up with two points, as they lost in a shootout, but positives could be taken. Small steps.
An issue plaguing the Rangers this season is goal scoring. Their 2.67 goals per game puts them 24th in the league. They need all the scoring help they can get. If Desharnais continues to provide some offensive output from that third/fourth line center role, to go along with his stellar play in the face-off circle, then that $1 million contract he signed could be a bargain.