Though the New York Rangers didn't make any significant acquisitions this summer, Tuesday's trade that brought back a soon-to-be 32-year-old defenseman who played only 38 games last season and is hardly guaranteed consistent playing time in 2018-19, had fans taking notice.
In fact, their reaction was likely similar to one they might have had regarding the July re-signing of an aging enforcer who's hardly guaranteed consistent playing time next season.
The deal that brought hulking blueliner Adam McQuaid from the Boston Bruins for depth defenseman Steven Kampfer, a fourth-round draft pick in 2019 and a conditional seventh-round pick, probably doesn't move the needle much on this rebuilding team's prospects. McQuaid, who has 13 goals and 53 assists in 462 career games over his nine seasons, suffered a broken right fibula in October and recorded only a goal and three assists in 2017-18.
The reason for the eyebrow raising? The 6-foot-4, 212-pound McQuaid is first and foremost a physical force, a player known for clearing out the crease and being one of the best pugilists in the NHL, rather than for any elite skating or offensive skill. And that, of course, marks a major departure from the Alain Vigneault era.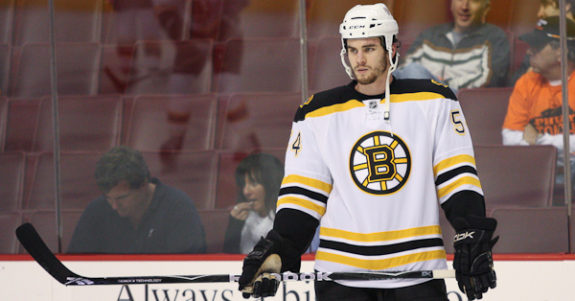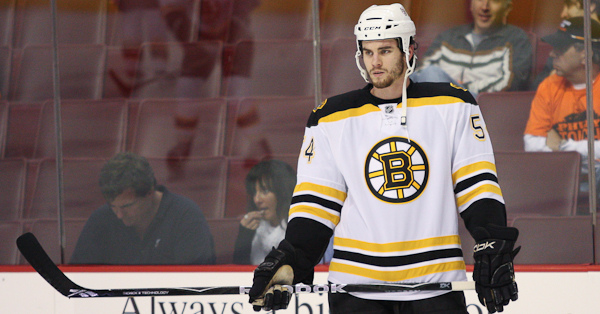 It's difficult to envision AV doing anything other than turning up his nose at such an acquisition. By the end of his five-year tenure, Vigneault was all-in on skill, with little or no physical element to be found in his regular lineup and no interest in changing. A player like McQuaid would likely have been a tall observer of the season had Vigneault returned for this season.
Yet, the adding of McQuaid might provide another hint about both the preferred style of new coach David Quinn, as well as a continuing acknowledgment by team management that AV's approach ultimately became flawed — a conclusion for which plenty of evidence has built up over the last several seasons, in the form of the Rangers being knocked around and injured on a regular basis.
"We want to be a fast, physical, relentless hockey team,'' Quinn said Thursday, with training camp set to begin.
Rangers Prioritizing Toughness by Adding McQuaid
Make no mistake — McQuaid isn't part of the future on Broadway. In fact, he might not make it past the trade deadline if he proves to be healthy and effective again. Even if he beats out some of the youngsters vying for spots on the right side of the defense, he'd probably be ticketed for regular third-pair duty, barring a rash of injuries.
But, the presence of the type of rugged defenseman that's hardly been seen at Madison Square Garden in the past five years, combined with the surprising one-year re-upping of veteran enforcer Cody McLeod, seems to indicate that Quinn isn't interested in turning the other cheek. And that management grew tired of Vigneault's teams having that turned cheek often hit by opponents, whether those Rangers were ordered to stand down from scrums or not.
Again, McQuaid and McLeod — and rugged forward Matt Beleskey, McQuaid's Bruins teammate for the last few seasons who's also around and could challenge for a spot — aren't what they were. They're still going to be expected to bring a physical element and defend teammates. None of them are going to skate away from fights, and that's probably what's expected of them as the front office looks to put the style of the previous era in the past.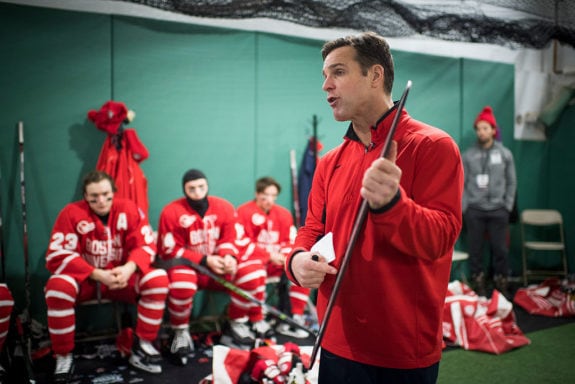 McQuaid, McLeod and Beleskey are stopgap players to support the Blueshirts' rebuild, and they'll be used as much or little as needed. But, their presence suggests that a grittier, edgier team is the vision for the future, which seems to confirm that Quinn's style will be considerably more in-your-face than Vigneault's was at the end of a forgettable 2017-18.
Physicality remains an important part of hockey, even if its impact has been substantially diminished in a changed league. The Rangers should know this, given their own successes over the past seven years. Recall that Brandon Prust, Mike Rupp and Stu Bickel set the nasty tone for the best edition of the Black and Blueshirts in 2011-12, while Derek Dorsett, Brian Boyle, Daniel Carcillo and Tanner Glass did the honors for the powerful 2013-14 and 2014-15 teams.
Vigneault coached those last two squads, but even if he had forgotten that element of those clubs that made the Stanley Cup Final and Eastern Conference Final, respectively, the front office apparently hasn't. The Rangers were interested in bringing Vegas Golden Knights tough guy Ryan Reaves in during the offseason, a sentiment which wasn't mutual, as Reaves re-signed with the surprise Western Conference champions.
McQuaid Adds Leadership, Experience to Go With Grit
Perhaps that led to general manager Jeff Gorton pivoting to McQuaid, who brings more than toughness with his leadership abilities and experience that should add some stability to the youthful defense corps. His intimidating presence, however, shouldn't be understated as a major reason why he's now in New York. Other than Reaves, an argument can be made that McQuaid represents perhaps the least desirable fight for opponents around the league.
"I'll try and be a steady presence and be physical when the opportunity is there … at the same time, hopefully I can be a good example for guys off the ice," McQuaid said. "I've been around a little while, so hopefully bring some experience. I don't know my way around the city or way around the locker room too much just yet, but again, hopefully there will be different ways I can help the younger guys."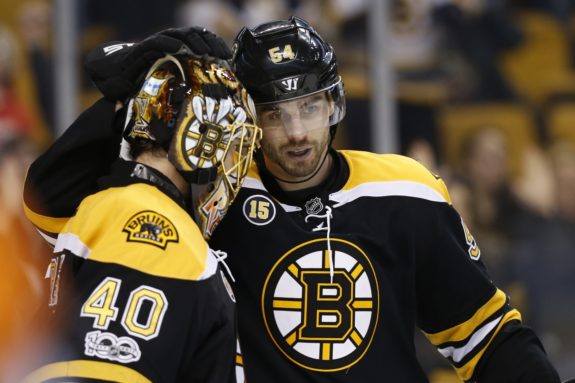 An argument can also be made that a player that stands up for teammates lifts morale and consequently, improves team chemistry. One of McQuaid's ex-Bruins teammates certainly thought so.
"It's a tough day," Brad Marchand said of the trade. "It's difficult losing Quaider, who has been an incredible teammate for a long time. When you look around the room, you want guys like him. He's just an incredible guy off the ice, and in the room. He's a great friend, and as a teammate he'd do anything for the team and for each individual player."
A Stanley Cup champion with Boston in his rookie season of 2010-11, the trade of McQuaid and his $2.75 million salary for next season helped the Bruins clean up their cap situation, somewhat. The Rangers are hoping Boston's need to part with McQuaid benefits them now and into the future, perhaps setting a new tone for Quinn's young bunch of Blueshirts.