2K Sports is out stirring up some hype for its latest game: NHL 2K11.
They snagged cover star Ryan Kesler from the Vancouver Canucks and are driving cross continent promoting the game.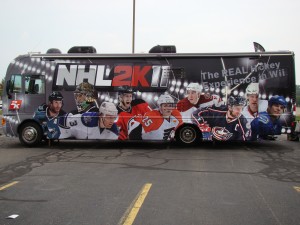 The NHL 2k11 Tour started in Calgary in mid July and has already been to Vancouver, Winnipeg, Edmonton, Minneapolis, and Chicago before they made stops in Hockeytown (Detroit) on August 10th and 11th.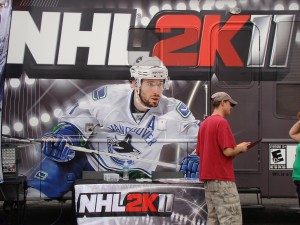 Kesler a native of the Detroit area (born in Livonia, Michigan a suburb of Detroit) was joined by Jack Johnson and Marty Turco (both whom played for the University of Michigan) at the Best Buy in Westland, on Tuesday and was solo on Wednesday making stops in Commerce Township and in Farmington Hills.
They had three stations where you could play the games on the Wii; however, the biggest attraction was to meet Ryan Kesler.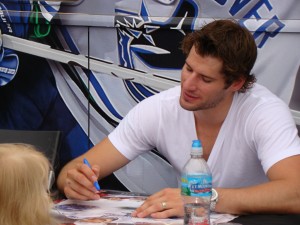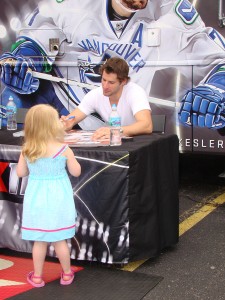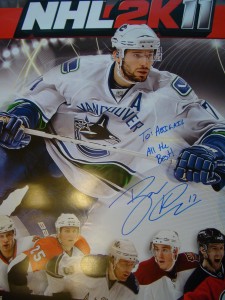 NHL 2k11 Tour Stops:
August 14-15 Pittsburgh
August 17-18 Toronto (with Kevin Bieksa and Rick Nash)
August 22-23 Ottawa
August 27-28 Boston
August 30-31 Philadelphia
September 3-4 Washington D.C.
September 7-8 New York
An avid hockey lover that grew up in Michigan and lived in the Washington D.C. area while going school for Sports Management. Volunteer with the American Special Hockey Association (ASHA); and follows as much SM-liiga and Elitserien as possible along with the vast array of North American leagues.