From top to bottom, the NHL All-Star field has one thing in common: youth.
Well, for the most part.
There will always be veterans like Alex Ovechkin and Sidney Crosby (injured), but this year's All-Star repertoire has shown the movement of the NHL becoming a faster, younger league with the most successful individual players owning unmatched skills that older players can't hold onto for too long.
Florida Panthers defenseman Aaron Ekblad said the game might have changed in the last decade or so, but the fundamentals remain stagnant.
"The game has changed a little bit," Ekblad said. "But the goal now — and the goal then — is to put the puck in the net and keep the puck out of your net."
Tyler Seguin, a Dallas Stars forward, is competing in his second All-Star Game this season, but has only played in the league during four years in which All-Star Games have taken place (due to the 2014 Sochi Olympics and the 2013 All-Star Game cancelled because of a shortened season).
"It's definitely a fast game, and a very young game," Seguin said. "I'm 23 pretty soon and it's my fifth year in the league, so you can see the game is only getting younger."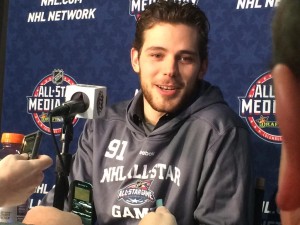 The New Guys
Centering the buzz around this year's competition is the leading vote-getter, Buffalo Sabres forward Zemgus Girgensons. Although he received the most fan votes to be selected this year, statistically he has not emerged statistically in the league, however, playing on the league's worst team hasn't helped his case.
Nonetheless, when the fan voting started, he didn't expect to be playing this weekend. "I'm just happy to be here. He said he's "just happy to be here."
"I got a lot of votes, but that's about it. I'm excited to be here and enjoy the weekend." "I didn't even think about it the day it started. I didn't have plans or anything. I had no plans to be here."
Girgensons, a second-year player, has been surrounded with a slew of young stars like himself, along with four designated rookies (who will only compete in the Skills Competition).
Ekblad, also a rookie, will now be playing in the actual game after players dropped out of the events because of injuries. He is one of the new guys and wants to soak in the weekend.
"I'm awestruck just looking around, that's for sure," Ekblad said. "But as soon as you start looking at, 'I idolized these guys,' it's more or less you've got to think about playing against them and trying to compete. You gotta be competitive, you can't just sit there and idolize people."
Hometown favorite Ryan Johansen has also become a rising star in the league. After his 63-point season last year, he's had a few gut checks with his success in the past year-and-a-half.
"My Dad was always telling me to always have an even keel — not to get too high, and not to get too low," he said. "The thing for me is focusing on being consistent. Being a young guy, it's hard in this league to, every game, be at your best and continue producing."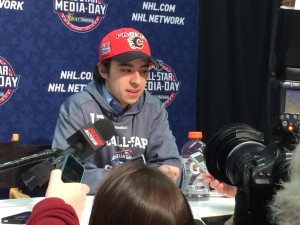 The approach
Patrick Kane was the story of the NHL in his rookie year. But that was back in 2007. He's now 26-years-old and has taken the rollercoaster ride of finding yourself as a player — and as a person — in the NHL. He remembers one time during that rookie year when he wasn't in the Chicago Blackhawks' lineup for a pre-season game at home — something that he couldn't relate to in his current situation.
"I remember just sitting in the crowd and watching the game," he explained. "I don't think anybody knew who I was at that point so I just watched the game in the stands with my family.
"It's something that if I did now I'd probably get mobbed by a lot of different fans … It's amazing how quick the turnaround has happened so quickly."
Steven Stamkos, who was drafted one season after Kane, was also once in the same place that the young players are in right now. Believe it or not, he's now 24-years-old, and turns 25 in the beginning of February.
He had some advice for the younger guys, and not just those playing in Columbus this weekend.
"When you get your opportunity that's the only time you can control that situation," Stamkos said. "You can't control what line you're on. You can't control how many minutes you play. That's the coaches decision, but hopefully your play influences that."
This year marks the first All-Star appearance for Nick Foligno, Blue Jackets forward and fantasy draft captain. At 27-years-old he knows what the youthful stars feel, but can also relate to others.
"It's a 'pinch yourself moment,'" he said. "It's pretty impressive to be around this and be considered amongst these guys and I'm very proud of that."