This article was originally published in October, 2013.
Many of these coaches had successful seasons with their respective teams. The moments below, however, were not career highlights. Some were victims of a manager with a quick trigger finger. Others were give one more chance for redemption but failed.
Here are the fastest NHL coaching changes from the start of the season.
Fastest Firings: 1 Game – Paul Thompson
Chicago Blackhawks, 1944-45 (0-1-0)
The Hawks were coming off a painful 4-0 loss to the Montreal Canadiens in the 1944 Stanley Cup Final. Head coach Paul Thompson was going into his seventh year as head coach on a short leash.  A very short leash.  After coaching just his first game of the season, an 11-5 loss to the Toronto Maple Leafs, Thompson was fired by the team.
Fastest Firings: 2 Games – Bill Gadbsy
Detroit Red Wings, 1969-70 (2-0-0)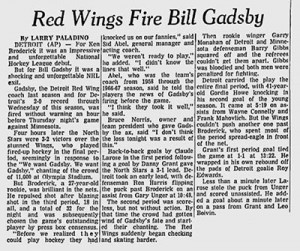 Bill Gadsby had a winning record in his one full season coaching the Detroit Red Wings. The team went 33-31-2 in 1968-69 but missed the playoffs.
Just two games into his second season – both wins – Gadsby was fired by the club. According to Michael Langlois at Vintage Leaf Memories, new advisors convinced Red Wing owner Bruce Norris that Gadsby wasn't "sophisticated" enough to coach in the NHL.  Apparently, Norris was convinced, as he cut ties with Gadbsy, who never coached again.
(There's some dispute over whether Gadsby was fired, or if he stepped down.  Pat Hickey of  the Montreal Gazette seems to believe the former. The Associated Press reported otherwise.)
Fastest Firings: 2 Games – Michael Rodden
Toronto Maple Leafs, 1926-27 (0-2-0)
Rodden was an all-around athlete, a sports journalist, and a multi-sport coach. He's in the Canadian Football Hall of Fame, having coached the Hamilton Tigers to two Grey Cup victories. He's also in the Hockey Hall of Fame – as a referee; Rodden donned the stripes for 1,187 NHL games.  Rodden also stepped behind the bench as head coach for two games (0-2-0), both with the 1926-27 Toronto St. Pats.  No details are available about whether this was, in fact, a firing, or whether Rodden simply stepped down.
Honorable Mention: Conn Smythe coached the first two games (1-0-1)  for the Leafs in 1930-31 before stepping down to focus on the construction of Maple Leaf Gardens. He's mentioned here for all you completionists out there, but not officially part of our list since he wasn't actually fired. 
Fastest Firings: 3 Games – Freddie Glover
California Golden Seals, 1971-72 (0-1-2)
Glover helped bring some respectability to the California Golden Seals (née Oakland Seals) franchise.  He led them to back-to-back playoff appearance in 1969 and 1970, earning a Coach of the Year award from the Hockey News along the way. (The Jack Adams Trophy had yet to be created.)
Glover survived a 1970-71 season that saw the club miss the playoffs, but he didn't make it much further.  An 0-1-2 start brought an end to his coaching run with the Seals.  He didn't have to look far for his next gig, though. Glover headed down the freeway to coach the Kings.  In doing so, he became the first coach to manage two team in one season.  He was released by the Kings at the end of the year.
Apparently, Glover made it out of the Bay Area without burning any bridges. By 1972, he was back in Oakland, where he coached two the Seals for two more seasons.
Fastest Firings: 3 Games – Peter Laviolette
Philadelphia Flyers, 2013-14 (0-3-0)
The most recent addition to this list is the fastest firing to start a season since 1969. Only three games into the 2013-14 season, Laviolette was relieved of his duties.
Flyers General Manager Paul Holmgren opted not to make a coaching change in the offseason, saying he felt his coach deserved one last chance.
That chance lasted all of three regular season games.
"I really wasn't happy last year," Flyers chairman Ed Snider said. "We blamed it on a lot of issues. I thought those issues were valid and felt Peter deserved an opportunity to (return). He's a great coach, a great guy and works his butt off.

I felt training camp, quite frankly, was one of the worst training camps I've ever seen. And I'm not talking about (preseason) wins and losses. There was nothing exciting. Nobody shot. Nobody looked good. I couldn't point to one thing that I thought was a positive coming out of training camp, and personally I was worried. Unfortunately, my worries were realized in the first three games, scoring one goal in each game and looking disorganized. It wasn't just the three losses, it's the way they played in the three losses. They looked lost."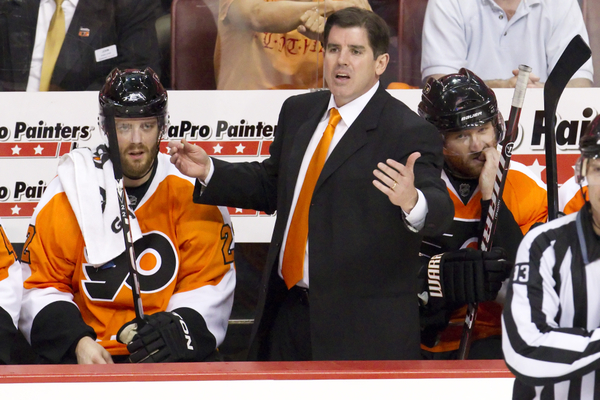 Fastest Firings: 4 Games – Denis Savard
Chicago Blackhawks, 2008-09 (1-2-1)
The Blackhawks had made the playoffs just one time in eight seasons when they brought in Denis Savard.  In his first two seasons, Savard did nothing to change that.  The club missed the postseason in back-to-back seasons under the Hall of Famer.  It was no surprise that he'd be on the hot seat to start the 2008 campaign.  If anything, it was a surprise he wasn't let go over the summer.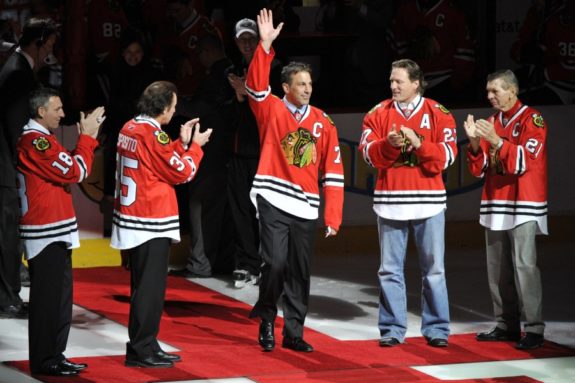 That made it all the more suprising when he got the hook just four games in, after a 1-2- start.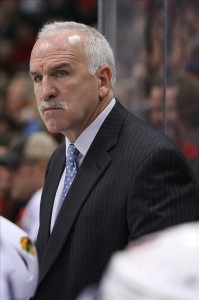 "It was a flat camp and we got out of the gate flat," said General Manager Dale Tallon. "It just didn't seem that we carried over the energy that we had to finish the year last year. We felt we needed to send a message and invigorate this team. It's about moving forward, about achieving and winning and developing a consistent approach. And we felt we needed a more experienced person in that position and that's why we made the decision."
The man who replaced Savard:  Joel Quenneville, who went on to lead the team to a record of 222-106-14 and two Stanley Cup Championships. (Of course, Quenneville should thank the prior coaches for their awful records that landed the Hawks some prime draft picks.)
Fastest Firings: 4 Games – Ivan Hlinka
Pittsburgh Penguins, 2001-02 (0-4-0)
Hlinka, who coached the Czech men's ice hockey team to Olympic gold in 1998, became the second European to coach in the NHL, after Alpo Suhonen.
Led by the return of Mario Lemieux, the Penguins made it to the Eastern Conference Finals under Hlinka. Or perhaps, they made there despite Hlinka.  Reports indicate that it wasn't so easy to play under the Pens' head coach. He spoke very limited English and struggled to communicate with his players, other coaches, and the media. From Bob Smizik at the Post Gazette:
He had a difficult time at a news conference yesterday announcing his hiring. He frequently failed to grasp even the most basic questions. He would give answers to questions that weren't asked.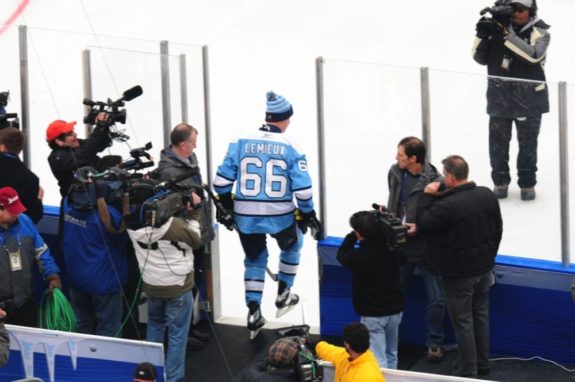 From the Pittsburgh Post-Gazette:
Hlinka clashed at times with NHL scoring champion Jaromir Jagr, who was traded this offseason to Washington, and language problems prevented him from establishing a close working relationship with Penguins players who aren't Czechs. Players said Hlinka rarely talked to the team before or during games and that Kehoe [who would replace Hlinka as Pens head coach] — a former Penguins player — often did most of the talking and handled many of the in-game moves. The Penguins ordered Hlinka to take English lessons during the offseason, but he instead returned to the Czech Republic.

"Total chaos," said one player. "By the time Hlinka figures out what to say, it's too late. It's already time to say something else."
After getting the team off to its worst start in 18 years, Hlinka was sent packing.
Fastest Firings: 4 Games – Jacques Demers
Montreal Canadiens, 1995-96 (0-4-0)
The Canadiens missed the playoffs in the lockout-shortened 1994-95 season.  It was the first time in 25 years the Habs failed to qualify for the postseason.  Obviously, heads would have to roll.
For some reason, though, the coaching staff remaining intact during the offseason. Perhaps it was the offensive spark that came when the team acquired Pierre Turgeon, who immediately clicked with Damphousse and Recchi to provide some much-needed scoring. Perhaps it was General Manager Serge Savard's unwillingness to part ways with his coach. Whatever the reason, the team went into the 1995-96 season with the same manager that dealt away LeClair, Desjardins, Muller, and Schneider and the same coach that steered the team to an eleventh-place finish in the Eastern Conference.
The Habs stumbled to an 0-4 start where they scored just one goal in each of their first four games.  It was the club's worst start in 57 years, since the 1938-39 Canadiens began the year 0-7, Larry Wigge reported.  That was enough for  Habs' president Ron Corey, who fired both Savard and Demers.
"You might think I am pushing the panic button, but I am not," Corey said at a news conference in Montreal.  No, not yet.  That would come a few months later.
Corey filled his vacancies with new GM Rejean Houle and coach Mario Tremblay, both with no previous experience in their roles. The Canadiens, though,  weren't done making major moves. There was one domino still left to fall. From Habs Eyes on the Prize:
The Canadiens responded [to the changes] by going on a 12-2 tear. It was at that moment when the bottom fell out on the team, and they managed but one tie in the next 4 games. The next game would turn out to be the fateful December 5, 11-1 thrashing at the hands of the Red Wings – a game that would greatly alter the future of both goalie Patrick Roy and the Montreal Canadiens.
That was the day that Patrick Roy was dealt to the Colorado Avalanche.  Not a good year for Ron Corey as far as hockey decisions go.  But it was one of the fastest.
---