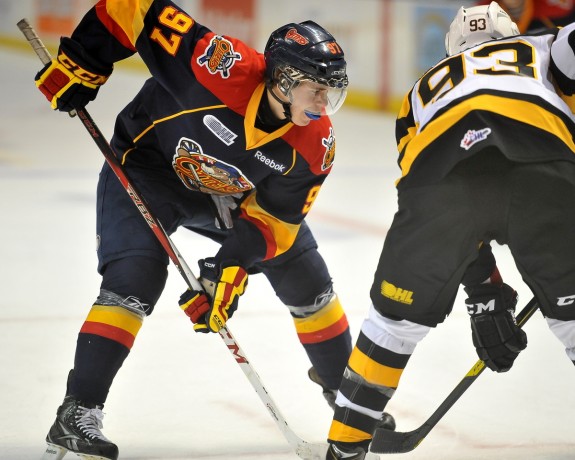 Edmonton fans rejoiced and fans around the leagues groaned as NHL Deputy Commissioner Bill Daly announced on April 18th that the Oilers would jump from the 3rd overall to the first pick and have a chance to select generational talent Connor McDavid. While most agree Edmonton can't possible mess up this draft pick, how the rest of the draft falls is up for more debate. In celebration of the start of the 2015 Memorial Cup, here is a fresh mock draft featuring some of the young stars competing for the CHL crown.
1. Edmonton Oilers – C Connor McDavid, 6'1″, 190 lbs
What more can be said about McDavid? Easily the most hyped prospect since Sidney Crosby, McDavid dominated players up to two or three years older than him, racking up 120 points in just 47 games in the regular season and then adding 49 more in 20 playoff games. A virtual lock to be selected first overall, and his elite skating ability and first-rate vision should be a splendid fit alongside the other young talent Edmonton has assembled.
2. Buffalo Sabres – C Jack Eichel, 6'2″, 195 lbs
While Buffalo lost out on the coveted McDavid, Eichel is no slouch. Heralded for his power forward dynamic and strong skating ability, Eichel became the first freshman since Paul Kariya in 1993 to win the Hobey Baker award as the NCAA Hockey MVP. Possessing the complete package in terms of playmaking ability, skating strength, and a rocket of a shot, he should develop into a franchise player for the Sabres.
3. Arizona Coyotes – C Dylan Strome, 6'3″, 187 lbs
The first really challenging pick to predict in the draft, I think Arizona will opt for the big, potential number one centreman. Playing in the same division as teams like Los Angeles and Anaheim, big centres are necessary to be competitive. While some people point to his supposedly slow skating and say that Marner or Hanifin might be a better pick here, Strome is very solid on his skates and is almost impossible to knock off the puck when he gets it in the offensive zone. His elite vision, strong shot, and complete two-way game could allow him to develop into a big, strong, two-way force, the type of centreman that every team needs to be successful, especially in the Western Conference.
4. Toronto Maple Leafs – D Noah Hanifin, 6'3″, 205 lbs 
While some may be calling for Marner in this spot, I believe the Leafs would be better served taking the big, smooth-skating Hanifin out of Boston College. The Leafs have a long rebuild ahead of them, and ensuring their future on the blueline is a solid way to kick off the Babcock era. Many great teams are built from the net out, as the Blackhawks already had stalwarts Duncan Keith and Brent Seabrook in place before taking Jonathan Toews and Patrick Kane. Defensemen are notoriously slow to develop, so taking a defenseman early in the rebuild process makes a lot of sense for Toronto. Hanifin is definitely worthy of such a high pick, however, as his smart decision-making and elite skating ability have earned him glowing reviews from scouts and coaches alike. He was one of the youngest members of Team USA at the World Junior Championships and did not look out of place playing among the top young players in the world. By taking Hanifin here, the Leafs create a juggernaut future top pairing of Hanifin and Morgan Rielly.
5. Carolina Hurricanes – C/W Mitch Marner, 5'11", 163 lbs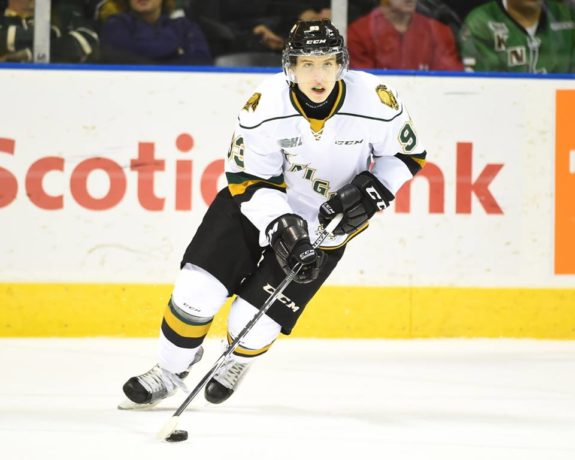 While Toronto passed on Marner, the Hurricanes run to the podium to snap up the player who could have one of the highest ceilings in this draft. Marner showcased his elite offensive talents this past season in the OHL, averaging two points per game for the London Knights. The Hurricanes are starved for elite young talent at forward, and pairing Marner with Elias Lindholm and Victor Rask could ably replace the Staals a few years down the road.
6. New Jersey Devils – C Mathew Barzal, 6'0″, 181 lbs
It's no secret New Jersey lacks young impact forwards, so they will be targeting a forward with their first pick. Barzal offers an elite package of vision, playmaking skill, and great skating ability. He might have even gone higher if it wasn't for a broken kneecap he suffered early in the season and struggled to recover from upon his return. He lit up the WHL down the stretch to recapture the spotlight and convince scouts he's just as talented as when he was the 1st overall pick in the WHL Bantam Draft in 2012. He would fit in nicely with New Jersey, as he has the potential to develop into a first-line centre they have been lacking for a while now.
7. Philadelphia Flyers – D Ivan Provorov, 6'0″, 200 lbs
While the Flyers have stocked up on talented young defenseman in recent drafts, none of them possess the upside or true top-pairing potential that Provorov does. He is the complete package from the blueline; skates like the wind, has a rocket of a shot, has elite playmaking ability and vision, and has a mean streak and is not afraid to dish out a big hit. The Flyers could look to take a young winger given their lack of forward prospects, but they would do well to take the young Russian defender here.
8. Columbus Blue Jackets – D Zach Werenski, 6'2″, 215 lbs 
The Blue Jackets have built a young team with plenty of depth at all positions, but they lack a true difference-maker from the back end aside from 2013 2nd overall pick Ryan Murray. While they could target a young forward like Mikko Rantanen here, they already have high-upside forwards like Alex Wennberg, Sonny Milano, and Marko Dano. Adding a future power play quarterback like Werenski could give the Blue Jackets the true top-pairing guy they have been lacking in recent seasons.
9. San Jose Sharks – C/W Pavel Zacha, 6'3″, 215 lbs
While the Sharks would probably have liked Werenski to fall to them, Zacha is no consolation prize. He offers possibly the best combination of skill and physicality among the draft's top prospects, and has immense upside. While he carries some risk with him, the Sharks need to start adding high-potential prospects to their farm system, and among the prospects left on the board, Zacha has the best chance to become a top-flight NHL player.
10. Colorado Avalanche – C/W Mikko Rantanen, 6'4″, 210 lbs
While the Avalanche have nice core comprised of former top picks Nathan Mackinnon, Matt Duchene, and Gabriel Landeskog, they lack prospects with high upside. With the top three defenders off the board at this point, they opt to go with Rantanen, the top-ranked European skater by Central Scouting. Rantanen has the size and skating ability to be a dominant power forward, but lacks the mean streak to be a physical force. However, still possesses a great shot and has the puck protection skills to be a great complement to playmakers like Duchene and Mackinnon.
11. Florida Panthers – LW Lawson Crouse, 6'4″, 215 lbs
Unlike the similarly-sized Rantanen, Crouse is not afraid to throw his weight around and be a difference maker when he's not on the scoresheet. The Panthers have some nice young talent at forward, but no one that brings the type of physical presence that Crouse would. Crouse also is a good skater that pairs a great shot with the ability to dominate the puck on the cycle, something that an aspiring puck possession team like the Panthers will value come draft day.
12. Dallas Stars – RW Timo Meier, 6'1″, 210 lbs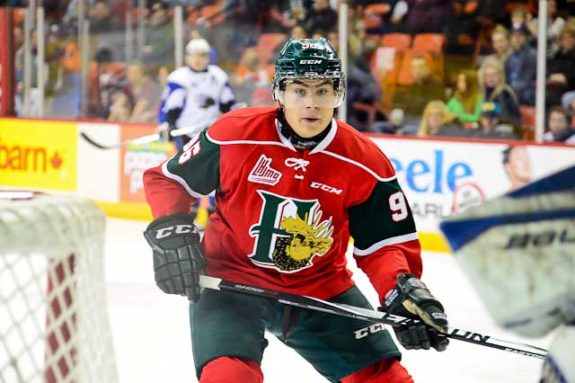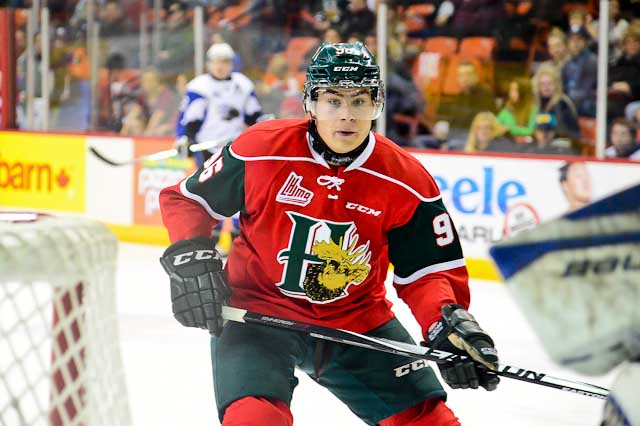 Dallas is another organization that possesses elite young talent up front (Jamie Benn, Tyler Seguin), but doesn't have much in the way of elite forward prospects. Meier is a great low-risk, high-upside pick, as he has flashed his elite ability playing alongside 2014 9th overall pick Nikolaj Ehlers. His quick hands and great finishing ability would look great playing alongside elite NHL playmakers like Benn and Seguin.
13. Los Angeles Kings – C Kyle Connor, 6'1″, 183 lbs
The Kings suffered through a down season, experiencing a lack of scoring and injuries to key defenseman as the season wore on. They have a nice prospect pipeline with lots of depth players, but no top young prospects with the potential to play a top-6 role in the future, potentially replacing declining players such as Mike Richards. Connor, the USHL's leading scorer, offers potentially elite playmaking ability and a strong two-way game that would fit in well with the playing style that the Kings have built two championship teams around.
14. Boston Bruins – D Jeremy Roy, 6'0″, 183 lbs 
The Bruins also struggled through much of the season, ultimately ending up as the NHL record holder for most points in a season while missing the playoffs (96 points). They also have some nice prospects coming up, but after adding a high-upside forward in last year's draft in David Pastrnak, they decide to go with the high-upside blueliner with Jeremy Roy. A brilliant skater, Roy has the makings of a power play quarterback written all over him. The Bruins have lacked a defenseman with Roy's offensive potential since Ray Bourque left town, and Roy and Dougie Hamilton could make a deadly top pairing down the line.
15. Calgary Flames – D Jakub Zboril, 6'2″, 185 lbs 
The Flames are stacked at all positions in their prospect pipeline, so can afford to take the player they feel is the best available. With offensive defenseman Mark Giordano and TJ Brodie already in tow, they decide to take a smart, safe, two-way defenseman like Zboril here. Zboril has some untapped offensive potential, but is heralded for his heady play and knack for making smart decisions all three zones.
16. Edmonton Oilers (from Pittsburgh) – D Thomas Chabot, 6'2″, 180 lbs 
The Oilers, terrible on defense for a few seasons now, could be nearing a light at the end of that tunnel with solid young defensemen Darnell Nurse, Oscar Klefbom, and Martin Marincin coming up through the pipeline. However, aside from the much-maligned Justin Schultz, the Oilers don't have a defenseman with the offensive upside of Chabot, a strong skater with great playmaking skills. After snagging a franchise player earlier in the draft, the Oilers solidify the back end here with Chabot.
17. Winnipeg Jets – C/W Nick Merkley, 5'10", 187 lbs
The Jets are another team that have a loaded prospect pool, so they will be looking to either take the best player still available or trade one of their two first-round picks for NHL help, as they were swept in the postseason and could use an impact player. However, Merkley is a fantastic pick at this point in the round, as he makes up for his small stature with elite passing skills and a great compete level. His all-around game would be a perfect fit playing alongside 2014 1st round pick Nikolaj Ehlers, the organization's top prospect.
18. Ottawa Senators – RW Travis Konecny, 5'10", 172 lbs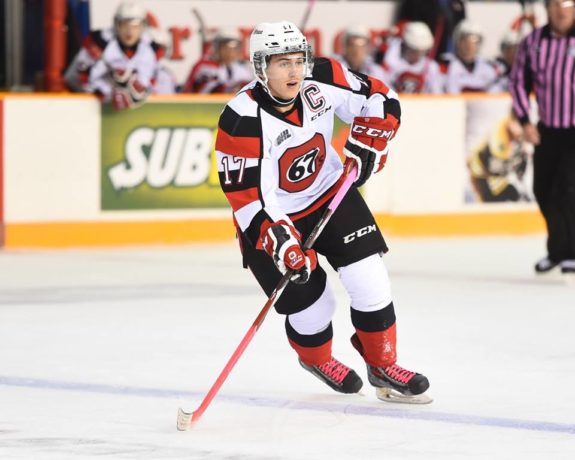 If Konecny falls this far, expect the Senators to run to the podium to take him. He offers the type of game-breaking potential that none of the Senator's current prospects do, and is the complete package with a strong two-way game and a leadership background as the captain of the Ottawa 67's. The Senators have a history of taking top prospects from local teams, and the match here is too good to pass up.
19. Detroit Red Wings – RW Evgeny Svechnikov, 6'3″, 205 lbs
Doesn't this just seem like a classic Wings pick? Fast, skilled, and most important of all, European, Svechnikov has the size and skill to be an impact player at the NHL level. He has a great shot and the size to get into dirty areas of the ice and be effective all over the offensive zone. While his defensive zone play can be inconsistent at times, his skill level would be a perfect fit in Detroit's prospect pipeline. He may be raw and require a few years of development, but there are few better organizations for that than with the Red Wings.
20. Minnesota Wild – C/W Colin White, 6'0″, 183 lbs
White's calling card is his fantastic skating ability, which allows him to be a difference maker in all three zones. He is great on cycling the puck and maintaining possession; also is strong on his skates and tough to separate from the puck. The Wild are one of the strongest possession teams in the NHL, and after grabbing a big forward in last year's first round (Alex Tuch), they take a smaller, speedier forward who coincidentally played with Tuch last year on the US National U-18 Team.
21. Buffalo Sabres (from New York Islanders) – D Oliver Kylington, 6'0″, 181 lbs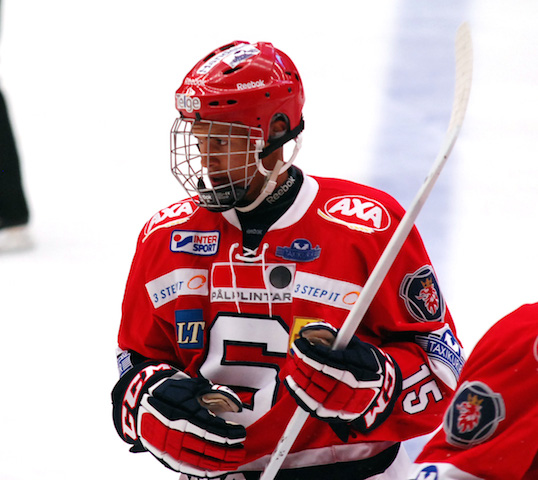 Kylington entered the year projected as a potential top-5 pick. However, he suffered through a tough season that included being sent down from the SHL to the second-tier Allsvenskan, as well as an injury that kept him from competing in the World Junior Championships in January. He still possesses the elite skating ability and powerplay prowess that made him a revelation last season, but carries more risk with him coming off of such a down season. The Sabres are in the midst of a long rebuild, and can afford to take a chance on a high-risk, high-reward player like Kylington.
22. Washington Capitals – LW Jake DeBrusk, 6'0″ 176 lbs
With most of their recent high draft picks already graduated to the NHL, the Capitals lack a high potential forward in their system outside of Jakub Vrana. Adding DeBrusk, a hard-working two-way forward who can play in any situation, would be a great find this late in the round. With all the offensive talent the Capitals have, DeBrusk brings a different element, a hard-working two-way forward who could also play on a scoring line with stars like Ovechkin or Backstrom.
23. Vancouver Canucks – C Joel Eriksson-Ek, 6'2″, 185 lbs
Canucks add to their pipeline here and take a big centreman who has rocketed up draft charts this year. Eriksson-Ek combines good agility with a big frame and strong puck protection skills. An above-average skater, he looks to blossom into a true power forward in the future, as he is not afraid to go to the dirty areas of the ice and play the body. His wrist shot is lethal with a good release; would make a perfect complement to McCann and Horvat down the middle for years to come.
24. Toronto Maple Leafs (from Nashville) – RW Brock Boeser, 6'1″, 192 lbs
Boeser, headed for the University of North Dakota next season, raised his stock tremendously with a huge showing in the USHL this season. Boeser was considered by many to be one of the most complete players in the USHL last year, and his offensive instincts and heavy shot could lead to him ending up a late first round steal if he reaches his full potential. Entering a long rebuild, Toronto would do well to add a high-potential forward like Boeser to their forward group.
25. Winnipeg Jets (from St. Louis) – LW Paul Bittner, 6'4″, 205 lbs
Winnipeg picks up another forward who could potentially be a perfect linemate to Merkley, the small but dynamic playmaker they took earlier in the draft. Bittner offers the big power forward prospect with skill that the Jets lack. Bittner may not have elite offensive skill, but he has enough size and finishing ability to serve as a nice compliment to a playmaking centre like Scheifele or Merkley.
26. Montreal Canadiens – D Rasmus Andersson, 6'0″, 209 lbs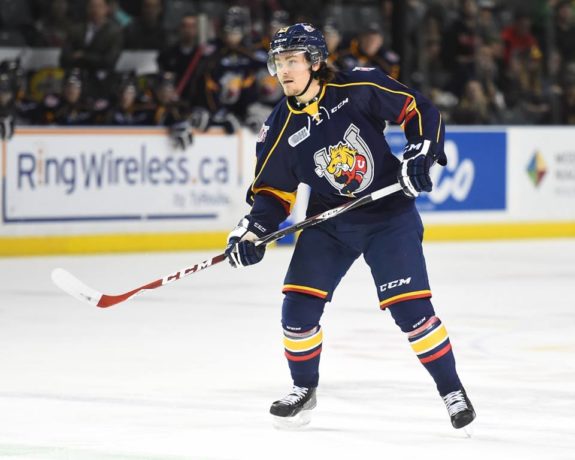 Although this might seem like a pick slightly off the board, Andersson is definitely worthy of a first round pick and in my opinion is the best defender left on the board. A strong two-way defender with a stocky build and a rocket of a shot, Andersson is able to play in any situation and excels on the power play. Seen going in to the season as mainly an offensive defenseman, he developed into a reliable shutdown man for the Barrie Colts. The Habs have a dearth of high potential defense prospects, and Andersson could end up being one of the best defensemen from this draft.
27. Philadelphia Flyers (from Tampa Bay) – RW Daniel Sprong, 5'11", 175 lbs 
The Flyers have focused on adding young defensemen to the pipeline in recent drafts, leaving them without a forward prospect with elite skill. Sprong would bring that in spades, with great skating ability and a bullet wrist shot that give him one of the highest upsides of all the great forwards in this draft. His effort level and defensive ability have been called into question however, leading some teams to pass on him and for him to fall into the latter half of the first. The Flyers have multiple first rounders, however, so they can afford to take a chance on a talent like Sprong.
28. Anaheim Ducks – C Jansen Harkins, 6'1″, 177lbs
The Ducks possess enviable prospect depth at all positions, so they take a smart, two-way centre here in Harkins. While he doesn't have the high-scoring upside of a Perry or Getzlaf, Harkins has the chance to be an effective middle 6 centre in the NHL. He is good on faceoffs, a good skater, and has improving puck skills that could allow him to develop into a top-6 forward at some point. All-in-all, a complete player that will probably have a successful NHL career.
29. Tampa Bay Lightning (from New York) – C/LW Anthony Beauvillier, 5'10", 180lbs
The Lightning have shown a willingness to prioritize skill over size in the past, and that has worked pretty well for them (see Kucherov, Nikita or Johnson, Tyler). Beauvillier has the complete package of skill and two-way game that has led one scout to say "if this kid is six-foot, he's a [high] first-rounder." To add a cherry on top, Beauvillier has a noted leadership history and was named a captain at the Top Prospects game in January. Tampa Bay could go a number of directions with this pick, but Beauvillier seems like a high-reward prospect that Tampa Bay like to take chances on.
30. Phoenix Coyotes (from Chicago) – C/RW Jack Roslovic, 6'1″, 183lbs
Coyotes are looking to push forward with a more offensive team, so after solidifying the centre position earlier with Strome, they take a blue collar forward who might not be a huge goal scoring threat in the NHL, but is a safe bet to play a feature role on an NHL team. He is strong on the forecheck and plays a responsible defensive game that compliments his improving skating and shooting abilities. Committed to the NCAA next year with the University of Miami (Ohio), he could require a few years of seasoning and development, but the payoff could be huge.
Joseph Aleong is an At-Large writer for THW from Toronto, Ontario. He is a graduate of Brock University in St. Catharines, ON. Follow him on Twitter @josephaleong11