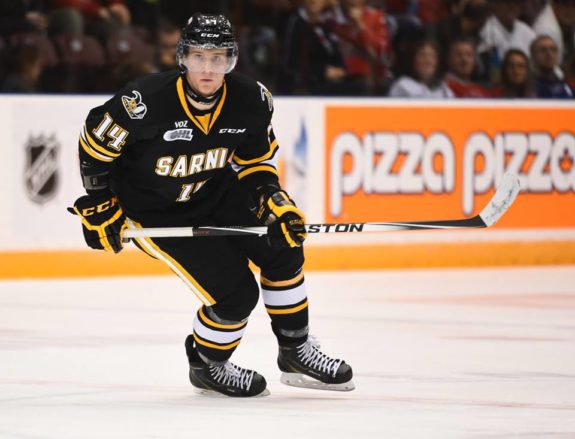 While there are no guarantees in the NHL Draft, many teams often pick a player who has a better chance to play in the NHL over someone whose talent they think is outweighed by risk. However, teams who take chances on these high-risk, high-reward prospects can sometimes end up with a steal on their hands, and the teams who passed on these talented prospects in favour of "safe" draft picks end up with an underwhelming NHL player who did not live up to their lofty draft selection. Here are some of the riskiest players in the draft, ones who present the biggest uncertainties but could also make the teams that passed on them regret it in the future.
Pavel Zacha (Prospect Profile)
Pavel Zacha has been on the NHL radar for quite some time now. Thought of as a potential top-5 pick for the 2015 NHL Draft last year, he was taken 1st overall in the CHL Import Draft by the Sarnia Sting, and was, with 1st overall OHL draft pick Jakob Chychrun, expected to make the last-place team competitive again. Blessed with all the tools necessary to blossom into an elite power forward at the NHL level, Zacha instead suffered through a trying season which saw his stock drop, and is now thought of as a borderline top-10 pick. Zacha often times looked like a man amongst boys in the OHL, using all of his 6'3″, 210 pound frame and great skating ability to power around defenders and use his NHL-calibre shot. His shot, his main weapon, has been described by some as one of, if not the best in the draft. Check out this goal Zacha scored on poor Charlie Graham, the goalkeeper for the Belleville Bulls:
Our very own Eldon MacDonald had this to say about Zacha's shooting ability:
Release, velocity, placement – fantastic. A lot of times the goalie will say the same thing that my brother said when he was almost hit by lightning, "I didn't have time to move."
Zacha's first junior season was not all positive, however. He struggled with consistency and adjusting to the smaller ice surface in North America. He also missed time due to various injuries, a pair of suspensions, and participating in the World Junior Championships for his native Czech Republic. While he is not afraid to throw his weight around, sometimes he can cross the line, which is what led to his two suspensions this season for a combined 8 games. However, Zacha's elite skating and tantalizing mix of physicality and skill could make him one of the best players to come out of this draft, when all is said and done.
Denis Guryanov (Prospect Profile)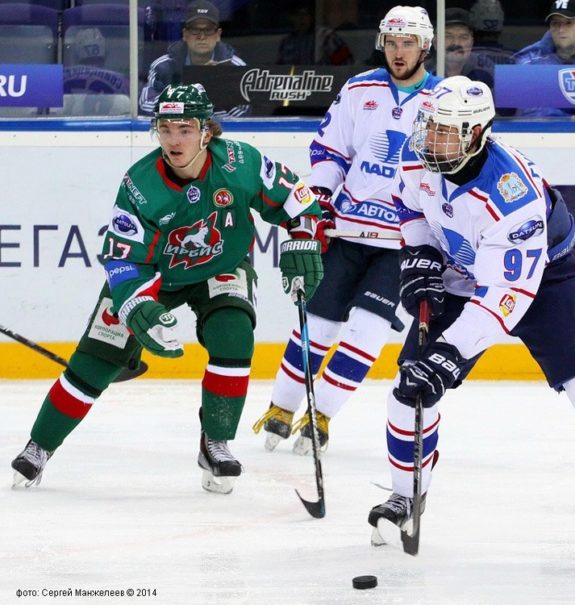 Guryanov raised his draft stock tremendously with a monstrous performance at the recently completed World Under-18 Championships, potting a ridiculous 6 goals in 5 games. This great performance on a world stage capped off a great campaign where Guryanov tallied more than a point per game in Russia's junior league, the MHL. Guryanov impresses with his breathtaking speed and hands, matched only by his tenacity and high-octane offensive game. Bill Placzek of Draftsite.com had this to say about him:
"Pro-style wing whose powerful legs get him to the front. Has shown his superiority, starting in the Five Nations Tourney, by making plays and taking shots while completely covered due to the size and hands. Terrific heavy shot and quick release. Strong board player and and on the cycle. Plays a 200 foot game with strong defensive commitment. Potentially a top end pro-style wing prospect who gets most boxes checked in terms of size, skill, skating, hockey sense, hands and power. His powerful stride makes him almost unstoppable as he goes were he pleases and can release his cannon shots while defenders attempt to drape themselves on him. Strong three zone player who is very responsible on the back check. Owns the wall and his powerful stride lets him bull his way towards the net and unleash the puck while in full-flight. Was the biggest standout in the World Junior A Challenge were he was dangerous on most of his shifts."
The main concern with Guryanov is his lack of exposure, as we have yet to see him play an important role against top-tier competition. He played most of last season in the junior league, and therefore has only 9 games of experience in the KHL, where he racked up a measly 2 assists with no goals. The dreaded "Russian Factor" might be in play here as well, as he has played his entire career with one organization and is under contract to play for the Lada Togliatti of the KHL for the next few seasons. However, Guryanov has shown no hesitance to compete against top-tier competition in international tournaments, and he has shone when given the chance.
Guryanov's talent make him worthy of a first round pick, but some teams may have reservations about spending a high draft pick on him, given his minimal experience against professional competition and limited exposure playing in Russia's junior league. However, Guryanov is a special talent, and one lucky team may wind up with a potential star on their hands.
Jeremy Bracco (Prospect Profile)
Size isn't as big a concern for draft-eligible prospects as it used to be, as many undersized forwards have found considerable success in the NHL in recent years. Players like Johnny Gaudreau and Tyler Johnson have helped alleviate the concern that players who were considered "too small" in their draft year can't make a successful transition to the speed and physicality of the NHL. However, undersized players often must possess great offensive talent and tenacity to succeed at higher levels, which Jeremy Bracco definitely has in spades. This last season, he put up 94 points in just 65 games playing for the United States Under-18 Development Team. He also broke Patrick Kane's record for career assists playing for the USNTDP, racking up an impressive 122 helpers over the last two seasons.
Grab that puck! Jeremy Bracco just set the #NTDP career assists record (89), passing JD Forrest and Pat Kane. pic.twitter.com/2FN34JDlhq

— USANTDP (@usantdp) November 23, 2014
However, there is some risk involved with Bracco despite his elite offensive talents. As Shawn Reznik details in his scouting report, Bracco has a tendency to get knocked around and disappear from the game when he faces much bigger and stronger opponents. Bracco saw his stock drop a little bit with a lackluster second half of the season, dropping from a projected first round pick to being ranked 60th amongst North American skaters by Central Scouting.
Bracco is a sublimely talented offensive player, but the concerns over his size and inconsistent production could end up dropping him out of the first round altogether. However, as the saying goes, talent can't be taught, and the team that is lucky enough to grab Bracco could end up with the next Johnny Gaudreau.
Joseph Aleong is an At-Large writer for THW from Toronto, Ontario. He is a graduate of Brock University in St. Catharines, ON. Follow him on Twitter @josephaleong11