Opening night for the pandemic-delayed 2020-21 NHL season is Wednesday, when the first the first five of 868 regular-season games will be played.
It will be a season like no other. All seven teams based in Canada will play within their own division (the North). The 24 teams based in the United States have been divided into three divisions (East, Central and West). The standard 82-game season has been reduced to 56 and each team will play only within its own division. For the East, Central and West divisions, that means eight games against each of its seven rivals. In the North, each team will play four of its division rivals nine times and the other two 10 times.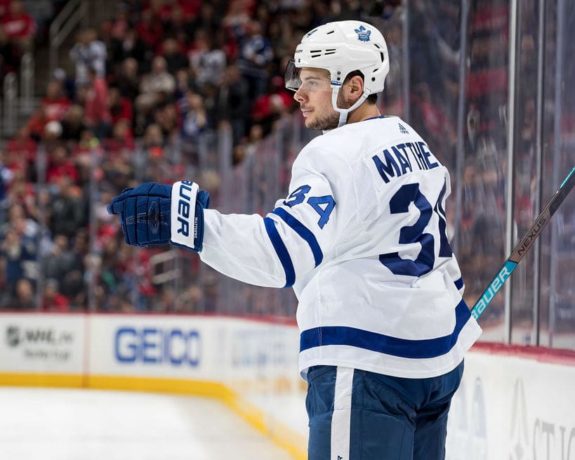 How much do you know about opening night? Take our quiz and find out. 
Questions
1. Auston Matthews of the Toronto Maple Leafs set a record by scoring four goals in his NHL debut on opening night in 2016. Who was the opponent?
a) Boston Bruins
b) Detroit Red Wings
c) Ottawa Senators
d) Tampa Bay Lightning

2. What was the last season to open in January?
a) 1994-95
b) 2004-05
c) 2010-11
d) 2012-13

3. Since 1970, only two expansion teams have played each other on opening night. Who were they?
a) Atlanta Flames-New York Islanders
b) Buffalo Sabres-Vancouver Canucks
c) Kansas City Scouts-Washington Capitals
d) Ottawa Senators-Tampa Bay Lightning
4. In what season did the NHL open in September?
a) 2007-08
b) 2008-09
c) 2009-10
d) 2010-11
5. The first NHL shootout was played on opening night of the 2005-06 season between which two teams?
a) Carolina Hurricanes-Tampa Bay Lightning
b) Columbus Blue Jackets-Washington Capitals
c) Ottawa Senators-Toronto Maple Leafs
d) Phoenix Coyotes-Vancouver Canucks

6. Who holds the NHL record for most points in a season-opening game?
a) Kevin Stevens
b) Mario Lemieux
c) John Tavares
b) Wayne Gretzky
7. What was the only season that had 15 games played on opening night?
a) 2001-02
b) 2003-04
c) 2005-06
d) 2009-10

8. Which NHL opening-night record will Auston Matthews try to break in the Toronto Maple Leafs' game against the Montreal Canadiens?
a) Career goals
b) Career points
c) Most consecutive years scoring goals in openers at start of career
d) Most goals among active players

9. Which team won on opening night in each of its first seven NHL seasons?
a) Boston Bruins
b) Montreal Maroons
c) Montreal Canadiens
d) New York Rangers

10. How many times in the past 50 years have the two most recent Stanley Cup champions played on opening night?
a) 0
b) 1
c) 2
d) 3
---
Latest Hockey History Posts
---
Answers
Question 1: Answer (c)
Matthews scored four goals against the Ottawa Senators on Oct. 12, 2016. Unfortunately for the Maple Leafs, Matthews was the only player to score that night. They couldn't hold a third-period lead and lost 5-4 in overtime.
Question 2: Answer (d)
The 2012-13 season opened in January after the NHL and its players reached a contract to settle a lockout that reduced the season to 48 games. The 1994-95 season also opened in January because of a lockout, the 2004-05 season was canceled by one and the 2010-11 season started on time.
Question 3: Answer (b)
The Atlanta Flames defeated the New York Islanders 3-2 on opening night at Nassau Coliseum in 1972. It was the first NHL game for each team. Bobby Leiter scored what proved to be the winning goal for Atlanta; Ed Westfall scored both goals for the Islanders.
Question 4: Answer (a)
The Anaheim Ducks and Los Angeles Kings opened the 2007-08 season with two games in London on Sept. 29-30, 2007. The Kings defeated the defending Stanley Cup champions 4-1 behind two goals by Mike Cammalleri in the season opener and the Ducks got even with a 4-1 victory the next day, with Corey Perry scoring twice.
Question 5: Answer: (c)
The Ottawa Senators won the first NHL game decided by a shootout by defeating the Toronto Maple Leafs 3-2 on Oct. 5, 2005. Daniel Alfredsson scored on the first shootout attempt in NHL history and Dany Heatley got the clincher in the third round.
Question 6: Answer (a)
Stevens finished with six points (two goals, four assists) for the Pittsburgh Penguins against the Washington Capitals on Oct. 5, 1990. Stevens scored the game's first goal and had an assist in the first period, then scored again and assisted on three more goals in the third period.
Question 7: Answer (c)  
There were 15 games played on opening night in 2005-06, the most in NHL history. It was the return of hockey following the lockout that wiped out the 2004-05 season, and the league decided to have all 30 teams open their seasons on the same night. Sidney Crosby of the Pittsburgh Penguins and Alex Ovechkin of the Washington Capitals each made his NHL debut that night.
Question 8: Answer (c)
Matthews will try to become the first NHL player to score on the first five opening nights of his career. Three other players — Dit Clapper (Boston Bruins, 1927-30), Dave Andreychuk (Buffalo Sabres, 1982-85) and Sergei Fedorov (Detroit Red Wings, 1990-93) — also scored on each of the first four openers of their careers.
Question 9: Answer (d)
The New York Rangers, who entered the NHL in 1926 along with the Chicago Black Hawks and Detroit Cougars (now the Red Wings), won their game on opening night in each season from 1926-27 to 1932-33.
Question 10: Answer (b)
The Washington Capitals (2018) and St. Louis Blues (2019) played on opening night at Enterprise Center last year. The only other time it's happened in the modern era (since 1943-33) was 1963, when the 1962 champion Toronto Maple Leafs visited the 1961 champions, the Chicago Black Hawks.
---
---
Longtime NHL writer and editor. Covered first NHL game in 1975 (and hundreds since). Have done several books, hundreds of magazine/newspaper/online stories. Big fan of hockey history.