In today's NHL rumors rundown, more candidates are being mentioned in connection to the vacant GM job for the Toronto Maple Leafs. What is the reaction to some of these names? Meanwhile, whatever person is hired to take on the role of GM or President of Hockey Ops in Pittsburgh is going to have their work cut out for them. What's happening in New York where the Rangers still need a coach? Finally, is the Neko Sparks bid for the Ottawa Senators a real thing?
5 Names Linked to Maple Leafs GM Gig
As per Frank Seravalli, developments in connection to the Toronto Maple Leafs GM search are slowly trickling in. He tweeted on Friday, "As the process to find next #LeafsForever GM gets moving, I'd expect Toronto to interview at a minimum Jason Botterill, Marc Bergevin, Brad Treliving and Peter Chiarelli – if they haven't already. Four names to chew on in TO."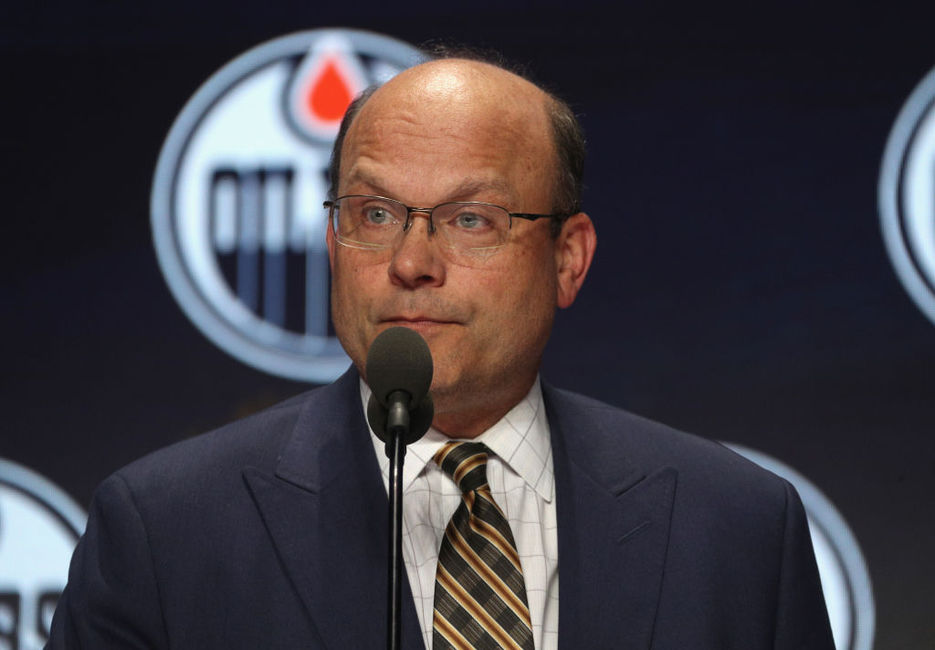 TSN's Pierre LeBrun also offered some news on the search and, while confirming that Treliving is probably still the frontrunner and these names could be on the list just for optics reasons, he believes President Brendan Shanahan will likely be speaking to these candidates. LeBrun went so far as to suggest Treliving is not as much a lock as some are predicting.
Related: Devils News & Rumors: Hamilton, Stadium Series & More
---
Latest News & Highlight
---
While both did some good things for their respective organizations, one quick look around social media and it's clear to see that much of Leafs Nation is not thrilled about the idea that Toronto might be giving serious consideration to Bergevin or Chiarelli. Elliotte Friedman noted on the 32 Thoughts podcast that Mark Hunter is getting serious consideration, but Nick Kypreos noted he'd be shocked if he were hired considering his history with the team. Hunter was the Leafs' Director of Hockey Ops for two years and Assistant GM for two years. That's the extent of his more limited experience in a professional hockey front office.
Penguins GM Job Will Be Challenging
Matt Vensel of the Pittsburgh Post Gazette took a look at what the new general manager in Pittsburgh is going to be dealing with as far as challenges go. Noting that all three of Sidney Crosby, Evgeni Malkin, and Kris Letang will be Penguins for life, there is no trading them. Next, the team is probably stuck with Bryan Rust based on his full no-movement clause through the end of the 2024-25 season. Rust loves it in Pittsburgh, so if the GM wanted to move him, they probably can't.

Vensel mentions four names that could be trade options in Pittsburgh: Jake Guentzel, Rickard Rakell, Jeff Petry, and Marcus Pettersson. In particular, he looked at Guentzel as an interesting option. He writes:
He has 159 goals in his last 331 games and Crosby loves playing with him. But he also has one year left on his contract. So if the Penguins can't extend him this summer, they could shop him. He would be a premium trade chip even with his pending free agent status.

source – 'Hockey trades, free agents and a buyout candidate: What the Penguins' next GM is facing' – Matt Vensel – Pittsburgh Post-Gazette -05/15/2023
A big area the Penguins will need to fill is goaltending and it appears the team might need to find a replacement for Tristan Jarry.
Latest on Rangers Coaching Vacancy
The New York Post's Larry Brooks examined what the holdup in New York is regarding the hiring of a new head coach. He noted that one possible snag is that a determination has not been made on Sheldon Keefe in Toronto. Brooks wonders if Chris Drury is waiting to see what happens there once the Maple Leafs hire a new GM.
He also wonders if the same thing is happening in Pittsburgh where a new GM might want to bring in a new coach and relieve bench boss Mike Sullivan of his duties. Some believe that if Kyle Dubas takes the job, one of his first orders of business would be to hire Keefe as the coach in Pittsburgh, but that certainly isn't a given.
Neko Sparks Fundraising Coming Into Question in Ottawa
There are questions (maybe even concerns) in Ottawa where the bid by the Neko Sparks Group — the group that includes Snoop Dogg, Donovan Bailey, Russell Peters, and the Dragon's Den cast — that things might not be on the up and up. Elliotte Friedman reported on his podcast: "Look, if you've seen any stories on the Neko Sparks bid this week, I think that's just become an incredibly nasty process, just some of the mud-slinging behind the scenes has been really, really something". There are also reports that he's still actively searching for the actual funding he's offered up as part of his bid to purchase the Senators.
Bruce Garrioch of the Ottawa Sun tweets that he doesn't think that group is really in contention. He notes, "I believe the sale of the #Sens is a three-horse race between Toronto billionaires Steve Apostolopoulos, Jeffrey and Michael Kimel and Michael Andlauer. Am told that Neko Sparks group is still trying to raise funds. It's getting late in the game for that."