While everyone talks about Patrick Kane's point streak, emerging rookies taking over the NHL or the high-flying top duo Benn/Seguin, there are less mentioned players who would also earn some praised words, guys who deliver secondary scoring to their teams but fly under the radar of most NHL fans.
Let's have a look at NHL players who had a strong start into the season, but were overshadowed by bigger names or more productive players on the team:
Vincent Trocheck (C, Florida Panthers)
The first line featuring Jaromir Jagr, Aleksander Barkov and Jonathan Huberdeau is clearly the most productive for the Florida Panthers, but the franchise has gained a lot of young talented players over the last couple of years and therefore build decent depth on the forward positions.
Vincent Trocheck leads #FlaPanthers with 3 goals and 14 scoring chances when the team is losing.

— Cats On The Prowl (@Cats0ntheprowl) December 1, 2015
One of those young guys is 22-year-old Vincent Trocheck, Florida's third round pick from 2011. The Pittsburgh-native is in his third year with the Panthers organization and is on pace to play his most productive season, having collected already 17 points. He is currently centering the Panther's second line in absence of Nick Bjugstad.
Mathieu Perreault (LW, Winnipeg Jets)
For a team like the Winnipeg Jets which has a very dominant top line, it is even more crucial to have secondary scoring. Andrew Ladd, Bryan Little and Blake Wheeler can't always save the day, and that's where the Jets' second line featuring Mathieu Perreault, Mark Scheifele and Drew Stafford comes in play. Perreault is the team's third best scorer and has collected 23 points in 29 games for the Jets.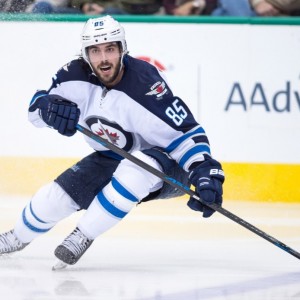 The speedy undersized winger, who can also play at center, was a great last summer signing and is on pace to play his third consecutive 40+ point season. He is proving that many teams were wrong when they didn't select him within the first 176 positions in the 2006-Draft. He brings tons of energy to the ice and his line has the potential to continue to impress and deliver the Jets with important points in the playoff race.       
Jason Demers (D, Dallas Stars)
Dallas has scored the most goals of the entire league and their first line duo Jamie Benn/Tyler Seguin is among the top three scorers in the NHL. Next to Benn and Seguin, Swedish defenceman John Klingberg has played an outstanding season so far and is among the most productive defencemen. In the shadow of those three top guys, Jason Demers blossoms into a solid top-four defenceman.
He has scored eleven points in 22 games and offers additional support on the blueline, giving Klingberg and Alex Goligoski some breathing room. So far, last year's trade which brought Demers to Dallas turns out to be just a great deal for General Manager Jim Nill and his organization.
Rasmus Ristolainen (D, Buffalo Sabres)
While the whole hockey world is excited about rookie sensation Jack Eichel, people tend to forget that there is another high drafted kid in Buffalo who amazes with his play. In the shadow of Eichel, the organization's ninth overall pick from 2013, Rasmus Ristolainen, is evolving into the Sabres best defenceman this season.
Via @EliasSports: Ristolainen was the youngest defenseman to score a hat trick since Hannu Virta did so for the Sabres on March 19, 1983.

— Sabres PR (@SabresPR) December 11, 2015
It is not even Christmas but he already topped his last year's point record of 20 points. The Finnish towering defenceman displays his offensive upside this season and is an important part of Buffalo's powerplay. Ristolainen has the potential to become an effective defenceman at both zones of the ice and took a major development step this season.
Victor Rask (C, Carolina Hurricanes)
The Carolina Hurricanes are at the bottom of the standings and Hurricanes fans have reasons enough to be seriously concerned about their team's future. Their prospect pool doesn't look too promising with a few exceptions, however, not everything is bad in Raleigh. One of the bright lights is Swedish center Victor Rask, their second round pick from four years ago. After finishing a strong rookie season with 33 points last season, Rask is currently the team's second best scorer with 19 points.
Because the first two center positions are taken by Eric and Jordan Staal in most of the games, Rask finds himself as a bottom-six center although he was also used as a winger in the course of the season.
David Desharnais (C, Montreal Canadiens)
With the move of Alex Galchenyuk back to the middle, Montreal's last year's top-six center David Desharnais had to move back to the third line prior to the start of the season. This is not slowing him down from being productive though. He is centering the third with Dale Weise and Tomas Fleischmann on the wings who are both playing very well. Weise is on pace to play his most productive season and will most probably top his best goals scored mark of 10 soon. Fleischmann, who was signed as a free agent prior to the start of the season, seems to recover this year from a couple of difficult season with Anaheim and Florida.
Congratulations to David Desharnais on November's Molson Cup win! Guess we know who picks up the slack when your best player is out! #Habs

— 2021 SAVE US!!! …..🙏🏻😷💉 (@parkingguy62) November 30, 2015
Both players obviously benefit from Desharnais' playmaking skills. This speaks for the quality of Desharnais as he makes his wingers automatically better players. I would even say that Desharnais is probably one of the more underrated players in the NHL.
Tyson Barrie (D, Colorado Avalanche)
Tyson Barrie is one of the better offensive defenders in the league but somehow is not as highly praised as his fellow colleagues from traditional hockey market teams. Since entering the league, Barrie constantly increased his point production. While it will be tough to top his last season mark of 53 points, he is still playing a decent season again this year and collected already 18 points. Despite being an offensively strong defender, he is not considered to be an elite defenceman. One of the reasons why he might never be considered a Norris Trophy finalist is his lack of defensive play.
Secondary Scoring Honorable Mentions:
Boone Jenner (C, Columbus Blue Jackets)
Jannik Hansen (RW, Vancouver Canucks)
Tobias Rieder (RW, Arizona Coyotes)
Jake Muzzin (D, Los Angeles Kings)
Thomas Greiss (G, New York Islanders)
Independent Scout covering European Hockey and Prospects for TheHockeyWriters. Located in Switzerland and blogging on www.scouting-factory.blogspot.com. Opinions on blog are my own