In today's Fantasy Findings, we're looking at the best forwards in the game this week (at least by fantasy standards). Which players jumped into the top 100 this week? Should players who get powerplay time be considered more valuable?
Every Tuesday, NHL.com's Pete Jensen offers a full insight into the best forwards from a fantasy standpoint. And this week was no different.
While he might be gone in most pools, Mike Cammalleri is easily one of the most impressive players so far this season. Following the departure of Lou Lamoriello, Cammalleri switched back to his lucky number (13) and it seems to be working.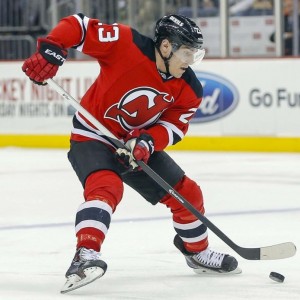 "Drafted on average with the 166th pick in Yahoo leagues, let's face it: Cammalleri was expected to be the Devils' only shot at fantasy relevance outside of their efficient, workhorse goaltender Cory Schneider," writes Jensen.
Along with his irregular teammates, Cammalleri certainly wasn't expected to be on pace for a career year and yet he is. With that in mind, it might not hurt to go out and get this guy while he's still hot – even if you have to wheel and deal for the Devil forward.
On Jensen's list, Cammalleri's consistency so far got him a 15 spot jump among the top 100 forwards to number 32 – second behind only Mike Hoffman of the Ottawa Senators who jumped 17 spots to 52.
Now if you're owners of Thomas Vanek, Mikko Koivu, Cam Atkinson and Brock Nelson, it might be time to reconsider. All four fell out of the top 100 and seem to be trending down.
Fantasy Advice: Keep Your Eye on the Devil
Chances are this Devil is already owned in your league. After scoring just 42 points (27g-15a) in 68 games for the Devils in 2014-15, Cammalleri already has 30 points (11g-19a) in just 28 games so far this season.
If you weren't lucky enough to draft him or scoop him up early, it might not be the worst idea to go for Cammalleri at the deadline – if you're in the race for your league championship of course. If he's not available and you're looking for an immediate replacement in your lineup, look at some of the other Devils. New Jersey's off to a very unexpected start, and it seems to be continuing as we near the end of the first half of the season.
Otherwise, take a look at what Jensen has to offer on his list of forwards. There are more than a few options and many making a push to top the weekly list.
---
One thing that Cammalleri has in common with numerous top players in your fantasy leagues is his ice time on the powerplay. While most fantasy leagues place higher value on special teams, it's usually the top players that also see the time on the powerplay – therefore they tend to be valued even more when it comes to fantasy hockey.
Sean Allen of ESPN wrote, "A team's overall powerplay success rate can quite easily translate to the fantasy value of the players."
"When we then look at which players are scoring more or less on the powerplay, we quickly see the correlation," he continued.
Allen explains that it's important to stay on top of trends – especially when it comes to the success of the players on your fantasy team. To keep your team moving upwards, you need to know what is driving the success of the players.
In the past month – according to Allen's article – the top powerplays are from Arizona, Ottawa, Philadelphia, St. Louis and Anaheim. Of the top 12 players who have the highest powerplay point percentage in the past month 10 of them are from the teams mentioned.
So whether your league takes powerplay points into consideration or not, it might be time to start looking at these kinds of numbers. Ice time and special teams ice time might be good indicators of how successful – statistically speaking – your players or possible waiver claims will be for your fantasy roster.
Fantasy Advice: Ice-Time Important for Powerplay Pickups
Most sites will provide the kinds of stats needed to see how players matchup when it comes to special teams numbers – ice time, powerplay and shorthanded points. Chances are when a player sees more ice time on the powerplay, they'll have a chance to put up big numbers offensively.
That being said, a lot of the players who top the special teams lists will already be taken in most of your leagues. So, here's a look at some of the top players on the powerplay ice-time list that may still be up for grabs in your league.
Arizona's Mikkel Boedker (127:17) has played nearly 130 minutes of powerplay time and ranks fourth in the league in that department. He has 24 shots on the PP and six points (1g-5a). Justin Faulk – although playing for a struggling Carolina team – has played 94:48 on the powerplay and has 12 points (11g-1a) in 28 games.
Even though this list is littered with the game's top players on some of the best teams out there, there are some gems in there as well who you might not have thought of. Take a look at the numbers – the powerplay performers might just help your team down the stretch.
For more fantasy news, be sure to check out THW's fantasy homepage and follow Andrew on Twitter at @AndrewGForbes.