There are a total of 28 forward lines that played together for at least 350 minutes at five-on-five this season. Evaluating just these lines will help determine which combinations were most effective throughout the season and what the top five forward lines of the 2022-23 season were.
The tools I used to determine the top-five lines were goals percentage (Goals%) and expected goals percentage (xGoals%) as they either take the actual goals for and against while the line was on the ice or the expected goals for and against and puts them into one stat. This shows us not only how effective each of the lines were at both ends of the ice throughout the season, but also how good they were expected to be without good or bad luck working alongside them.
5. Quinton Byfield – Anze Kopitar – Adrian Kempe
Starting off with the fifth-best forward line this season, the Los Angeles Kings had the pleasure of having Quinton Byfield, Anze Kopitar, and Adrian Kempe as their top line to lead them to the playoffs. For much of this season, the Kings relied on their goal-scoring ability to win them games as their goaltending was doing them no favours.
This line played the 11th most minutes together of any line partly because Byfield wasn't on the line the entire season. Rather than the Kings continuing to try him at center at such a young age, they gave him a shot on the wing and it worked out great. The Kings' top line ranked second in Goals% but 12th in xGoals%, meaning they weren't creating as much as other lines, but were finishing, thanks to Kempe and his 41 goals (16.4 shooting percentage). The bounces seemed to be going the way of this line and with the help of Kopitar's two-way play, this trio should get some recognition for their play this season.
4. Jason Robertson – Roope Hintz – Joe Pavelski
It seems to be a normal thing to watch the top line of the Dallas Stars dominate as the unlikely combo of youth and veteran presence made up one of the deadliest lines not only this season, but last season as well. Jason Robertson, Roope Hintz, and Joe Pavelski led the Stars to the postseason, this time getting out of the first round because their team actually had some secondary scoring this time around.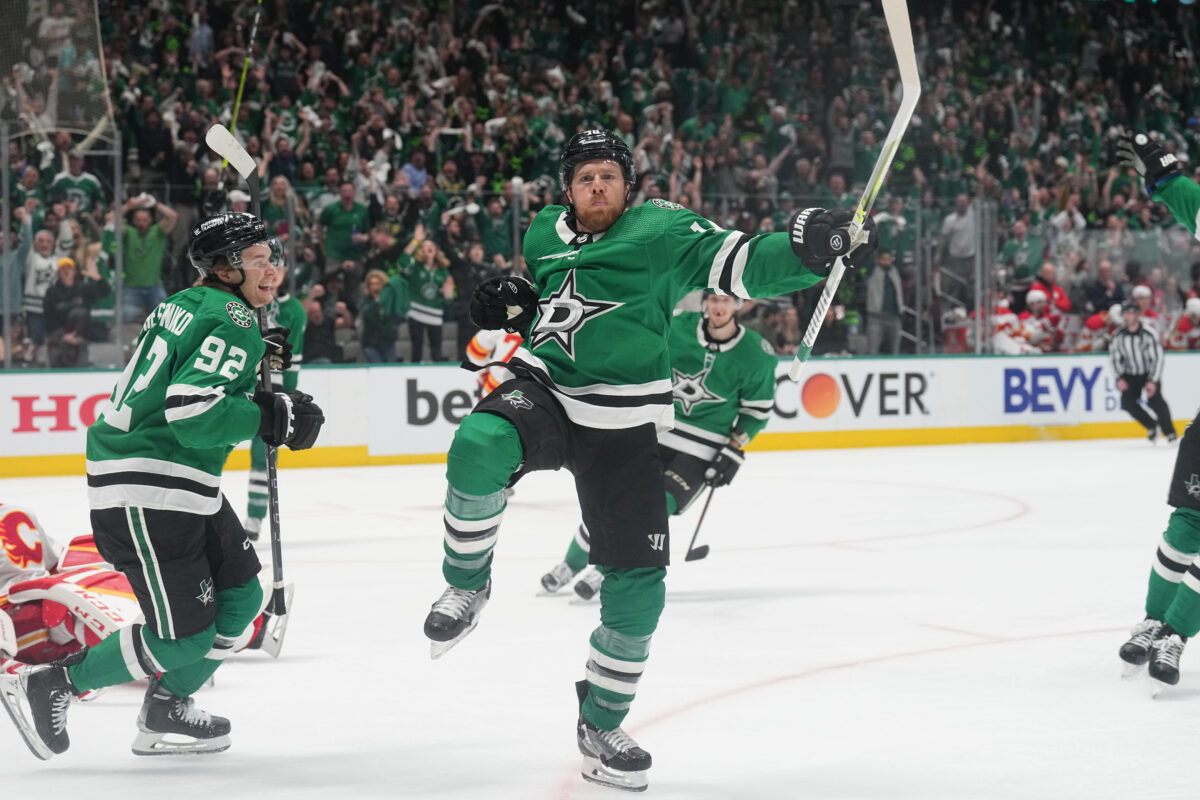 Regardless of what the other lines were doing, they were the most consistent line that finished fifth in the league in Goals% and sixth in xGoals%, meaning there was an equal amount of luck or bounces working for and against them while everything they got, they earned. The Stars' top line played the most minutes together and thus, scored the most goals (52) by 10.
3. Michael Bunting – Auston Matthews – William Nylander
One of the best lines this season was the Toronto Maple Leafs' top line of Michael Bunting, Auston Matthews, and William Nylander. Even though the Maple Leafs alter their top-six a fair bit and like to get Mitch Marner playing time with Matthews as well, this line was one of the most effective when put together even though they only logged 383 minutes together (half that of the Stars' top line).
This Maple Leafs' line was similar to the Kings' top line in that they didn't create the most chances consistently, but capitalized on the ones they did with the help of Matthews' shooting ability. I also wouldn't want to miss mentioning Matthews' two-way ability that helped bump those numbers up either. While Nylander had a career year, Bunting regressed, a reason why this line also didn't spend more time together. This line had the highest Goals% in the league by scoring 30 goals and allowing just 10. But they also ranked 10th in xGoals%.
2. Brad Marchand – Patrice Bergeron – Jake DeBrusk
To no surprise we find a Boston Bruins line here as they were the best regular season team in NHL history. Although the line of Brad Marchand, Patrice Bergeron, and Jake DeBrusk was a little more even when it came to the comparison of Goals% and xGoals%, there was still a gap as they scored more than they were expected to, having the bounces go in their favour.
---
Latest News & Highlights
---
That may have been due to factors like the goaltending the Bruins had, but defensively I'm not taking anything away from this line. They have arguably the best two-way player in the game, Bergeron, accompanied by an underrated two-way player in Marchand. None of these three are slouches when it comes to putting the puck in the back of the net either. They had the second-highest xGoals% and the sixth-highest Goals%, but also played just 413 minutes together.
1. Andrew Mangiapane – Mikael Backlund – Blake Coleman
The number-one ranked line might surprise you considering they are on a non-playoff team and are a third line. While many on the Calgary Flames struggled to score, play well at both ends of the ice, and find chemistry, the line of Andrew Mangiapane, Mikael Backlund, and Blake Coleman did the exact opposite and actually carried the Flames a lot. While all of them were bumped down the lineup from last season, this helped immensely with matchups and just outplaying whoever they were up against.
Related: Flames: 3 Likely Free Agent Destinations for Milan Lucic
Mangiapane might not have been the prolific goalscorer he was in 2021-22, but this line was very good defensively and every time I looked, they were contributing to the offence. Backlund had a career year offensively at age 33 while Coleman did so as well at age 31. The Flames will be fine if they can get similar production overall from this line next season and the rest of the team improves around them.
As there were more than just five very good forward lines this season, I had to also list some honourable mentions:
Nick Schmaltz – Barrett Hayton – Clayton Keller
Pavel Zacha – David Krejci – David Pastrnak
Jordan Martinook – Jordan Staal – Jesper Fast
Jason Zucker – Evgeni Malkin – Bryan Rust
Brady Tkachuk – Tim Stutzle – Claude Giroux
This list and the honourable mentions really show just how much of a team sport hockey is in that a few players or a line can dominate all season and the results for the team might just not be there. Whether these lines had more luck than skill, each was effective for their team and should all remain together next season if possible.
---
---