The New Jersey Devils have gotten off to a hot start, winning their first four contests of the season, marking their best start in 23 years. They have 17 goals in four games and have been getting scoring from all four of their lines. While they've shown offensive depth, their two leading scorers from 2017-18 — Nico Hischier and Taylor Hall — have yet to pot their first goals.
The Devils haven't been affected by the lack of goals from their two stars. Luckily, it's only a matter of time before they both start impacting the Devils' offense in a big way. And it could help give them one of the more dynamic attacks in the NHL.
No Goals, but Hall Still Creating Chances
Kyle Palmieri has been the talk of the Devils through their first four games, and rightfully so. He has seven goals in four games and has made history on a couple of occasions. Although Palmieri has been the Devils top scorer to begin the season, Hall's start to the year shouldn't go unnoticed.
In four games, the Devils have out-chanced their opponents 36-28 with Hall on the ice at five-on-five. They also hold a ridiculous 18-5 advantage in high-danger chances and have scored four goals with just one against with Hall on the ice.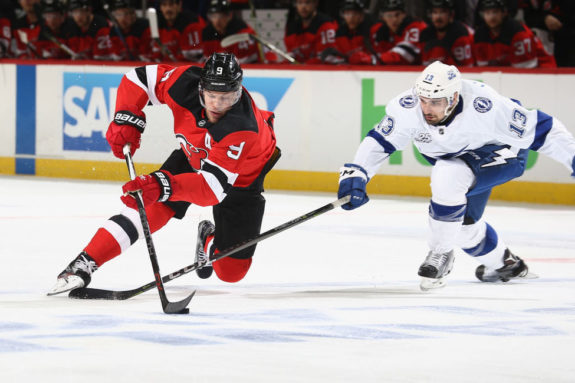 Hall's had a significant positive impact to start the season. He's also gotten off to a strong start at an individual level. He has just one point at five-on-five, but that doesn't tell the whole story. Hall leads the team in shot attempts, scoring chances, and shots on goal — he just hasn't been rewarded for his efforts.
Hall didn't score his first goal until the fourth game of 2017-18 and had only one through his first nine games. He would go on to finish the season with 39 goals, a new career high. If he keeps playing at the level he is, the goals will come, and they could come in bunches.
Hischier on the Cusp of Breaking Out
As great as Hall has been, Hischier has been just as good, if not better, than Hall.
At five-on-five, Hischier has 12 shot attempts, 12 scoring chances, and 10 shots on goals. Where he holds a significant advantage over Hall is in high-danger chances — he has 10, compared to just two for Hall, which leads the team.
Hischier also holds a bit of an edge over Hall on the power play. He's tied for second on the team, with five shot attempts and three shots on goal. He also leads the team in high-danger chances, with three as opposed to Hall's zero.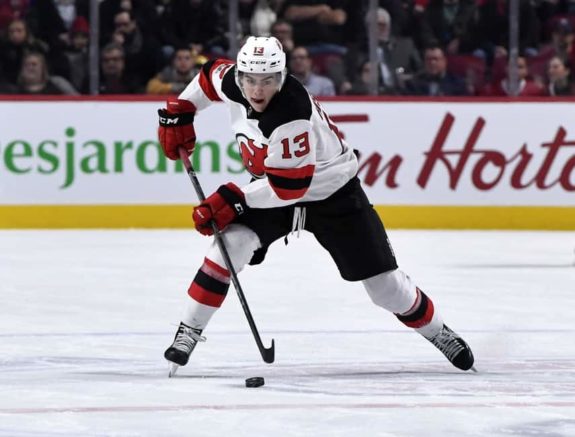 In total, Hischier has 13 high-danger chances in all situations. That's eight more than Palmieri, who sits second on the team with five. As you might've guessed, Hischier should probably have some goals based on the chances he's generating. In all situations, he has an individual expected goals for (ixGF) of 1.72.
Hischier is due for a goal or two, even more so than Hall. If he keeps generating the high-danger chances he is, it's only a matter of time before he gets one. And when he does, they could come in waves, just as is the case for Hall.
Hall, Hischier Will Help Devils When Others Regress
The Devils seem to have a strong team but are fortunate to be 4-0-0 with a goalless Hischier and Hall. They've ridden on the back of Palmieri's scoring tear and have gotten crucial goals from depth players like Blake Coleman and Jean-Sebastien Dea.
They also have a white-hot goalie in Keith Kinkaid and a defense that's only given up four goals and not a ton of quality chances against. All of these things are great and will be key if the Devils are to maintain their success over 82 games.
From the THW Archives: How Good was Nico Hischier?
At the same time, they aren't all sustainable and won't last forever. Kinkaid has a .961 save percentage (SV%) in four starts, which isn't sustainable. Palmieri has seven goals in four games and is shooting 38.9%, so that won't continue, either.
This is where Hall and Hischier can help make up for some of the regression the Devils will face. They're both due for some positive results, and the Devils will be the beneficiaries of it when it happens. And it's only a matter of time before it does.
Hall, Hischier Can Give Devils a Dynamic Attack
Even if it takes a bit longer for Hall and Hischier to start scoring, the Devils have the depth to fill in. Palmieri will regress at some point, but he's been a consistent scorer for the Devils in his three seasons in New Jersey. Miles Wood has yet to score, but it's only a matter of time for him, too.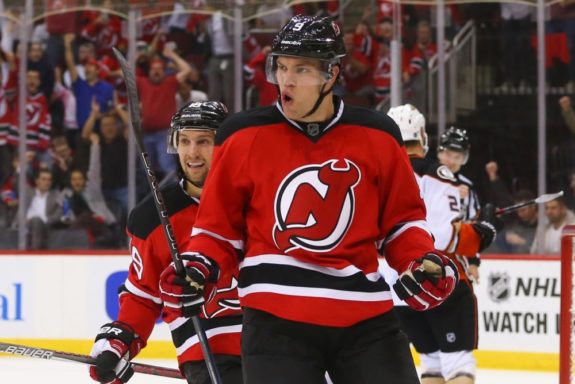 If depth players like Dea and Coleman keep it up, that can only help the Devils. A healthy Marcus Johansson being in a top-six role can't hurt, either. Those elements, combined with when Hall and Hischier start finding the back of the net, will give the Devils the right pieces to have a dynamic offense that can give teams fits on any given night.
*    *    *
Advanced stats from Natural Stat Trick, Corsica Hockey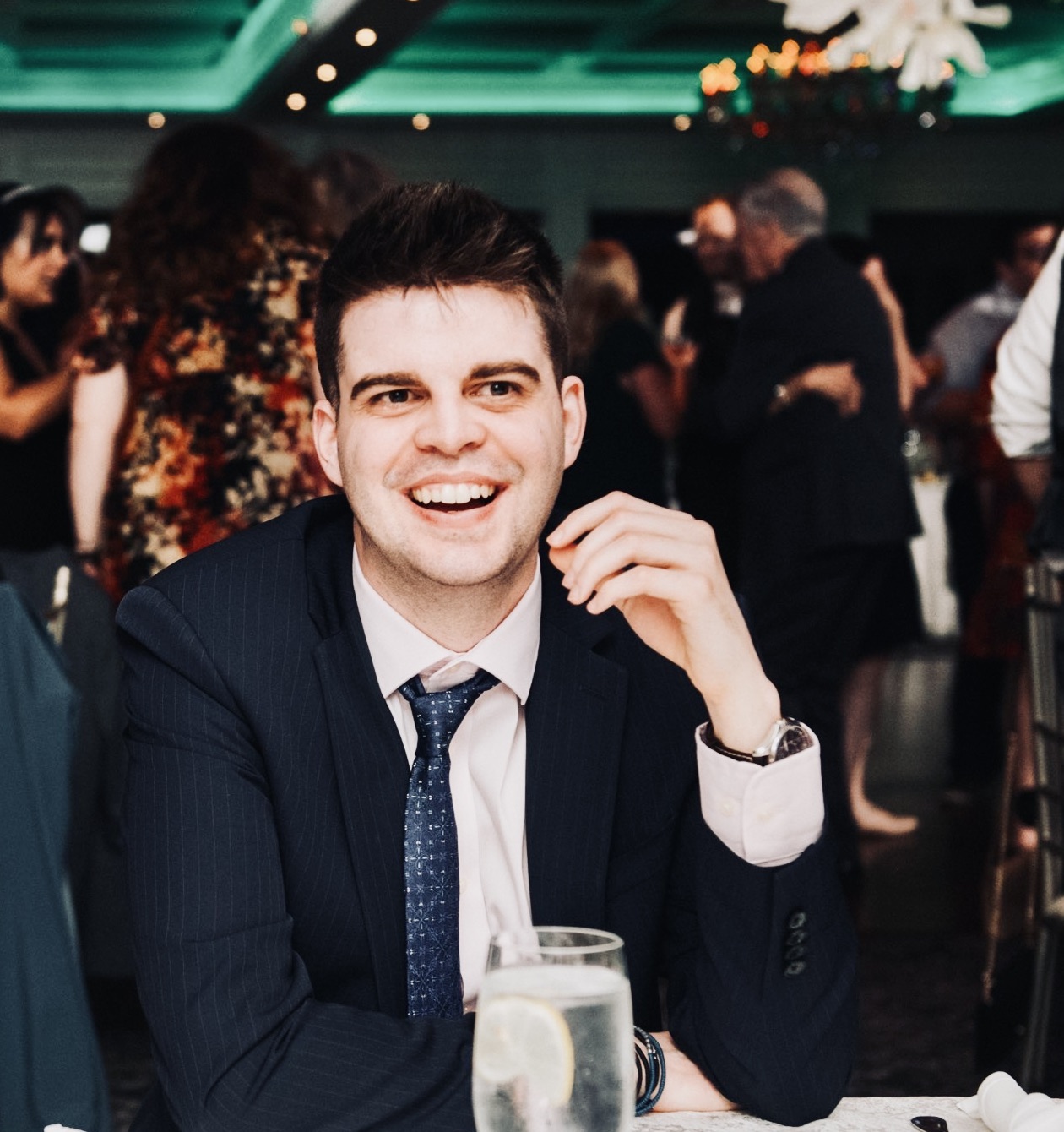 Alex Chauvancy is a New Jersey Devils writer for The Hockey Writers who has a penchant for advanced stats, prospects, signings and trades. He previously wrote for Devils Army Blog, a New Jersey Devils fan blog, from 2015-2017