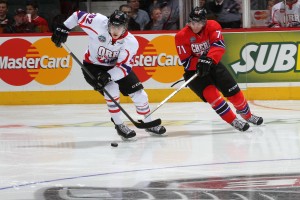 "The Oilers are a great organization. I mean, they've had tons of super stars, so it would be huge for me. It would definitely be the greatest thing ever for me." [Edmonton Sun]
Those would be the words of German prospect Leon Draisaitl of the Prince Albert Raiders, when questioned about being drafted by Edmonton. The 6 foot 1, 204 pound forward is expected to be a top five draft pick this summer, and the Oilers might be the team he lands on.
Ekblad Likely Off the Table
With the draft lottery completed, Edmonton has the third overall selection, barring any sort of trade. There isn't quite a consensus number one pick, though defenceman Aaron Ekblad has been on the radar of most NHL scouts. After highly-touted blueliner Seth Jones fell to the number four spot last year, there is certainly a chance Ekblad will be on the board at number three. If he isn't, however, the Oilers should keep their eye on Draisaitl.
The final draft rankings saw Kingston centerman Sam Bennett at number one, with Ekblad at two and centerman Sam Reinhart at three. Draisaitl was slotted at number four. It's no secret Edmonton has a lot of talented forwards, and are thin on defence, but the next best rated d-man in the draft is Haydn Fleury, who isn't even a lock to go top-10.
Draisaitl is a big guy, and he has a lot of offensive skill. He isn't the smallish type of forward that the Oilers are accustomed to seeing in their system. He's considered a playmaking centerman, who uses his size to his advantage. Draisaitl has good hockey sense and sees the ice well, despite a few knocks on his skating ability. There is a strong sense that while Ekblad really is their guy, the Oilers will look to Draisaitl next, and certainly wouldn't see him as a consolation prize.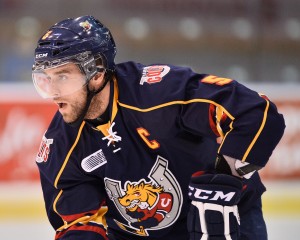 Stats Comparison (CHL totals)
Sam Reinhart: 101 goals, 254 points in 203 games played.
Sam Bennett: 54 goals, 131 points in 117 games played.
Leon Draisaitl: 59 goals, 163 points in 128 games played.