After years of finding ways to lose hockey games, this year's edition of the Edmonton Oilers appear to be doing their best to buck that trend. While it may still be early in the season and this team has already started to show signs of coming back down to earth from its red-hot start, for the first time in what feels like an eternity, they are actually finding ways to win games. It may be hard to believe but it does seem as though this group might finally be headed in the right direction.
Oilers gut-out 4-3 shoot-out victory in Brooklyn, improve to 4-1-1 on the road. Islanders 15-1-3 vs Western Conference teams last 19 at home

— Bob Stauffer (@Bob_Stauffer) November 6, 2016
Don't get me wrong, the Oilers are still a long way away from being where they ultimately want to get to. With that said, the days of crumbling at the first sign of trouble appears to no longer be a thing. We can still count on this team losing its fair share of games this season and contrary to what some may think, they are far from a guarantee to end their 10-year hiatus from the post-season. With that said, barring injury, their 8-3-1 start should ensure this group stays in the playoff mix all season long and that was always supposed to be job one.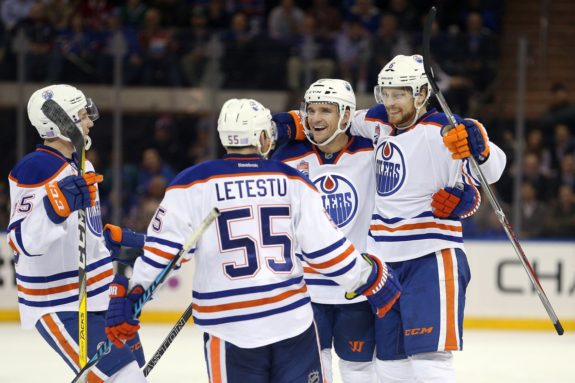 Oilers Continue to Find Ways to Win
Make no mistake, the lack of depth up front is evident for all to see, as is the absence of something resembling a true top pairing on the backend. However, confusing this team for what they really are, with where they currently sit in the Western Conference standings would be a big mistake. After finding a way to sneak past the New York Islanders on Saturday night, courtesy a Mark Letestu shootout winner, Edmonton is tied with the Chicago Blackhawks for the top spot in the west.
The Oilers are first in the west I can't feel my arms.

— Taylor Burns (@tburns34) November 6, 2016
Now, as fantastic as that might sound to all of Oilers Nation, that is not who or what this team is. Cam Talbot has been fantastic in goal to start the year and Connor McDavid has been…well…Connor McDavid but in reality, there absolutely zero chance of this group finishing the 2016-17 campaign anywhere near the top spot in the conference. Again, the goal all along was to get back to the playoffs and that won't be easy…as Edmonton's last three games have perfectly demonstrated.
Oilers become just 4th team from West to beat Islanders in Brooklyn; claim 1st road win at NYI in 17 years.

— Jack Michaels (@EdmontonJack) November 6, 2016
While the Toronto Maple Leafs may be destined to finish near the bottom of the overall league standings, they are a squad that has an abundance of young talent on it and tend to give teams fits more often than not. The New York Rangers have lived up to expectations to this point in the season and are among the best teams in the league. Whereas the Islanders have been a complete train wreck to start the year but with the Oilers missing defenceman Kris Russell and losing both Jesse Puljujarvi and Zack Kassian to first period injuries, John Tavares and Co. would give them all they could handle.
A Step in the Right Direction
With that said, the results speak for themselves. Edmonton likely let a point slip away against the Rangers and probably grabbed an extra one that few saw coming from the Isles, after being down 2-0 six minutes in. Frankly, last night's victory was the perfect example of winning ugly and the Oilers have done it on more than one occasion this season. They were alright but not great in beating the Vancouver Canucks and should have lost to the Carolina Hurricanes but ended  up stealing two points thanks to their netminder.
McDavid on Oilers this year, says its a "totally different feeling in the room."

— Pierre LeBrun (@PierreVLeBrun) November 1, 2016
As much as McDavid carried this team over the first month of the season, he hasn't exactly been lighting it up of late. In fact, the kid has just one assist over his last four games and the Oilers have gone 1-2-1 over that stretch but managed to hold their own in all four games. If not for one heck of a performance from Ottawa Senators goaltender Craig Anderson, in what truly was a special night last weekend at Rogers Place, that record would look even better. It's been an ugly road trip but Todd McLellan's crew are .500 with two games to go and that is no small feat.
That win was the best win this year IMO. Lost Russell, then lose JP & Kass in 1st, come from behind all night and gutted it out. New Oilers😍

— ShannonBaerwald 🧡💙 (@ShannonBaerwald) November 6, 2016
Good teams tend to make a habit of finding ways to add extra points to their overall total on nights they don't play well or for whatever reason, just don't have it. At this stage of the season, for anyone to suggest the Edmonton Oilers are a good team would be a tad premature but on the other hand, to completely dismiss what they have done would not be fair either. They likely sit somewhere in the middle and that in itself can be viewed as nothing but a step in the right direction…which is a nice change of pace and something that should not go unnoticed.
Rob Soria is the Author of Connor McDavid: Hockey's Next Great One. He has chronicled the Orange and Blue since creating his Oil Drop blog in 2011 and has also had his writings featured over at HometownHockey.ca and Vavel USA, where he has covered the NHL, MLB and ATP Tour. Rob was born, raised and still resides in Edmonton, Alberta and can be reached via twitter @Oil_Drop.