For those who follow the Edmonton Oilers with any kind of regularity, arguably the most frustrating part in every game is watching Connor McDavid being hooked, held and interfered with nearly every time he hits the ice. In a league that has repeatedly stated they instruct their referees to consistently call penalties against guys trying to illegally slow down the high end skilled player, this shouldn't be a thing.
I'm still honestly surprised when an obvious penalty against McDavid is called.

— Woodguy (@Woodguy55) October 28, 2018
Apparently, those rules do not apply to the Oilers captain, as there could be no other reasonable explanation for what has transpired over the past four seasons. We are 224 games, two scoring titles, a Hart Trophy and a pair of Art Ross and Ted Lindsey Awards into McDavid's career and the kid rarely gets calls from the vast majority of officials in this league. Curious to be sure but the real question is why is this happening?
Slowing Down Connor McDavid
The most popular and likely correct take revolves around the notion that a penalty could literally be called on almost every one of McDavid's shift. Some would suggest that to be a bit of a reach but if referees actually came close to calling games as the rulebook says they should, it wouldn't even be a talking point. However, that isn't how this game is policed…never has been and never will be.
So if we go on the premise that referees simply can't call everything, how do they come to the decision as to what will be enforced and what will be ignored? In a nutshell, this impacts every player who steps onto the ice but for a guy with McDavid's skill-set, it really is a game changer. By allowing opposing teams to continually get away with what they do, the NHL appears to be going back on their word.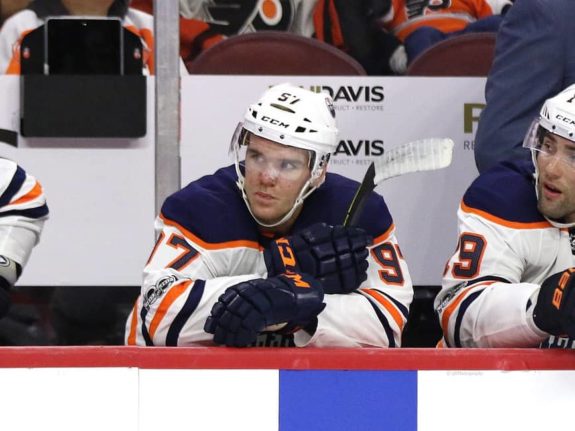 From a players standpoint, it has to be frustrating, from both ends of the spectrum. Be it the guy who is illegally being kept from performing at his highest level or the guy trying to do his best to defend against highly skilled players and not exactly knowing what is acceptable and what isn't. To be perfectly blunt, where has the so-called line in the sand been drawn?
Unfortunately, the answer to that question is no one has any clue and it's come down to be nothing more than a guessing game. Now, is McDavid the only player this happens to? Of course not but good luck finding a player who is affected by it more and for the purpose of this exercise, my focus is to find out where the 21-year old sits among his peers when it comes to drawing penalties.
Related: Oilers' Chiarelli Gets It All Wrong
In most cases, the players who are typically among the league leaders excel at one of two things. They are either great skaters who are difficult to contain in open ice or you know what disturbers. Over the past three seasons, the names we have seen at or near the top of said list have included the likes of Mathew Barzal, Johnny Gaudreau, Nazem Kadri, Antoine Roussel, Matthew Tkachuk, Tom Wilson and McDavid.
What Is and What Isn't a Penalty?
If we take a look at the frequency which McDavid has drawn penalties over the course of the first three years of his career, we see a wide range of numbers. In 2015-16 it was 14 penalties in 45 games (one every 3.2 games), 2016-17 it was 40 penalties in 82 games (one every 1.95 games) and in 2017-18 it was 27 penalties in 80 games (one every 2.96 games).
In my mind, the most curious thing about those totals is the fact the amount of penalties McDavid is drawing is headed in the wrong direction. The spike from year one to two should surprise no one, as rookies have always been made to "earn their keep" before they start getting calls. What is alarming was the drastic drop from season two to three and that trend has continued in 2018-19.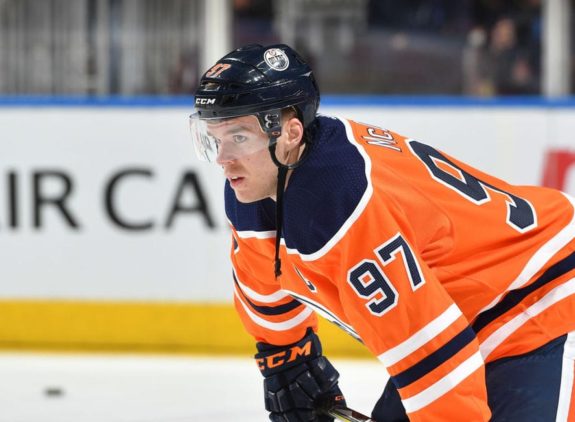 Through the Oilers first 15 games, McDavid has drawn a grand total of four penalties. That works out to one penalty every 3.75 games. I'm sorry but that is simply unforgivable. Again, we are talking about a player who could legitimately draw a penalty on nearly every even-strength shift he takes during a game. How on earth can anyone look at those numbers and not see there is something wrong?
In my opinion, even his league-leading total of 40 in 2016-17 is ridiculous, as there is no way a penalty-worthy infraction against McDavid occurs only once every two games. But for it to be pushing once every four games is frankly laughable. To put that number into perspective, the two guys currently leading the league are Dylan Larkin of the Detroit Red Wings and Warren Foegele of the Carolina Hurricanes.
Related: Oilers: The Puljujarvi, Yamamoto Conundrum
Both are great skaters but not quite at McDavid's level and they have drawn more than double the number of penalties. The other thing to keep in mind, one of three is rookie, one is solid NHL player and the other is the two-time defending scoring champ. Right or wrong, in most cases, the guy with the resume and pedigree tends to be the one who gets the odd call go his way and yet something is amiss when it comes to No. 97.
As to why that might be is beyond me but if the NHL has any intention of allowing the elite talent in their game to take it to new heights, they may want to re-exam their approach. Not exactly sure how neutering the game's most explosive player is a plus for the league but that is exactly what is being done to Connor McDavid and time has come for it to be addressed.