The Edmonton Oilers made what many believed was their big move ahead of this season's NHL Trade Deadline when they added Mattias Ekholm to their blue line. GM Ken Holland paid a heavy price to add what feels like the perfect fit for their defense, sending Tyson Barrie, Reid Shaefer, a first and another pick to get the deal done. Clearly, Holland has decided this is the season to push his chips in, and many wonder if he's finished making moves.
Darren Dreger of TSN reports that Holland isn't done and that the veteran GM is looking for a forward. During the latest TSN Insider Trad segment, Dreger noted that Holland is looking at Nick Bjugstad and Tyler Bertuzzi, and the Detroit Red Wings are an interesting potential fit for the Oilers, as they could be looking to move a few forwards that have the potential to fill holes the Oilers opened with the Jesse Puljujarvi trade and a potential move that could see someone like Kailer Yamamoto on the way out.
What's the Latest on Bertuzzi?
It was believed Detroit wasn't shopping Bertuzzi. Now, Dreger reports that the Red Wings feel the arms race in the east is too great and that they simply can't let Bertuzzi walk without getting a return. They are looking to trade him and the Oilers have been linked to the player in the past.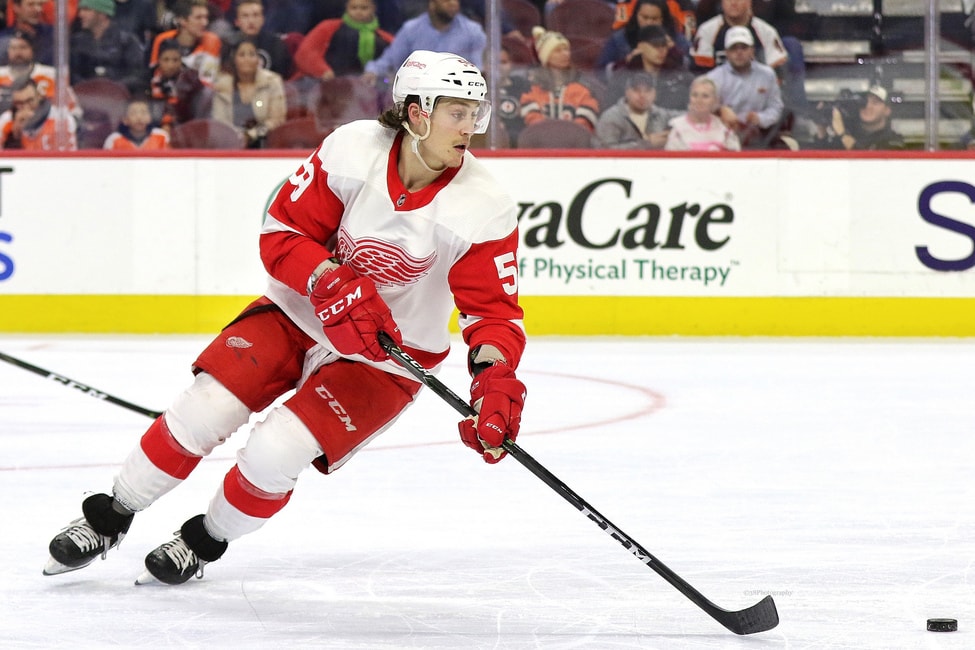 Holland no longer has his 2023 first-round pick to give if that's the ask by Steve Yzerman, but another deal could be worked out if Detroit is open to taking a pick in later years or is open to the combination of other picks in different rounds. Considering the Oiler's cap situation, if they didn't move a player like Yamamoto in the deal, there would need to be salary retention and potentially a third team getting involved. That complicates matters.
I'm not sure if Yzerman would entertain the idea, but would a conditional 2024 or 2025 first-round pick, plus Yamamoto get a deal done for Bertuzzi at 50% retained salary? That's $2.35 million coming in and $3.1 million going out. It gives the Red Wings the first-rounder they're looking for and a useful player. It gives the Oilers an upgrade in the top six and another 750K cushion to work with on their cap to add a depth right-side defenseman. It's a steep price for a likely rental, but Bertuzzi adds an interesting element.
The Red Wings Are Looking to Dump Vrana
If the Oilers want to take a bit of a risk, but potentially add one of the league's previous best goal-scorers in the game per 60 minutes, Jakub Vrana could be an interesting option. He's missed months this season after leaving the team for personal health reasons and entering the NHL/NHLPA Player Assistance Program with substance abuse issues. It wasn't believed he'd ever be back with the Red Wings, but he's played three games since returning on February 21. Frankly, there's no future for him in Detroit and Yzerman would love to move on from the player. If the Oilers could figure out the money, Holland could get could buy low.
---
Latest News & Highlights
---
If the Red Wings retain 50% on the player, he becomes a $2.625 million hit. Edmonton could move Yamamoto for him, but sending out a player the rest of the Oilers' roster really likes for an unreliable asset might not be the best decision. Perhaps the Oilers try to sell the Red Wings on a different player, moving someone like Devin Shore and his $850K cap hit. It's a $1.775 million swing into the negative so it's tight, but it might be workable.
Could Shore and a mid-round pick for a half-priced Vrana be a reality? If it is, it might be worth considering. It could backfire, but it could be a home run.
Red Wings Contemplating Filip Zadina Trade
Dreger also noted that the Red Wings might be open to the idea of moving Filip Zadina. He's a 23-year-old forward with some term on his contract and he's got the ability to play a depth role at an affordable price. He plays between 10 and 15 minutes per night on any given evening but he's not overly physical, he doesn't kill penalties very often and he's not putting up offensive numbers, even though the hope was that he'd be more of a scorer in the NHL.
He's the cheaper option, but he might not be the best fit. This would be a trade based on potential and the Oilers are in win-now mode. They'd have to be extremely confident they can turn him into something quickly, even though he's not reached his potential in Detroit and dealt with injury issues. Holland did say he was looking for cheap players. Is $1.825 cheap enough? It might not be.
It's possible these options don't work, either because Detroit isn't as motivated to move pieces as some might think or the Oilers don't see the fit. Either way, it's worth Holland checking to see what the ask is.