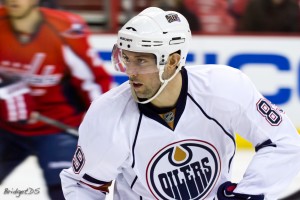 Sam Gagner is showing no signs of slowing down, but not even his 2 goal effort could help the Edmonton Oilers snap their road losing streak. Tonight's 4-2 defeat at the hands of the Detroit Red Wings was their 8 loss in a row away from home, dropping them to a league worst 6-20-2 on the road. Conversely, it was the Wings 18th straight home victory, which is pretty remarkable. The record for consecutive home wins is 20. Oilers coach Tom Renney was back behind the bench after taking a puck in the face during a practice earlier this week.
The Oilers, once again playing without Ryan Nugent-Hopkins whose out 7-10 days with a shoulder injury, fell behind early in the hard hitting affair. Johan Franzen opened the scoring on the powerplay midway through the 1st period. Cory Emmerton made it 2-0 Detroit early in the second, but the Oilers would get on the board midway through the frame. The red-hot Sam Gagner was sprung on a breakway and made no mistake with a pretty backhand goal. Ryan Jones and Jeff Petry drew the assists. Early in the third, Gagner was back at it, picking up a rebound and tying the game on the powerplay. Magus Paajarvi assisted on the play. But the Oilers wouldn't be able to contain the Red Wings, despite them being without their top goaltender. Drew Miller and Henrik Zetterberg both scored in the third to secure the victory. Gagner now has 15 points in his last 5 games (8 goals, 7 assists).
There were a lot of heavy hits in this game, including a big one from Ben Eager on Danny Cleary. Cleary was forced to leave the game. Jordan Eberle was hit hard into the boards, but would remain in the game. The Oilers went 1 for 7 on the powerplay, but allowed just one shorthanded goal against the dangerous Red Wings. Defenceman Cam Barker found himself in trouble once again in this game, he hasn't been able to find his timing again since coming back from injury. Nikolai Khabibulin made the start for the Oilers, stopping 26 of 30 shots. The Oilers only managed 17 shots on Joey MacDonald. Ales Hemsky was held pointless once again. He hasn't done much to entice possible trade partners. Ryan Smyth has been rumored to be on the trade block as well, but likely just as a rental, because he'd prefer to stay in Edmonton. His current deal runs out this summer.
The Oilers play one more road game on Saturday (Hockey Day in Canada) against the slumping Ottawa Senators before returning home. The Sens have lost 7 straight games overall. One losing streak will be broken, and the Oilers are certainly hoping it's theirs.