With the 100th Pick in the 2020 NHL Entry Draft, the Edmonton Oilers Have Selected Carter Savoie From the Sherwood Park Crusaders of the AJHL.
About Carter Savoie
After tearing up the AJHL for two seasons, Savoie is looking to continue his development with the University of Denver for the 2020-21 season. He oozes a high-end offensive skill set. He's got great hands, a quick and accurate shot and has the willingness to constantly battle in the dirty areas when getting in on the forecheck.
THW Prospect Profile Excerpt
"After a strong 2018-19 rookie campaign with the Sherwood Park Crusaders where he scored 31 goals and 73 points, Carter Savoie has continued to dominate the AJHL in 2019-20. He's almost been scoring at will as he had 53 goals and 99 points in 54 games, which put him on a historic pace before all hockey was shut down. He has definitely turned some heads in the hockey world, as he could be drafted as high as the first round.
Related: Our Free NHL Draft Guide
Just looking at his goal totals, you may think Savoie is just a goal scorer, but his game goes well beyond that. In addition to his pinpoint accurate shot and excellent vision, he also has great speed, which makes him a constant threat in transition and on the forecheck. His puck tracking skills and overall awareness are where his strengths really lie, as he has elite hockey IQ, especially while in the offensive zone.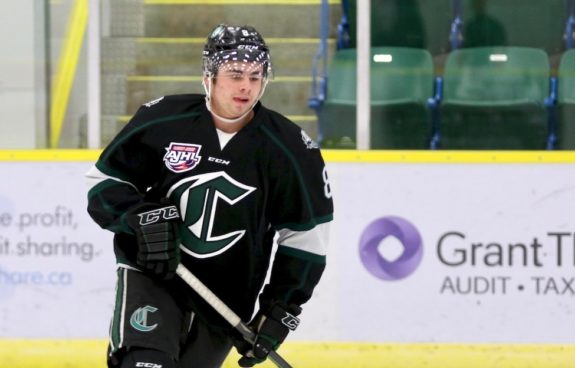 On top of all this, he is also an intense battler, capable of physically changing a game with a big hit. His character also stands out and in this day in age, that is a very important aspect of a young player's game. There are a lot of scouts and general managers that put a very high price on it when evaluating prospects.
Committed to the University of Denver in the Fall, Savoie will look to translate his immense success in the AJHL to the NCAA. His overall package is quite impressive, so I wouldn't be surprised to see a team take a flyer on him late in the first round."
Full player profile can be found here
How This Affects the Oilers' Plans?
After selecting Dylan Holloway in the first round, the Oilers drafted another winger with a strong skill set and competitive edge that could play alongside their top two centres in Connor McDavid and Leon Draisaitl. While he needs to work on his defensive game and effort in his own zone, his speed and quick stick handling make him a great asset for the Oilers.
---
---