The Edmonton Oilers are 7-1-0. Their seventh win of the 2015-16 season didn't come until November 20 that year and, at that point, Edmonton was 7-12-1 and already looking at potentially missing the playoffs for the umpteenth straight time. It's amazing how in one short season the tide can change and the outlook on the next can be completely different. There's a long way to go, but there's a reason to be excited in "Oil Country".
There is also reason to be slightly concerned. The Oilers are winning hockey games despite some questionable numbers. They are repeatedly being out-shot in games, and if Edmonton isn't careful, their momentum could come to a screeching halt.
The McDavid Effect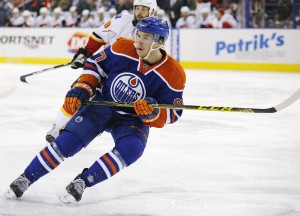 Currently, the Oilers are riding the coattails of Connor McDavid. This isn't the end of the world as most good teams with superstar players tend to fare well when their star is doing well and struggle when their star struggles. That said, if the Oilers don't find some secondary, possession positive play behind McDavid, it will be a problem if at any point McDavid hits a sophomore slump or, heaven forbid, misses any games due to injury.
Over at Oilersnation.com,, fellow blogger Lowetide pointed out some very interesting statistics. He noted that one of the ways we can tell there is a large gap in play when McDavid is on the ice versus when he isn't are the Corsi statistics attached to the Oilers' 5×5 play.
Oilers 5×5 Corsi For-Against: 323-361 (47.22)

McDavid Oilers 5×5 Corsi For-Against: 128-116 (52.46)

Without McDavid Oilers 5×5 Corsi For-Against: 195-245 (44.3)
Meanwhile, David Staples over at the Cult of Hockey is less concerned about Corsi and more focused on scoring chances. Staples wrote the following:
As it stand right now, when  it comes to Corsi, the Oilers rank just 27th overall in the NHL… In their eight games, the Oilers have given up 479 shots at net and taken just 411 shots at net. The teams's Corsi For Percentage  (CF%) is just 46%, whereas the top CF% team in the NHL, the Los Angeles Kings, is at 58%, with 485 shots for and 351 shots against…. When it comes to high danger scoring chances, shots at net from the slot area, Edmonton ranks sixth overall in the NHL, with 103 high danger scoring chances for and 86 against, a 54.5% High Danger For Percentage. In this regard, Edmonton is just behind Los Angeles, which is at 56%.
What do these two assessments from respected bloggers tell us? That both the Oilers play as a whole and their play when McDavid isn't on the ice tilts the wrong way, yet the Oilers are making the most of their limited opportunities.
One blogger (Lowetide) suggested there may be cause for concern. The other blogger (Staples) does not. Me? For now, I don't care how you win, just that you win. Obviously, Edmonton needs to improve in areas of weakness to keep the odds of winning high, but if the Oilers can keep winning games, at the end of year will we really care how they did it?
That doesn't mean Edmonton can't improve. I believe the power play is the place to start.
Power Play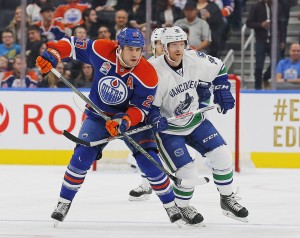 While it isn't terrible, for the most part, Edmonton's power play has been largely ineffective. They currently rank 19th in the NHL with a 17.4% success rate on 23 opportunities; the Oilers have only scored four times.
One of the problems is their inability to set-up an effective plus-one in the opposition's zone. This inefficiency has a direct effect on shot totals. How do we know? For all the goals the Oilers have scored, no player on the roster ranks inside the top 50 for NHL players in shots while on the man-advantage. Leon Drasaitl and Milan Lucic lead the way with seven shots each.
Some of this can be attributed to less overall opportunities on the power play than other NHL teams, but most of the power play success for Edmonton has come off of opposition giveaways or the faceoff, where the Oilers have been average to above average. The team does a poor job of gaining the zone on the rush, setting up an attack and eventually capitalizing on it.
The Oilers do have the skill to change this tendency. They are a team blessed with young, skilled and speedy offensive firepower.  By devising plays and set-ups that work for the group, the Oilers can make the opposition pay for taking penalties, which so far they haven't been able to do.
Shorthanded Opportunities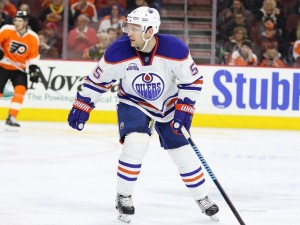 Worse yet, is that in their 23 power play opportunities, Edmonton has allowed two shorthanded goals. This ties them for the lead in the NHL. This also means that not only are the Oilers not making the most of their power plays, but they're giving the opposition chances to score when Edmonton should be tilting the ice in their favor.
Shorthanded goals can be a momentum killer. Just ask those that have played against Edmonton and been deflated when they have scored two shorties. At least, the Oilers are among the league leaders in shorthanded goals.
For Now, They're Winning
Edmonton is being out-shot but they are winning games. It's a strange combination that doesn't work most often. But, if the Oilers can improve their power play, they'll be able to increase their shot totals, maximize production on their scoring chances and change the fate of these statistics that have bloggers, media and fans concerned.
It's exciting to see the Oilers winning. It will be more exciting if they keep winning. One way to do that is to shoot more and let your opposition shoot less. If they can achieve this goal, Edmonton will be helping their goaltender, helping their blueline and helping themselves creep closer to a playoff birth.