Despite coming off an average year, Oliver Ekman-Larsson is still heralded as one of the best defensive prospects in hockey. He spent the better part of last year with the Phoenix Coyotes, but is yet to play a full season in the NHL. He has a lot of growing to do, but the sky is the limit for Ekman-Larsson.
After a very impressive draft year, in which he registered 17 points for Leksand for Elitserien, it was clear why he was a consensus top-ten pick. He possesses dynamic and elite skills, and has a future as an all-star defenseman. San Antonio Rampage head coach Ray Edwards discussed Ekman Larsson.
"He (Ekman-Larsson) has to continue to get stronger and understand that his play away from the puck is going really be what separates him from all the great players."
Ekman-Larsson is highly talented both with and without the puck. He utilizes his dynamic skating and puck possession skills to skate seamlessly through the neutral zone and create plays all by himself. He is tough to knock of the puck, and sees the ice incredibly well for a young defenseman.
Without the puck, his positioning is top notch because of his hockey intelligence. He is an incredible hockey mind, and student of the game, and he will go far because of that. He is still learning the game on the defensive side of the puck, but those skills will come.
NHL's European scouting services released their scouting report on Ekman-Larsson prior to the 2009 NHL Draft.
"Oliver likes to play offensively, often carrying the puck into the neutral zone. He has the frame, speed and skill to dominate. He is a smooth skater and can handle the puck at top speed, but needs to use his size to his advantage more. He often quarterbacks the power-play and has a hard shot from the blue line."
This year will be an important one for his development. Last year he may have been rushed to the NHL to quickly, because Phoenix was desperate for any offensive spark. He will likely begin the year in San Antonio of the AHL, unless he really impresses during training camp.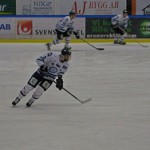 Overall strength is one of the only things really holding him back at the early stages of his career. That however is something that can be worked on by spending extra time in the gym, and having a supreme work ethic.  The U18 Team Sweden Head Coach spoke on that very thing before the 2009 NHL Entry Draft.
"I don't see many weaknesses. The only thing is that he needs to get stronger I think"
If he could put on some weight, it will greatly increase his physical game, something that hasn't exactly been stellar so far. Bulking up should improve that aspect of his game significantly.
Oliver Ekman Larsson has the potential to be a top-pairing defenseman someday. He is continually progressing, and has the potential to be an impact player at the NHL level this year. Oliver Ekman-Larsson discussed his game before the all-star break this year, and what his best skill to display in the skills competition would be.
"Skating and moving the puck, that's what I'm good at."
Oliver Ekman-Larsson may win a Norris Trophy someday. For now, he has to concentrate on keeping his game simple, and at a high enough level to stay in the NHL. Nobody should write him off as a bust after a lack-luster first year, but he will still need to prove he can compete on a NHL level.
Follow @PatrickKearns on Twitter to talk prospects, or anything hockey related.