When the Canucks acquired defenseman Keith Ballard from the Florida Panthers on day one of the 2010 NHL Entry Draft, most fans of the team were very positive regarding the move. Ballard had developed a reputation as a swift-skating, hard-hitting, exciting defenseman during his tenure in Phoenix and Florida. In 2008-09, he was widely regarded as Florida's best defenseman (not the most impressive distinction, I know), above the likes of Jay Bouwmeester and Bryan McCabe. Flash forward to two years later, however, and he was routinely being healthy scratched in Vancouver. What happened along the way to set Ballard off course? More importantly, what can he do to get back on it?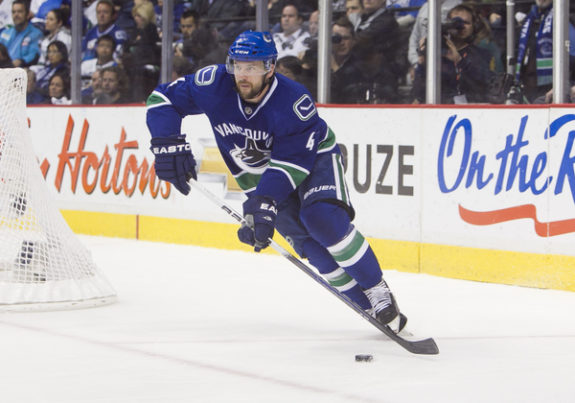 During the 2008-09 season, Ballard recorded 34 points. He led Florida defensemen with a solid plus-14 rating, playing close to 23 minutes per contest. He played 2:20 or more per game on both the power play and on the penalty kill. His most frequent defensive partner that season was Nick Boynton, who he played with over 40 percent of the time (stats according to DobberHockey's Frozen Pool Tools). Ballard's strong play earned him a massive six-year contract extension worth north of $4 million per season.
In 2009-10, he took a small step back. His level of play wasn't quite as consistent, he accidentally threw the puck into his own net (something he later taught to Alex Edler), and he almost decapitated his starting goaltender. Boynton was replaced by Jordan Leopold, who Ballard played with 37 percent of the time. Not exactly a huge swing in talents, although they are two very different defensemen. Ballard saw slightly more time on the penalty kill and slightly less time on the power play, but his total ice time was nearly identical to the previous season. His plus-minus dropped to minus-7, and his production also dropped to 28 points (although he did score two more goals – eight compared to six).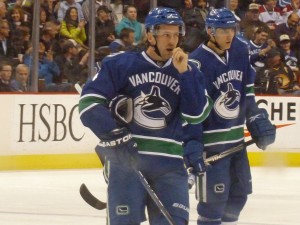 When GM Dale Tallon took over in 2010, he wanted to clean house. Ballard was placed on the trading block shortly before the 2010 Entry Draft, and he didn't last long on it. The Canucks quickly flipped their 1st pick that year (Quinton Howden), Steve Bernier, and Michael Grabner for Ballard. At the time, Grabner was largely an unknown, but had started to show signs of his goal scoring prowess (including a spectacular hat trick in Anaheim near the end of the regular season).
Not much was made of it at the time, but Ballard (who had played in all 82 games for three straight seasons) was set to undergo a serious hip operation to repair a nagging injury. Obviously a hockey player needs all of his major joints working properly in order to function, but the hip is far and away the most important, as it serves as the power base for all skating and shooting related movements. Ballard spent the summer rehabilitating instead of training, and he came into camp rusty.
For whatever reason, the coaching staff didn't warm to him like they did Dan Hamhuis. Hamhuis quickly emerged as Vancouver's most steady defenseman, but he was also given a lot of ice time right away. Ballard was bounced around the depth chart a bit, and he was placed on both the left and right side. Ballard, a left-handed shooter, was far more comfortable and effective on the left side. Few defensemen prefer playing on their off side (Christian Ehrhoff is one), as it is much harder to receive and to make passes out of the zone on the back and. Throughout the 2010-11 season, Ballard played almost 60 percent of his shifts with either Chris Tanev, Andrew Alberts, or Aaron Rome.
Aside from a few strong games, Ballard was a huge disappointment all season long. He stuck out like a sore thumb on many nights, looking lost trying to play in Vancouver's quick tempo system. Associate coach Rick Bowness has been praised in the past for how he was helped get defensemen to fit in seamlessly within Vancouver's system – Ehrhoff and Shane O'Brien are great examples. However, he struggled getting Ballard into situations in which he could excel. Alain Vigneault started to healthy scratch Ballard around the midpoint of the season, and he continued doing so right up until the Canucks eventually lost the Cup in June (a classic example of the Ballard mismanagement – he was thrown cold onto the top pairing in Boston during game six of the Cup Final, and he unsurprisingly struggled with the pace of the game).
Ballard's lack of ice time in Vancouver highlights the lack of trust the coaching staff had in him. In his final season with the Panthers, Ballard played 21 minutes or more 53 times. In his first season in Vancouver, he played 21 minutes or more once.
I firmly believe Ballard still has trade value due to the lack of quality defensemen available and the shortage of puck moving defensemen around the league. However, I think the Canucks owe it to themselves to give him a second look, fresh start, and clean slate this season (especially after a full summer of training and exercise – Ballard is probably the only Canuck who came into the off-season full of energy). How can they do that? Here's how I would handle Ballard this year, in four steps (assuming he isn't traded between now and October).
1) I would get Ballard, Bowness, and Vigneault to meet before training camp. I'd get all of the issues out on the table. The coaches don't like Ballard's inconsistent gap control. They also don't like it when he wanders around the ice instead of chipping the puck in deep. Ballard likely feels like his best attributes (skating and passing) are being neutered in a depth role with limited minutes.
2) I would give him a longer leash. Sure, he had his struggles last season, but players need some level of comfort when they are coming to a new team or into a new situation. The Canucks are in win-now mode, but they can afford to let Ballard get his feet wet early in the season. Obviously keeping Hamhuis and Kevin Bieksa together, that means Alex Edler likely has to slide over to the right side. Edler played most of the season on the left side with Ehrhoff, but he has played on the right side before. Ballard is a high risk defenseman, and he needs to know that when he makes his end-to-end skates, he won't get scratched or stapled to the bench if they back fire.
The Canucks could also spread out the defense and put Edler with Sami Salo, but that would once again put Ballard with one of Tanev, Rome, or Alberts, essentially taking us back to square one.
3) I would give him some power play time. Nothing helps build confidence more than putting some points on the board. He doesn't have a great point shot but he reads the play well and has played the role effectively in both Phoenix and Florida.
4) I would accentuate his strengths. This one seems obvious, but it was ignored last season. Ballard is a great skater, and he sees the ice well. What is the point of having him out there with plodding defensemen and fourth line forwards? Good players generally need good players to play with in order to excel (a notable exception being Sidney Crosby, no offense to Pascal Dupuis). Put Ballard with Edler and the Sedin twins at even strength. Give him prime offensive minutes. Give him time to get used to the role. The team doesn't really have a choice with this after Ehrhoff left for greener pastures, but it still is something worth mentioning.
Tampa Bay coach Guy Boucher made an interesting point during an interview last season. He mentioned how he told his players to spend most of their times on their strengths. He made sure Steven Stamkos would get faster and get his shot harder and more accurate. Often times we get goal scorers trying to work on their defense or their strength. I'm not saying to avoid what you are bad at, but Boucher's philosophy works with slotting players in the right roles. Your defensive specialists – get them to work on faceoffs, positioning, stick work, that sort of thing. They still have to keep their offensive skills sharp, but work on your strengths first. Michael Grabner is a great example of this – a speedy goal scorer who struggled every single training camp (and was cut from Florida because of this) because he tried to show his defensive game and back checking ability. Let the checkers check, and the scorers score. In Ballard's case, simply let him play. He has way too much talent to have his career defined by a slash to his own goalie and a fight against Sidney Crosby. That being said…
One of the finest shifts you may ever see out of a defenseman:
 Follow me on Twitter for more puck talk – @angus_j
Jeff can be found on Twitter @AngusCertified.