On Thursday, Sweden will face Switzerland in the bronze medal game at 7 a.m. EST and the United States will face Canada in the gold medal game at 12 p.m. EST to cap off what's been a great 2014 Olympic women's ice hockey tournament.
For the Bronze: Sweden vs. Switzerland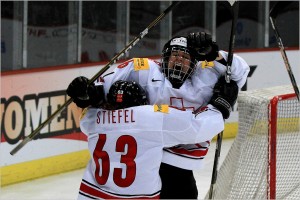 After a 6-1 loss to the U.S. on Monday, Sweden will face the Swiss in the bronze medal game on Thursday. The Swedes were badly outplayed by a much deeper American squad, which you probably haven't heard the end of from all the people who've dedicated so much time and energy to this sport for a grand total of a week and a half. Sweden's best player by far in the loss was goaltender Valentina Wallner, who had to make 26 saves in the first period just to keep it a a three-goal game heading into the intermission. Anna Borgqvist got one back for Sweden, but not before Team USA had already taken a commanding 5-0 lead.
Switzerland put up a better fight against Canada, though they went down 3-0 early too. Florence Schelling, however, made 32 saves over the next 40 minutes, including 22 in the second period alone, to keep the Canadians off the board for the rest of the game. Jessica Lutz chipped one in on the power play for the Swiss, who surprisingly found themselves only down by two heading into the third. They made things very interesting in that last period of play; Schelling stood on her head to keep Canada from extending its lead, but the team as a whole put up a really good fight, earning several excellent scoring opportunities. Switzerland couldn't find the back of the net again, however, and fell 3-1.
Losing to the U.S. by such a large margin was probably a little discouraging for Sweden, but they beat a quality Finnish team in the quarterfinals to earn a spot in the medal round. On the bright side, the Swiss don't have nearly the same firepower up front as Finland. Wallner's played really well this tournament, and she's going to have to be good in net again with Schelling at the other end. Pernilla Winberg wasn't as much of a factor in the semifinal game, but she could be a difference-maker here. It would probably help Sweden to score a goal or two early, because Schelling's going to get tougher to beat as the game goes on. They need to play well defensively, too, because Switzerland has shown an ability to create some good chances.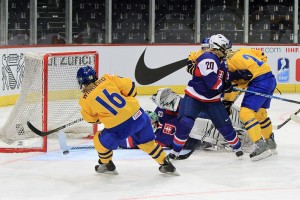 Like Sweden, Switzerland had to pull off an upset just to advance this far. In fact, the Swedes knocked off probably the best Finnish squad we've ever seen, and the Swiss eliminated a pretty talented Russian team with a huge home-crowd advantage. Neither team was actually supposed to be in this game at all, and now one of them will win the bronze, which really helps explain why women's hockey is in a huge state of disarray because of a lack of competitiveness. But back to Switzerland.
Unlike the Swedes, this Swiss team almost pulled off a second upset-which, again, please remember how atrocious the parity is in women's hockey-so they've got to be feeling pretty confident about that. Switzerland has repeatedly emerged as a surprise contender over the past couple of years, shockingly winning bronze at the 2012 IIHF World Championships. Schelling is going to give the Swiss their best chance at winning a medal here, too. But they've got some speed throughout their lineup, and play well within their system. They also have some impact players up front and on the blue line. Forward Phoebe Staenz is one player to watch out for. She's been a force to reckon with all tournament, making plays and generating chances.
For the Gold: Canada vs. United States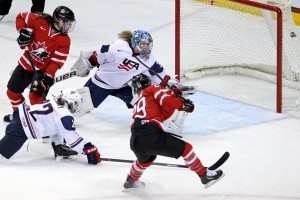 The 3-1 semifinal win against Switzerland wasn't ever in too much doubt, but there was definitely a bit of a scare for the Canadians towards the end. They outplayed the Swiss throughout the first two periods, but the last period was more even. Still, they won in convincing fashion, and will play the U.S. in a rematch of last Wednesday's round-robin game, which Canada won 3-2. In that victory, the Canadians did a really good job of limiting the ability of the line of Brianna Decker, Amanda Kessel, and Kendall Coyne. While facing a 1-0 deficit after two, they scored the game's next three goals and thoroughly dominated play in the third period, holding the Americans without a shot on goal until about the 15-minute mark.
The United States bounced back from that loss to Canada with a resounding 6-1 victory over Sweden in the semifinals. The Americans came out flying in that game, outshooting the Swedes by a ridiculous 29-1 margin in the opening period. Though that was a solid win for them, there are still some concerns to think about from the first game against Canada. In that game, the U.S. really dropped off in the third period after playing pretty well through 40 minutes. That could be due to them only having three lines to roll, making it really hard for them to compete with such a loaded Canadian team for a whole game.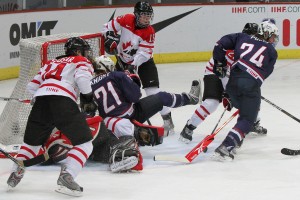 Canada did a really good job of adjusting to the game in that first match-up, and in eliminating the effectiveness of players like Decker, Kessel, Coyne, and Kelli Stack, among others. They were able to neutralize their speed, and got the U.S. off its game, especially late. The Canadians set a good physical tone, which really helped them keep the Americans pinned in for most of the period. They'll be looking to do the same things on Thursday. Team USA is relying heavily on the Decker-Kessel-Coyne and Knight-Stack-Carpenter lines, and if Canada can make their speed a non-factor, it will limit the abilities of those top two lines.
From a U.S. perspective, they need to do a better job of using their speed to their advantage and establishing their game plan. They were doing fine at first, but really had a hard time skating with the Canadians in the third period. With Lyndsey Fry likely to only get a couple minutes of ice time, Team USA will basically be utilizing 10 forwards. Their puck movement on the back-end will help them a lot in making sure those top two lines remain effective, so the American defensemen need to do a good job of handling the Canadian forecheck. If Canada can slow the game down again, though, the United States would probably do well to count more on the line of Monique Lamoureux, Jocelyne Lamoureux, and Meghan Duggan, who aren't the fastest but can play a more physical game.