Five minutes into overtime, in the seventh game of the WHL western conference semifinals, the puck slid loose in front of the Victoria Royals net. Calvin Thurkauf jumped onto it, spun and fired a wristshot five-hole, giving his Kelowna Rockets the win.
"After the game you could tell that he was still in shock that it had happened," said Rockets assistant coach Kris Mallette in an interview with the Hockey Writers. "But he was pretty proud."
It's that kind of clutch scoring the Columbus Blue Jackets hope to get from Thurkauf, who they drafted in the seventh round (185th overall) last week. It's a low-risk, high-reward pick for Columbus, but definitely not a complete write-off.
Great pick by Columbus. Calvin Thurkauf is a 7th rounder. Bit of a project but power forward with skill.

— Regan Bartel (@Reganrant) June 25, 2016
Switzerland Born and Raised
Although his dad was born in Montreal, Thurkauf was raised in Switzerland. But after getting passed over in last year's NHL draft, Thurkauf decided to come to North America to try and get noticed by some scouts. Kelowna took him with the 59th pick of the CHL Import Draft in 2015 and he joined the Rockets that September.
The adjustment to the rigorous schedule of a WHL season meant Thurkauf got off to a slow start. But as he found his groove, the Rockets continued to expand his role, eventually putting him on a line with Rourke Chartier and fellow-import Tomas Soustal.
During that time, Thurkauf also represented his country at the World Junior Hockey Championships in Russia. This added even more travel and playing time to his busy schedule, something Mallette says caught him off guard.
"He'll be the first to tell you that he wasn't prepared, physically for (the schedule)," Mallette said. "I think it was a bit of an eye-opener for him but I think he'll be a lot more prepared for it this year."
Mallette says he's already spoken to Thurkauf about planning his workouts for the offseason, and he expects the Blue Jackets to have a plan for him too. With two more years of WHL eligibility, the Rockets are expecting him to play a bigger role with their team next year.
"He's a guy that has played his way into a top-six role and our expectations are on a steady incline," Mallette said.
Calvin Thurkauf is the 2nd Swiss born player ever drafted by the #CBJ 1st since 2001. Also 2nd Kelowna Rocket ever picked also last in 01

— CBJ Prospects (@CBJProspects) June 25, 2016
A Hard-Nosed Player Who Can Score
Measuring in at six-foot and barely 200 pounds, Thurkauf isn't exactly the most intimidating figure. But Mallette says he can throw huge hits when he wants to and Thurkauf isn't afraid to go to the net to score dirty goals. Those reasons are why he was able to find a spot on a line with Chartier and Soustal, two players who love to cycle the puck down low.
If that description sounds familiar to you, it's probably because it could also describe Brendan Gallagher and Brad Marchand. Neither is the biggest guy, but they are fearless and get under the other team's skin.
"(Thurkauf) likes to play a heavy game, he likes to go to the net and battle for those greasy area goals," Mallette said. "He's a hard worker and he can play physical."
Thurkauf finished the season with 18 goals and 45 points in 61 games for Kelowna. He also had 54 penalty minutes, a by-product of playing an aggressive game.
One area of his game Mallette would like to see Thurkauf improve on is taking more shots. He says Thurkauf has a great shot and if he used it more he'd put up better offensive numbers.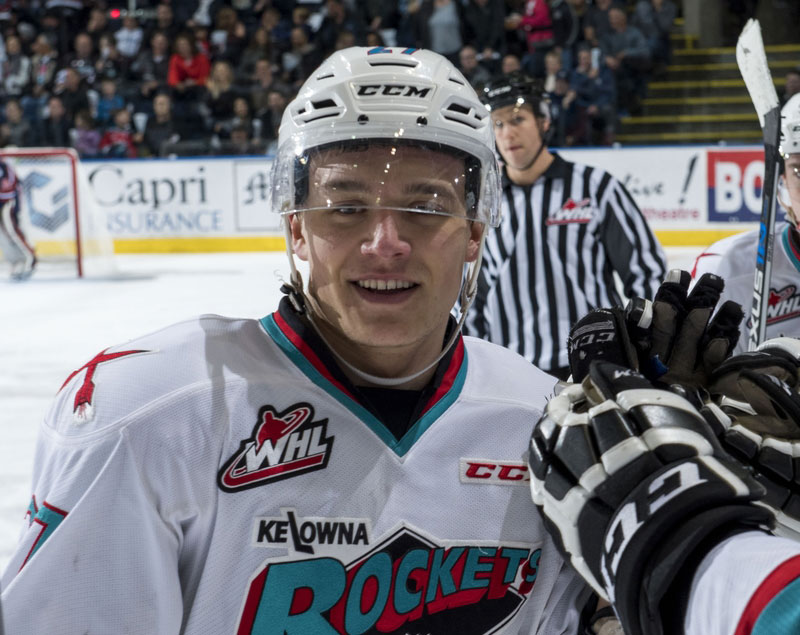 Prospects Take Time
Thurkauf was one of four Rockets drafted into the NHL on the weekend. Defenceman Lucas Johansen (brother of former Blue Jacket Ryan Johansen) went 28th overall to Washington, centre Dillon Dube was taken in the second round by the Calgary Flames and defenceman Braydyn Chizen was taken in the seventh round by Minnesota.
Mallette says the reason teams turn to Rockets players at the draft is that he and the staff there attempt to build a winning culture on and off the ice. From dress codes to schedules, everything is put in place to maximize the potential of the players.
"It's on us as coaches to make them better and scouts notice that," Mallette said. "We try to prepare them as people, as men. And it's up to us to continue to improve their skills each and every day."
Obviously it's way too early to say if Thurkauf will ever make the NHL. But now that he's been drafted, the opportunity is certainly there. And if he can continue to improve his game year-over-year who knows what the future holds for him.
But first he needs to get some sleep.
He cut his vacation short, flew home to Zurich to grab his hockey gear, and somehow managed to get to Columbus in time for dev. camp. #CBJ

— Rob Mixer (@RobMixer) June 27, 2016
Hockey and media have always been big interests of mine. So I'm very lucky to combine those interests in the work I do for The Hockey Writers.