For the Ottawa Senators some things are a given: Erik Karlsson will be the team's number one defenseman, Marc Methot will throw thunderous hip checks and Mark Borowiecki will get stitches and be back out to take a regular shift five minutes later. However, Ottawa also has a lot of unknowns coming into this season and how the team and individual players collectively deal with these questions will go a long way to determining whether they are a contender, a playoff bubble team or an also-ran this season. In this post I'll look at the question marks surrounding Ottawa's goalies and defensemen. In a future post, I'll examine the forwards and the coaching staff. But first, lets focus on the men who are responsible for keeping the puck out of Ottawa's net.
Can Craig Anderson and Andrew Hammond Be Relied Upon?
As Craig Anderson demonstrated during Ottawa's first round playoff series against Montreal, he can hold his own when compared to the best goalie in the league. Over four games against Montreal, Anderson posted a mind-boggling .972 save percentage (sv%), best in the 2015 NHL Playoffs. His problem has never been puck-stopping ability, rather Anderson has always struggled with consistency and staying healthy. Throughout his career, Anderson has seemingly oscillated between good (five seasons with an above league average sv%) and  concerning (three season with a below league average sv%).  Given his excellent performance last year, does that mean he is due for a bad season? If he is, that bodes poorly for Ottawa, given that Anderson's last down season was 2013-2014 and Ottawa missed the playoffs. The Senators give up too many shots per game not to have an above average goalie in net.
Even when playing well, Anderson has struggled to stay healthy throughout his tenure in Ottawa. Despite being the Senators' unquestioned starter since being traded for Brian Elliott, Anderson has only started more than sixty games (a usual starter' workload) once. Sure, one of those seasons only had 48 games and he may have missed time because he doesn't know how to defrost chicken, but still, over his four and a half seasons in Ottawa he has demonstrated a worrying proclivity towards injury.
If – or when – Anderson misses time through injury this year, Andrew "The Hamburgler" Hammond will be there to take his place. After an amazing run that saw him go 20-1-2 with a .941sv%, Ottawa signed UFA-to-be Hammond to a three-year deal and traded goalie of the future Robin Lehner to Buffalo. Yet, despite Hammond's heroics last season, many commentators (myself included) have expressed doubts as to whether he can continue his stellar form. Particularly if Anderson misses substantial time due to injury, is Hammond capable of filling the void in net? Beyond one amazing stretch of game, his career history suggests that he isn't capable of being an NHL starter. That should seriously concern Senators' fans.
But what about the crew in front of Anderson or Hammond?
Who Are Ottawa's 5th and 6th Defensemen?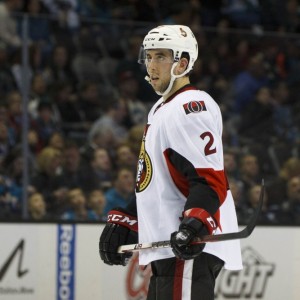 Also could be phrased as, is Jared Cowen an NHL-level defender? Ottawa's top two defensive pairings are set. Erik Karlsson and Marc Methot form one of the better pairings in the Eastern Conference and the emergence of Patrick Wiercoich and Cody Ceci as reliable defenders, both with an offensive upside, has solidified the top four. However, who constitutes the third pairing is much murkier. With Erik Gryba gone to Edmonton and Chris Phillips in need of extensive rehab after back surgery this spring, Ottawa has two defensemen on one-way contracts in Jared Cowen and Mark Borowiecki, and Chris Wideman and Mikael Wickstrand (and their two-way contracts), waiting in the wings.
Given Bryan Murray's public comments in June regarding trading Gryba, and the fact that Gryba and Cowen were essentially interchangeable in Dave Cameron's line-up during Ottawa's last 25 games,Cowen seems set to start the season as Ottawa's fifth defenseman. Ottawa's management is determined to give Cowen every opportunity to fulfill the promise he displayed in his rookie year and given his $3.1 million cap hit for this season and next, it makes sense for Ottawa to do so At very least Cowen could raise his trade value. My suspicion though, is that Cowen will continue to disappoint, resulting in many a healthy scratch this season and, barring a trade, will get a buy-out in the Spring of 2016 for a cap-friendly hit of $650 000 for one year.
So what then? Borowiecki has seemingly earned Dave Cameron's trust and will play most of the season on the bottom pairing, but if Cowen is sitting, who plays? Chris Wideman is the obvious answer. He signed a one-year deal with the Senators this year and if he doesn't get a shot at the NHL it is likely he leaves for another franchise and increased playing time come July 1st. Wideman is small (5'10") and quick and as his last two seasons in the AHL demonstrate, he can quarterback a power play and produce offense.  It remains to be seen if he can translate his game to the NHL level but if he can, he will provide a much-needed puck-mover for the bottom pairing and give Ottawa four defensemen who can play on the power play, avoiding the shorthanded goal producing nightmare that is either Mike Hoffman or Kyle Turris on the point.
But Wait, What About Mikael Wikstrand?
Seven defensemen, a battle for playing time, so far, so simple, right? Not so fast, because on September 3rd Ottawa did this:
#Sens recall defenceman @MWikstrand from Färjestad BK (SHL)

— Sens Communications (@Media_Sens) September 3, 2015
Given that Ottawa had only recently loaned Wikstrand to Färjestad BK in Sweden on August 19th, recalling him so soon seems slightly strange. The club's stated reason was so that he could play in the rookie tournament this September in London ON. However, I suspect the real reason is that Ottawa's management team would like Wikstrand to play in Binghamton this year and acclimatize himself to the smaller North American ice before hopefully stepping up to the NHL in 2016-17. Yet Wikstrand has other ideas. He either wants to play in the NHL or go back to Sweden for one more year, rather than playing in the AHL. Given his excellent performance last year in Sweden and at Ottawa's Development Camp in July, it isn't a stretch to think that Wikstrand could play well enough to earn a spot on the Senators' roster out of camp.
If Wikstrand plays well enough to warrant a spot on Ottawa's blueline it leaves management with a few choices. The first and most likely is to carry eight defensemen on the roster and hope that Chris Phillips never gets better. However, without regular ice-time Wikstrand won't develop and Wideman won't be happy. The second and much better choice is to trade Jared Cowen, a move I suggested that Ottawa complete during the summer.  As a further bonus, other teams actually want Cowen.
As per The Sun, there is a lot of trade interest in Jared Cowen http://t.co/IXFIJTj2xA pic.twitter.com/BDazyu6Rv6

— Silver Seven (@silversevensens) September 2, 2015
So trade Cowen now. After another poor season, I don't think he will have much trade value making a buyout necessary. While that option will only cost the team $650 000, paying a player not to play is a poor use of funds all all but the most extreme circumstances (or if you are the Toronto Maple Leafs). Trading Cowen will allow Wideman and Wikstrand to develop their game playing protected minutes and still leaves Borowiecki as cover in case of an injury. Plus, if Phillips returns, Ottawa will still have ample depth at defense and be saving $3.1 million a year.
Many of these unknowns will be resolved come the start of the season. While it will take a little longer to known if Hammond or Wideman are the real deal, the Senators' will have solidified their opening day roster and at the very least, either will have dealt with, or put of for another year, difficult but necessary decisions regarding the future of Jared Cowen, Chris Wideman and Mikael Wikstrand.
I am a Canadian historian studying at UBC and currently living in Ottawa ON. who grew up watching and playing hockey. I write about the Ottawa Senators, past and present, for The Hockey Writers. I think fancy stats are great. Also a huge soccer and Rugby fan.