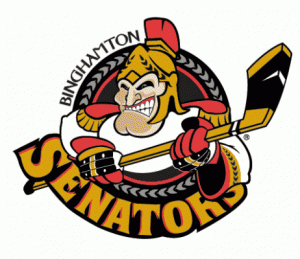 When Jean-Gabriel Pageau was recalled early last week, the majority of Ottawa Senators fan were scratching their heads. While Pageau has had a great rookie campaign for the Binghamton Senators, no one thought he would have his chance to play in the NHL this season. With the likes of Stephane Da Costa, Mark Stone, and Derek Grant on the B-Sens; Pageau being recalled was definitely one of Bryan Murray's most surprising moves of the season. Jean-Gabriel has provided some much needed offense however, registering a goal and an assist in his first two games while helping the Senators to a two-game win streak.
With the impact Jean-Gabriel Pageau has made so far in the NHL, it shows what a fantastic job Bryan Murray has done drafting as well as signing college FA's. Fourteen players from the Binghamton Senators opening roster have played in the NHL this season which attests to the depth this NHL franchise has as the majority of those players have made a significant impact with the big club. With that being said, let's take a look at a couple deserving Binghamton Senators players who could get recalled before the end of the season.
1.)    Shane Prince
Shane Prince struggled at the start of his rookie campaign with the Binghamton Senators but has really benefited from the NHL lockout being over as well as the injury problems the Ottawa Senators have faced. With Mika Zibanejad, Jakob Silfverberg, Stephane Da Costa, and Mark Stone all playing in the NHL at some point this season, it left a great opportunity for Prince which he made the most of.  Now third on the team in points, he has been producing at a near point-per-game pace since January and has not looked out place playing against other teams top defensive pairings. Not to mention he's first on the team in goals. I personally wouldn't be surprised seeing Prince play his first game before the end of the season, but with how important the last seven games are for the Ottawa Senators it might be better off to wait next season.
2.)    Corey Cowick
Corey Cowick has been a pleasant surprise for Senators fans this season as he has produced exceptionally well this season. A late bloomer in junior hockey, the same applies here in his third season in the American Hockey League. While splitting time between the Elmira Jackals and Binghamton Senators the last two seasons, he has solidified himself as an regular on the B-Sens line-up this season while emerging as a legit NHL prospect. He might be the best penalty killer in the AHL this season besides Derek Grant. He leads the AHL in shorthanded points and already has more points this season then his last two combined. While he is still a long-shot to make the NHL, he deserves a call-up after what a great season he has had. He has potential to be a great penalty killer in the NHL and your typical fourth line grinder who can chip in a key goal every once in a while.
3.)    Mark Stone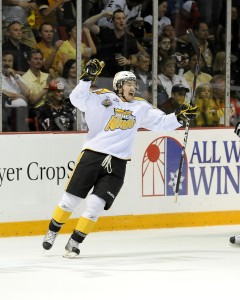 There's no question that Mark Stone is going to be an important player for the Ottawa Senators in the future. Skating was a concern for Stone entering his first season in Binghamton but it has drastically improved since being drafted in 2010. He has played four games this season for the Senators in which he played limited minutes on the fourth line with Jim O'Brien, Peter Regin, and Erik Condra. For him to be successful in the NHL, he will need to play on one of the top two lines as he is an exceptional playmaker with tremendous hockey sense. Tied for first on the Binghamton Senators in points with Stephane Da Costa, I wouldn't be surprised to see him on a line with Kyle Turris and Daniel Alfredsson before the end of the season.
4.)    Mark Borowiecki
The Kanata native started the season with the Ottawa Senators but after a somewhat disappointing stint, he was sent down to the Binghamton Senators where he would later become the captain. While an NHL future is still completely possible, he will need to continue to play his physical style if he wants to be effective at the next level. Known for his toughness and his willingness to fight, he projects as a physical bottom pairing defenseman which the Senators have desperately lacked this season. He has a good chance to crack the opening line-up next season with the likely departure of Mike Lundin and possibly Andre Beniot and Sergei Gonchar. Ottawa Senators seem keen on him being in their long-term plans and will be a fan favorite in Ottawa when he makes the team.
With the Owen Sound Attack and Kitchener Rangers being eliminated recently from the OHL playoffs, Matt Puempel and Cody Ceci will be joining the Binghamton Senators very soon. While Puempel is unlikely to play in the NHL this season, Cody Ceci has a decent chance.