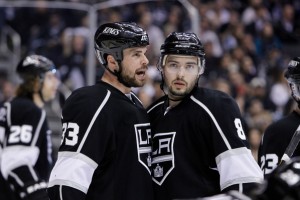 On paper, this was to be one of the strongest, most competitive divisions in the NHL this year.  It's a good thing "paper" is now a euphemism for pixels, as scribes across the land are furiously tapping their delete keys.
Of course, it goes without saying that it's early.  Teams are only at the 1/3rd marker, with plenty of real estate yet to cover.  And yet, despite possessing three teams with winning records, an argument can be made that on an overall basis, it may be the most disappointing division, top-to-bottom, in the league.
Taking a step back, one has to start with where each team ended the season last year, and where expectations were to start the 2011-12 campaign.  The San Jose Sharks, as usual, won the division with 105 points and made a run to the conference finals.  The Anaheim Ducks fell just short with 99 points but secured the fourth seed in the playoffs, losing in the first round to the Nashville Predators.  Aced out of the 4th seed by an eyelash were the Phoenix Coyotes, who finished 6th due to the logjam in the middle and ended up with the misfortune of facing the Detroit Red Wings, who swept them out of the playoffs.  The Los Angeles Kings suffered a swoon at the end of the regular season and ended up the conference's seventh seed, and were subsequently outclassed by the Sharks in a 4-2 series loss.  Lastly, the Dallas Stars suffered a six-game losing streak at the end of March that a four-game April winning streak couldn't overcome, and thus finished just two points out of the playoffs.
Five teams, four playoff seeds and a conference final participant out of the mix.  Top-to-bottom, the strongest division in the NHL in 2010-11.  Moreover, bold moves were made in the off-season by all with the hopes of moving the puzzle pieces around for the upcoming season.
That sound reverberating across the land may not exactly be a thud, but it could be a quack, a yelp, a fishy groan, or simply a wah-waaah sound, depending on how things go the rest of the way.  Stay tuned.
The following is a quick synopsis of each team's fortunes to date:
Dallas Stars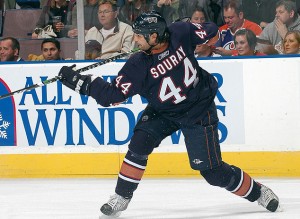 The upstart Stars have vaulted to the top of the division at 16-11-1, but sustainability is a question mark.  The Stars have given up more goals than they have scored (78 versus 73), and after a hot start are just 5-8-1 in their last 14 games.  They rank 19th in offense and 17th in defense, with similarly-mediocre special teams results.  Sheldon Souray took just enough Geritol to start out strongly, but has zero points in the Stars' slide and is a -4 over that time span.  The other newcomers have been similarly impacted by the swoon (as has most of the team), although Lehtonen's goaltending was generally solid up until his injury.  If Loui Eriksson, Eric Nystrom or Michael Ryder don't score, there aren't a lot of other consistent options in Big D right now.  Brett Hull is probably buying crates of Geritol and waiting by the phone as we speak.
Phoenix Coyotes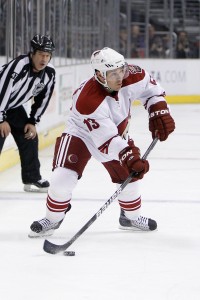 Second in the division due to having played one more game than the Stars, Phoenix is performing its usual duct tape and bailing wire routine to win games.  Geritol stockholder Ray Whitney is playing as if he's 19 instead of 39, off-season pickup Radim Vrbata is on pace for 39 goals, and Mike Smith's Phoenix rise out of Tampa Bay ashes has been one of the NHL's early success stories so far this year, especially given Ilya Bryzgalov's pedestrian statistics in Philadelphia.  However, the power play has been so bad that the team should decline opponents' penalties — dead last in the league at a paltry 10.9%.  Furthermore, the team is just 2-4 in December and looked particularly woeful versus conference elite Detroit and Minnesota.  Like Dallas, the scoring isn't distributed evenly in the desert so far this year.  Sounds like a prom night flashback.
San Jose Sharks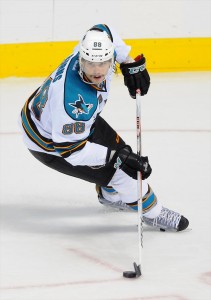 Last year's divisional champs are a respectable 15-10-1 to start the season, two points out of the lead with two games in hand.  Unfortunately, "respectable" just won't due anymore in the land of computer geeks and patent infringement lawsuits.  The Sharks are 2-5 in their last seven games, and although the recent struggles can be dismissed as the inevitable bump in the road every team encounters at least several times during the season, the offense has been sputtering nonetheless, falling to 14th in the league at 2.69 goals per game.  The defense and goaltending have been top-drawer, but one of last year's Achilles' heels — penalty killing — has somehow managed to get worse, falling to 28th in the NHL at just 74.4%.  On an individual basis, several new Sharks are still trying to adapt to their surroundings:  Martin Havlat has just one goal, and Michal Handzus just eight points in 25 games.  Brent Burns is kinda big.
Los Angeles Kings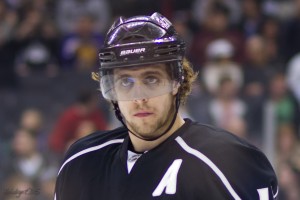 If any team exemplifies the term disappointment this season, it's the Los Angeles Kings.  Of course, it's a logical solipsism for long-time Kings fans, who have been conditioned to expect underwhelming results for so long that their world is permanently upside down —  black is white, white is black, dogs and cats, living together — mass hysteria!  Check this out:  in their recent 3-6-1 swoon, they have failed to score more than two goals in every single game.  Fans at the Kings' official community web site LetsGoKings.com are carrying virtual torches and hanging coach Terry Murray and General Manager Dean Lombardi in pixelated effigy.  The Kings are last in the NHL in scoring at just 2.21 goals per game, and although the defense and goaltending have been the team's strengths, the "prevent offense" has been epically bad.  Nobody not named Kopitar or Quick should feel comfortable in Los Angeles right now, because change appears to be in the wind.  Either that, or Drew Doughty just ate another Taco Bell burrito.
Anaheim Ducks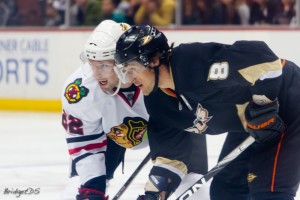 Quack!  The Ducks have been clipped in the wing and spiraled to earth (hence the thud sound also reverberating from their neighbors sixty miles to the north), posting a 7-13-4 record through their first 24 games which led to the abrupt dismissal of former head coach Randy Carlyle.  On came former Capitals coach Bruce Boudreau, who proceeded to limp to a 1-3-1 in his first five games.  Anaheim's offense is almost as bad as L.A.'s at 2.28 goals per game and yet the defense and goaltending have been decidedly worse, giving up an average of 3.17 goals per game.  Outside of the top line and 41-year old guys with too many vowels in their names, nobody is putting the puck in the back of the net in Anaheim, and there are a heck of a lot of minus signs on the stats page.  Nobody new to the team is distinguishing themselves so far, but let's be fair:  neither are the old guys.  The Anaheim Ducks are starting to resemble duck a l'orange, and that just can't be a good thing.
Walter McLaughlin is a Los Angeles Kings correspondent for The Hockey Writers. He is an avid sports fan, having followed the Kings since living in L.A. in the mid-1970's, as well as suffering through Seattle sports teams' general futility. He has a Bachelor's degree in Finance and has worked in community banking for over 25 years, specializing in SBA loans. He is married and has two daughters.