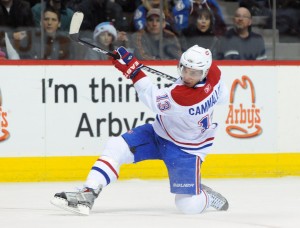 Philadelphia Flyers captain Chris Pronger, who has been having a miserable season dealing with injuries already, is now out with concussion-like symptoms, likely stemming from being hit in the face by the stick of Mikhail Grabovski of the Toronto Maple Leafs on Oct. 24. Coach Peter Laviolette confirmed not long after that Pronger would indeed be wearing a visor once he came back. The question is, why did they wait until he got hurt? The Flyers are a noticeably better team when Pronger is in the lineup, wouldn't owner Ed Snyder want to ensure his best player can play every game? I would sure think so.
The visor debate tends to come down to two main ideas, the notion teams should protect the investments made on their players and that the players are old enough to make that decision for themselves. For the moment, the NHL still isn't doing anything about making visors mandatory, even though there are constant calls from many different sources calling for such a rule. An anonymous player writing for the Puck Daddy blog on Yahoo! Sports discussed the players union view of the whole situation on Dec. 7.
The truth is this: Of course the issue of visors is something we have discussed as a union. It's something that we talk about once or twice a year at meetings, debating the pros and cons of mandatory visors (or more likely some sort of grandfather rule.) A few of our executive directors (we've had a few, you know?) have polled the membership to get an idea of where we stand on the subject.

Not once have I been told that the League is pressuring the players for a rule change.  Is that what the League would like the media and the fans to believe? I don't know. I've never heard Gary Bettman suggest that if it weren't for the players there would be a mandatory visor rule in place. Although in fairness, I do tend to tune out when he starts talking.
Toronto GM Brian Burke has gone on record saying he wants visors made mandatory, but he shouldn't have to wait for the league or players union to make a decision. Making a team visor rule would not only keep his players healthier, but it could spur a movement across the league to do the same thing. The Flyers' handling of the Pronger incident shows teams can control whether or not their players wear visors; the medical staff wouldn't even have cleared him to play if he didn't put one on.
According to the Nov. 21 issue of The Hockey News, the Montreal Canadiens have the most players wearing visors with 83.3% of the team wearing a shield. Surely owner Geoff Molson or GM Pierre Gauthier would want to protect the rest of their investment. Four other teams, Minnesota, Anaheim, Winnipeg and Buffalo, already have over 80% of the players wearing visors, so it shouldn't be hard to get the remaining four or five players on board.
If the NHL doesn't want to make a specific rule mandating visors, or grandfathering them in, that's fine. But teams should be able to make sure the millions of dollars they hand out to their top players aren't being wasted due to an unnecessary, and easily preventable, injury.