The Russians always send fantastic talent to every hockey tournament they take part in. There's always at least one player that appears destined for stardom on every World Junior team they have. Whether it's Kovalchuk, Malkin, Ovechkin, Semin…the list could go on forever. In this year's World Junior Championships, there are three new names to learn. Many hockey fans will already know at least one of them, and he hasn't even been drafted by an NHL team yet. If you watched last year's tournament, you'll probably recognize the other two names as well. You'll be hearing a lot about these three throughout the tournament, so you might as well learn exactly who they are. One of them was a leader on Team Russia last year, and adding two more will make them feared by all. Evgeny Kuznetsov, Nikita Kucherov, and Nail Yakupov are their names. Embarrassing the opposition is absolutely their game.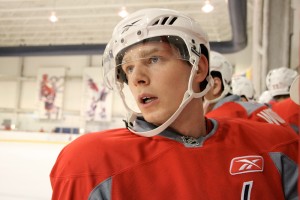 Evgeny Kuznetsov
The 2010-2011 season was one filled with achievements for Evgeny Kuznetsov. Yes, he won gold with Team Russia in the 2011 World Junior Championship, but he also became the youngest player to ever play in the KHL All-Star Game, and he had the second-most goals ever in a season for a Russian player under the age of 19. On top of all that, Kuznetsov even got married in June. This season with Chelyabinsk Traktor (KHL), he has 24 points in 30 games, with many more to come. Evgeny was selected in the first round of the 2010 NHL Draft by the Washington Capitals, and the Caps are already licking their lips at the thought of Kuznetsov playing for them next season. He's a goal-scoring forward that's an excellent skater, and is very creative with the puck. Kuznetsov has that natural magic touch around the net that so many desire, and he's able to bury his chances because of a great shot and soft hands. Strength is a concern with him though. Some hockey insiders will tell you that he may have difficulty adjusting to the physicality of the NHL game, but his quickness and heads up mentality will surely help him get used to it. Evgeny Kuznetsov is the early favourite to lead Team Russia in scoring in this year's WJC, but he's certainly got his work cut out for him.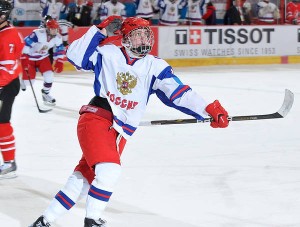 Nikita Kucherov

Nikita Kucherov could very well be Kuznetsov's biggest threat in terms of leading the team in scoring. Born in Maykop, Russia, Kucherov was the 58th overall pick of the Tampa Bay Lightning in the 2011 NHL Draft. Kucherov is a lesser-known name in the hockey world right now than Kuznetsov, but some do believe that Kucherov could be a better player than Evgeny. With CSKA Moskava (MHL) this season, Kucherov has an impressive 28 points in 14 games. Nikita was also tremendous for Russia in the 2011 Subway Super Series. He will be one of Russia's youngest offensive weapons in this tournament. He has tremendous puck-handling, one-on-one skills, and a huge upside. Nikita is a pure scoring winger that could be a future top forward on the Lightning. Like Kuznetsov, he'll need to add some more strength if he wants to succeed in the corners, but there's no doubt Kucherov will be capable of scoring in the NHL. Kucherov is interested in playing in the NHL someday, and that wish could come true next season. Right now though, he's wishing for a gold medal in the World Juniors.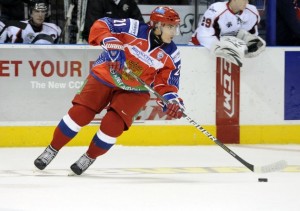 Nail Yakupov hasn't even been drafted into the NHL, yet he's already being looked at to potentially lead Team Russia in scoring at the World Juniors. He's arguably the most highly skilled player available in the 2012 NHL Draft, and is looking like a lock to go number one. Last season he put up outstanding numbers, recording 101 points in 65 games, and scoring nearly 50 goals for the Sarnia Sting of the OHL. Nail has said that Pavel Bure is someone who he tries to pattern his game after, but the speed and goal-scoring ability of Yakupov might just be even better than Bure's. Yakupov has outstanding vision on the ice, and can easily be called a sniper. When your team needs a goal, he's the guy you put on the ice. Prior to coming to Sarnia, Yakupov played in the Russian junior league (MHL) for his hometown team, Reaktor Nizhnekamsk. Nail could have chosen to play for Reaktor's parent-team, Neftekhimik Nizhnekamsk, but Nail ultimately thought joining the Ontario Hockey League would be the quicker path to his dream of playing in the National Hockey League. This season with Sarnia, Yakupov has 46 points while averaging two points a game. Look for very similar point production in the World Juniors. Make sure you watch him in Alberta this year, because if he keeps this up, Nail Yakupov probably won't be playing major junior hockey next season.
Team Russia's terrific trio will be getting loads of ice time in the upcoming World Juniors. With the possibility of Kuznetsov, Kucherov, and Yakupov all playing on the same powerplay unit, the Russians could be playing in more than a few high scoring games. They'll be hoping one of those games involves a gold medal too.
David O'Connor is a managing editor with the Sunbelt Hockey Journal. His writing has been on the Los Angeles Times' website, among other places. O'Connor also does some scouting work for the local Junior B hockey club. Please feel free to contact him at davidoconnorhockey@gmail.com.