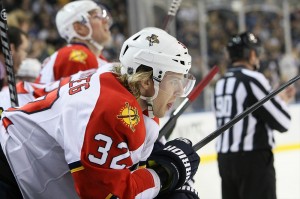 3 goals. 9 minutes apart.  The Florida Panthers, playing in their first playoff game in 12 years, were welcomed back to the post season in rude fashion.  Fortunately for Panther fans, the final 45 minutes belonged to the home team.  Unfortunately, the 3 goal deficit was too much to overcome.
With New Jersey holding a 1-0 lead, somehow a shoulder check from Shawn Matthias turned into a 4 minute high sticking penalty, and the New Jersey Devils were able to capitalize with just under 10 seconds left in the power play.  The Panthers were unable to respond, and a 3rd Devils goal came just 45 seconds later, pushing the New Jersey lead to 3.
That 4 minute "high sticking" call was not the last of the questionable calls of the night.  By night's end, 9 penalties had been called, 6 against Florida, 3 on New Jersey, although one of those Devil penalties was for delay of game where the referee doesn't get much say in the decision.  While most hockey fans associate playoff hockey to physical, high intensity play, referees Brad Meier and Francois St. Laurent instead reverted to early November style officiating, calling incidental contact, accidental sticks, and generally soft penalties all night long.  In fact, Florida was able to climb back to within one of New Jersey with a powerplay goal of their own on what was an incredibly soft tripping call.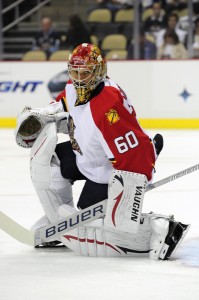 Despite trailing 3-0 early, Florida refused to relent.  They'd trailed New Jersey by 3 goals earlier this season and comeback to claim victory, and they seemed destined to do so tonight.  But with just under 5 minutes left in the 3rd period, Kris Versteeg was called for hooking Marek Zidlicky in the New Jersey zone.  Seriously?  I'm not one for swallowing the whistle just because it's the playoffs, or looking the other way because both teams seem to be hacking and chopping at each other, but on a night when the softest of stick fouls were called, including the aforementioned double minor on a shoulder check from Shawn Matthias, you would think a more experienced referee might understand the situation.  Game one, a one goal game, 5 minutes left.  In a league where a player gets off with a light slap on the wrist for slamming an opponent's head into the glass as time expires, just maybe you would think a light stick foul might be overlooked with 5 minutes left in a one goal game as the trailing team presses for the equalizer.  But not tonight.
There are plenty of positives to take away for the Panthers tonight.  Sure, they gave up 26 shots on goal in the first period alone and trailed 3-0 after one.  But for the final 45 minutes, Florida was aggressive, Florida was persistent, and Florida scored twice in the 2nd period to make the final period intense, dramatic, and uneasy for the Devils.  What Florida needs to do now is take those final 40 minutes where they out shot and out chanced their opponent, and find a way to carry that momentum into Sunday's game 2.