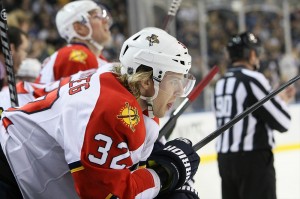 As the Panthers plane took off for an important 2-game Canadian road trip, one vital piece was missing; leading scorer Kris Versteeg.  Florida plays in Toronto tonight and the Leafs sit 5 points behind the Panthers.  On Thursday, the Cats are in Winnipeg for a crucial game against the Jets, who are currently 2 points back.
Versteeg sat out the 3rd period of Sunday's game against Montreal, and apparently it's a "lower body injury" that's been with him for a couple weeks, which may account for his 1 point in the last 6 games.  Fortunately for the Panthers, as one player goes out with injury, they could be getting as many as three back. Marcel Goc, John Madden, and Marco Sturm have all made the trip after missing a handful of recent games.  It's still unsure of who will be ready to go tonight in Toronto, but the recent additions of Wojtek Wolski and Jerred Smithson means that depth is not the issue it has been.  The Panthers, who have leaned on their AHL affiliate in San Antonio heavily this season, have not made any call-ups at present.
Regardless of who plays, the Cats will need everyone to put in a full effort against a Leafs team trying to remain in the playoff picture.  Injuries are a part of the game, and the Panthers have been one of the harder hit teams in the league, but as the end of the regular season draws closer, there's no time for pity parties.  With just 21 games remaining, 4 of Florida's next 5 are against teams that are within 5 points of the Panthers.