The Pittsburgh Penguins had an identity crisis a little over a year ago when general manager Ray Shero and head coach Dan Bylsma were fired. The men who replaced them were on opposite ends of the"experience" spectrum, as Jim Rutherford was a seasoned veteran and Mike Johnston was the new kid on the block.
When these new hirings were made, the team itself was in the middle of an identity crisis. The roster was littered with superstars and players like Tanner Glass. It was a mix of aging veterans on expensive contracts and cheap depth that just flat out was not very good.
Over at PensBurgh, an SB Nation site, they did some analysis a while ago that was very interesting and it turns out the Penguins did a rebuild on the fly, instead of just "re-tooling." Of the twelve forwards that were on the roster, only five remain, of the eight defenders that were on the roster, only three remain and, of course, goaltender Marc-Andre Fleury is still there.
One of those five forwards that remains is none other than Pascal Dupuis.
Dupuis' Impact on the Penguins
To say that Dupuis has had a rough couple of years is a huge understatement. In the span of two NHL seasons, he's suffered a torn ACL and MCL and then blood clots in his lungs. Those blood clots not only threatened his hockey career, but his life.
Before you say that Dupuis is an "injury-prone" player prior to the 2013-14 season, he had missed a total of 13 games, from 2008-09 to 2013-14. Sure, Dupuis is getting older and at 36 he is no spring chicken anymore, but that doesn't mean he is getting more prone to injuries one bit. Both of his injuries were "freak" incidents that simply were unpreventable. One was an awkward collision on the ice and the other was something that just occurred inside his body, the bottom line is that none of it was his fault.
Pascal Dupuis is a tireless worker, he takes better care of his body than almost anyone in professional hockey today and he's vowed to come back.
He's not the biggest player, he's not the fastest, he won't score the most points, but he is one of the most irreplaceable players on the Penguins roster. His career high in points came in the 2011-12 season when he scored 59 points, and that was playing on a line with Chris Kunitz and Sidney Crosby.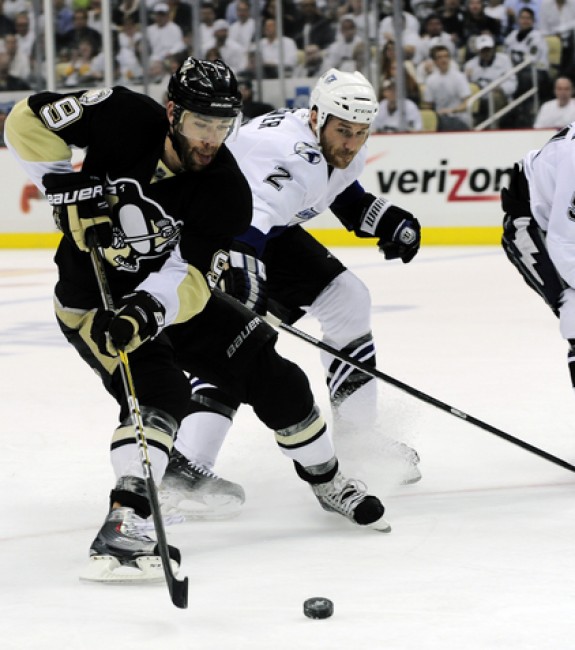 So all of this indicates that Dupuis is a good depth player with outstanding training habits to make up for a lack of superstar talent. Why could he be considered the heart and soul of the Pittsburgh Penguins?
Look at the Penguins with and without Dupuis. Before losing him to injury, the Penguins were 12-4 and after losing him, they finished the season 31-35. Obviously there are a lot more factors to consider in that losing record than just the absence of Dupuis, but the team did not even look the same without him.
By the end of the 2014-15 season, the Penguins were a stale team. Games felt scripted, after they were down by a goal or two, you knew what the outcome of the game would be. There was no fight from the team, they didn't show any heart and most importantly there was no one to give them an emotional or mental push back into games. That is the type of impact that Dupuis can have on any given hockey game. It's not the scoring, it's not the checking and it certainly isn't his speed.
Many thought players like Brandon Sutter would be capable of filling that void, but last season showed that was not the case.
Dupuis felt cooped up and absolutely hated spending time up in the press box last season. Where will he fit in the upcoming lineup? Does it honestly matter? Dupuis is an extremely versatile player, capable of playing every position and on every line.
Pascal Dupuis isn't the best player on the team, but he is their best leader, on and off of the ice and that is why, he is the heart and soul of the Pittsburgh Penguins.
Thanks for reading! Feel free to leave your comments below or tweet me anytime @MPityk
Michael Pityk is an analyst who has written for numerous sites since beginning his professional career. He's acted as a credentialed member of the media for the Philadelphia Phillies, Philadelphia Flyers, Pittsburgh Pirates and the Pittsburgh Penguins. His work has been featured in Sports Illustrated, The Sports Journal, MSN, PensLabyrinth, Montreal Hockey Talk, ESPN Pittsburgh, The Hockey Writers, Todays SlapShot and The Bleacher Report. He formerly was the editor of Pens Labyrinth and an analyst for The Sports Journal. Michael presently acts as an NHL Analyst for The Hockey Writers