The Pat LaFontaine resignation from President of Hockey Operations has sent shock waves down the Sabres organization and through the Buffalo community. This comes on the heels of the blockbuster trade that sent cornerstone-goalie Ryan Miller to the St. Louis Blues, creating an ever tumultuous time for the franchise. Instead of debating the reasons and details behind the move — which may never fully be known — we'll examine what this says about Pat LaFontaine as an executive.
A Fish, Not a Horse
I must admit, I was wrong about the LaFontaine hiring. I thought he'd be the next hall-of-fame athlete turned superstar executive. Unfortunately, he's more like the Miami Dolphins' Dan Marino than the Denver Broncos' John Elway. So what's the difference between an equine and a piscine? Winning.
Marino may have captured more records in his football-playing career than Elway, but the Broncos quarterback has what really matters — championship rings. The career parallels don't end there, however. Both went on to take on front office roles with their franchises.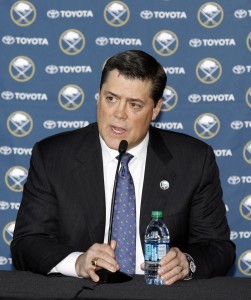 While Elway erected one of the most competitive rosters in the NFL, leading the Broncos to the Super Bowl, Marino barely managed to warm up the seat of his executive chair. Three weeks into his tenure, he stated he was having second thoughts about the position and resigned.
So like Marino — in spite of being an exceptionally gifted individual — LaFontaine is nothing more than a La La La La Loser. And in team sports, winning is everything. Two great talents. Zero rings.
A Second (Disappearing) Act
For those of you astonished by LaFontaine's quick departure, you shouldn't be. As Rory Boylen of The Hockey News points out, this isn't his first disappearing act. While working for the New York Islanders as a senior advisor in 2006, LaFontaine pulled a Houdini just 40 days into his tenure when Isles owner Charles Wang replaced Neil Smith with Garth Snow as GM.
You know what the only thing worse than a loser is? A quitter. And no matter how noble LaFontaine's causes may have been for stepping down, he's shown a propensity for this ugly little trait.
LaFontaine has done the NHL equivalent of taking his marbles and going home, not once, but twice in his intentionally-brief career as an executive. It's safe to say not many teams will want him in their circles. So Patty will have to leave his cat's-eyes and shooters in his pocket, unless he can pull a rabbit out of his hat.
LaFontaine rode in on his chariot poised to be the Savior of Hockey Heaven and left as nothing more than Chicken of the Sea. Yet another reason for Buffalonians to hate Dolphins.
As an American based in Amsterdam, Joe provides a unique hockey insight, bringing a global perspective to the game. Joe has several years of experience covering the game on both a domestic and international level, including being credentialed for multiple World and World Junior Championships.