Just as the devout followers of Hockey Heaven began to lose faith, their prayers were finally answered with the firing of GM Darcy Regier and head coach Ron Rolston. The exodus of these rebuked men came with the joyful and triumphant returns of Ted Nolan as interim head coach and Pat LaFontaine as president of hockey operations, riding in on their white horses to save Sabreland. With hope restored in Buffalo, it's time to finally look ahead to something other than the NHL Draft.
A New GM
After years of calling for Regier's head, Sabres fans have finally got what they've been so desperately clamoring for. There will be a new GM in Buffalo when the dust finally settles.
LaFontaine's first major task will be finding Regier's replacement. "The next GM will be someone who has great experience and knows the players who are out there in the upcoming draft," said LaFontaine during a radio interview with WGR 550.
So who may the next GM be? At this point, it is entirely too early to tell as the process has just started. But, let's take a look at a few viable candidates. Some of the more likely names tossed around have been Rick Dudley, Jason Botterill, Claude Loiselle and Jim Benning.
The only one directly linked to Buffalo thus far is Botterill. The Sabres have been granted permission to speak with the Penguins assistant GM. Before starting his executive career, he played 36 for the Sabres. Owner Terry Pegula has shown a penchant for bringing in alumni, so this could be a logical fit.
EXCLUSIVE: Puck Daddy has acquired Terry Pegula's executive hiring questionnaire and it's extensive. pic.twitter.com/YLWLxolBJJ

— Greg Wyshynski (@wyshynski) November 13, 2013
The popular choice to replace Regier is Dudley. Dudley is currently the assistant GM of the Montreal Canadiens. He has previous GM experience with the Atlanta Thrashers. He was instrumental in bringing in key acquisitions such as Andrew Ladd and Dustin Byfuglien whom are still with the now Winnipeg Jets. Dudley also has previous ties to the Sabres organization as former head coach from 1989-92.
Loiselle comes from another division rival as the assistant GM of the Toronto Maple Leafs. What makes Loiselle an interesting candidate is he was previously a scout for the Anaheim Ducks. With the Sabres focusing on rebuilding through the draft, such assets could be a valuable commodity.
Lastly is Benning. The biggest difference between Benning and the rest is he played a significant part in constructing a championship hockey team. After becoming the team's assistant GM in 2006, he helped the Boston Bruins capture the Stanley Cup in 2011. He also has ties to the Sabres, working in the scouting department from 1994-04.
A Rejuvenated Team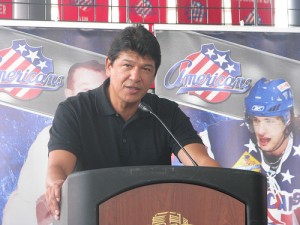 Not only is the fanbase rejuvenated, also expect to see a more spirited effort from the players. It's typically the case that a team receives a boost once a coaching change is made. Even under Rolston, the Sabres finished out last season with a  15-11-5 record after starting 6-10-1 with Lindy Ruff.
Expect to see a vastly different product on the ice under Nolan, even if it's not seen in the wins column. Nolan is as passionate as they come and a great motivator. While he's manning the bench, fans will not have to endure anymore heartless efforts.
"We get paid pretty well to do what we do and the only thing you have to do is work for a hockey game. Some guys play 20 to 25 minutes, what's 25 minutes? Sometimes we take life for granted," said Nolan. "There's people out there working seven days a week, 14 hours per day and we have to go to a rink and practice 45 minutes. It's a great life and the only thing they have to do is compete and if you don't want to compete, then those are the types of people we don't need here."
During Nolan's first coaching stint with the Sabres, he lead the Sabres past the Ottawa Senators in a thrilling seven-game series in the opening round of the playoffs. Many fans cited that as one of the most exciting memories they have cheering for the Sabres. Some even goes as far to give Nolan part of the credit for the team that would make it to the Stanley Cup Finals under Ruff two seasons later.
A Clear Plan for the Future
One of the biggest knocks on the franchise has been its lack of a clear vision. It appears the Sabres have finally put the foundation in place to move forward and build a stable and prosperous future.
It took long enough but Sabres now look to the future hopefully with some estute guidance.

— Brian Blessing (@BrianBlessing) November 13, 2013
This type of foresight was missing under the previous regime. Deals for Thomas Vanek and Ryan Miller should have been done before the season started in order to put the rebuild in full effect. The organization should have also conducted a proper search for a head coach instead of handing over the keys to an inexperienced Rolston. Lastly, the removal of Regier should have happened much sooner. However, all of that is behind the franchise now, and we can only hope such moves haven't set back the franchise too far.
It'll be fascinating to watch LaFontaine reconstruct the organization, but what should we ultimately expect? Our best prediction may be made by making an inter-sport comparison. A hall of fame hometown hero returns to his former team in an executive role. Who else does this sound like? John Elway.
The championship-winning quarterback inherited a 4-12 team as vice president of football operations. Since then, he has built the Denver Broncos into a prime Super Bowl contender and was instrumental in luring star quarterback Peyton Manning to sign with the team.
LaFontaine as a natural born leader and great people person seems to be cut from the same clothe as Elway. It's not too far of a stretch to envision him having similar success. Given his playing background and likable personality, he could also possess the same ability to bring in high caliber talent to Buffalo.
The road that lies ahead of the Sabres franchise is paved with uncertainty. But at least for the time being, hope has been restored.
As an American based in Amsterdam, Joe provides a unique hockey insight, bringing a global perspective to the game. Joe has several years of experience covering the game on both a domestic and international level, including being credentialed for multiple World and World Junior Championships.