All season, the focal points for Boston University's ice hockey team have been Jack Eichel, Matt O'Connor, and Matt Grzelcyk for obvious reasons. Eichel has been on scout's draft radars since last season. Matt O'Connor has had a stellar performance all season and helped the Terriers get all the way to the National Championship game. Matt Grzelcyk has been the backbone of BU's blueline all season. As captain, he has lead the team on and off the ice and has gotten the most of every single player this season – especially his fellow defensemen.
BU has one of the youngest defensive corps in the entire NCAA. With four freshmen on the backend, the Terriers had glaring question marks going into the season, but have quieted doubters with their play this year. One of the least talked about defenseman has been Brandon Fortunato.
Fortunato was originally committed to Harvard at the age of 15. As he put it, "things just didn't work out" and now he's one game away from winning a National Championship.
This year's recruiting class included a few of his former teammates with the NTDP and the transition from the USHL to the NCAA has been seamless for the New York-native.
"It's been great," Fortunato bega. "Loved it from the start. We have a great group of guys here and I feel the upper classmen did a great job of showing the freshmen the way and welcoming us. We played a college-type schedule [with the NTDP] so I think I was ready. As a team I felt we were ready, as well, and we've had a great year so far."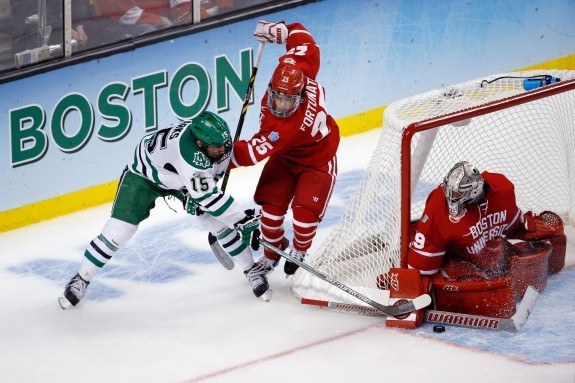 As a member of the USNTDP, Fortunato lead all blueliners in points during the 2013-14 campaign. The NCAA is a different ballgame with bigger, mature, and more skilled players. His numbers haven't been as prolific as in year's past, however he's become more reliable defensively.
"I think my defense is getting better. I'm taking more pride in it. I try to be more physical around my own net. Coaches, our staff, and weight trainers are working with me everyday to get me stronger and trying to get my defensive game as good as possible and I think it's been improving," Fortunato said.
Last year was Fortunato's draft year. He saw 14 fellow NTDP teammates get drafted into the NHL while he was passed over. It's no secret that smaller players don't get a fair chance in the NHL, and if you're a small AND a defenseman, your chances decrease that much more.
It hasn't really affected Fortunato and the way he plays. He's dealt with it his entire life, and still finds ways to outperform his opponents. Fortunato still gets calls with teams interested, but the NHL is secondary to the frosh at this stage.
"[NHL teams] talk to my advisor and they all seem to like me, but the main thing is my strength and my size. At the end of the day, my main focus is winning the National Championship. That's my first priority."
Having won a championship with the Long Island Royals and a gold medal last year at the U-18's, Fortunato has the opportunity to make it a triple crown tonight when his Boston University Terriers take on the Providence Friars for the National Championship.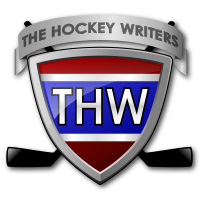 The archives of THW contain over 40,000 posts on all things hockey. We aim to share with you some of the gems we've published over the years.