There's No Place Like Home
The Minnesota Wild had won all of their home games so far this season, the only team left in the NHL to accomplish this feat. Their home-game winning streak came to an end Tuesday night at the hands of the Pittsburgh Penguins.
The Wild, who are still playing without the injured Matt Cooke and Jared Spurgeon, started off looking quite slow and overwhelmed. Pittsburgh clearly dominated the first period and then scored with a minute left in the period. The Penguins continued to blank Minnesota, shutting them out in the second period, as well, while scoring two more goals.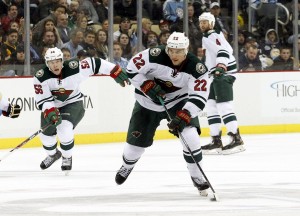 The third period improved slightly for the Wild, with a lone goal coming from Nino Niederreiter. Mikko Koivu scored later in the period, as well, but his goal was reviewed and waved off, causing quite a stir among fans at the X. The goal drama even resulted in Minnesota fans hurling trash onto the ice. At least they're passionate.
Pittsburgh finished off the damage with an empty-net goal by Patrick Hornqvist.
Insult to Injury:
The loss was bad enough, but the Minnesota Wild also suffered the loss of core player Zach Parise, who left at the end of the second period and did not return due to an apparent upper body injury. There was no word on what happened to Parise, only that he was missing from the bench for a large chunk of the game.
Parise upper body injury. Yeo said "sure hope" it's not serious #mnwild

— Michael Russo (@Russostrib) November 5, 2014
 Looking Ahead
This was the last game of the home stand for the Minnesota Wild, who will now take to the road for the next three games. The team begins their road trip against the Ottawa Senators Thursday night, looking to get back to their winning ways.
Alli covers the Minnesota Wild and has been a contributing writer with THW since August 2014. She is currently a journalism and sports management student at the University of Minnesota. For all of your Minnesota Wild news and updates, follow her on twitter: @allibaker23