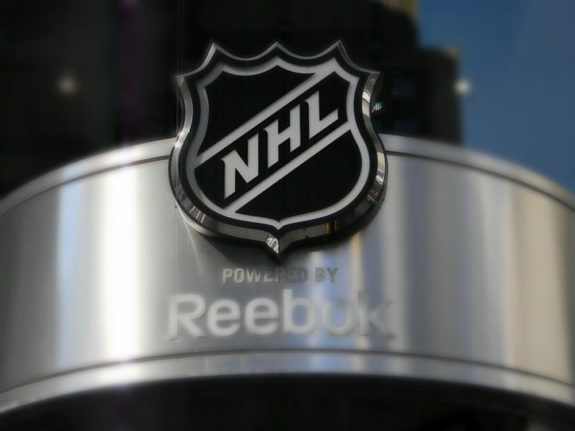 It's not crazy to think the NHL would preside over another season-ending lockout. Given the league's history, one would be crazy to expect them not to.
While the 2012-13 lockout is still just a few days old, it's pretty clear to see where things are headed. Players have wasted no time signing contracts to play elsewhere this season. Some of the game's marquee names, including Evgeni Malkin, Ilya Kovalchuk and Rick Nash, have already signed deals in European leagues. The AHL has fattened its talent pool by adding scores of prospects and fringe-NHL players in the final hours before last Saturday's deadline, and formal discussions between the NHL and NHLPA have been stalled for almost a week with a few unscheduled, informal talks the only contact the sides have had since.
Publicly, the NHL hasn't extended an offer that will do anything but shave player salaries immediately and permanently by hundreds of millions of dollars, and new NHLPA chief Donald Fehr has quietly implied the players' union may renegotiate the need for a salary cap if the owners are willing to put all else on the table.
"What I have said before and the only thing I am prepared to say now is that if we [have a prolonged work stoppage], then the players are as free to reconsider their positions as the owners," Fehr said.
"That's all I can say."
Cue the mushroom cloud.
Uncertainty surrounding the lockout will last as long as the lockout itself. But a season-ending work stoppage is certainly in the cards now that the players are working with a seasoned union boss and NHL owners are as greedy as ever.
Such a lockout would affect all teams drastically. The Pittsburgh Penguins, favorites to win a 2012-13 Stanley Cup that may never be presented, may have as much as half a new roster.
Prospects Will Be Ready to Step In
Like most clubs, the Penguins have a number of prospects who will be playing in the AHL this season. If these players were believed to be close to an NHL roster spot this season, a full year of development in the farm league will have them more than ready to push for open jobs a year from now.
Defensemen Simon Despres and Joe Morrow will headline that list. Despres has 21 games of NHL experience under his belt including three postseason games in the Philadelphia series last spring. The former first-round pick will be in the final year of his three-year entry-level deal in 2013-14 and will have spent two full seasons in the AHL, where he scored 15 points and was a minus-5 in 44 games last season.
Morrow is often touted as the Penguins' best prospect and future number-one defenseman. The 2011 first-round selection played with the Portland Winterhawks of the WHL last season, scoring 17 goals and 64 points with his junior team. Morrow was paired with 2012 first-round selection Derrick Pouliot, who will remain with Portland this season. Though 2012-13 will be Morrow's first year with the WBS Penguins, he was nearly a candidate to join the Penguins after last year's outstanding training camp performance, where he was one of the camp's final cuts.
Other players, such as wingers Beau Bennett, Jayson Megna and Tom Kuhnhackl will also be another year closer to cracking the NHL roster. Depending on their development and the restrictions of a salary cap that is essentially guaranteed to be reduced from last year's $64.3 million ceiling, bringing these players in on entry-level and other affordable deals may be a financial necessity.
Veterans Will Be a Year Older
The development of the team's prospects wouldn't be alone in pushing roster upheaval. A number of the team's veteran players have contracts which expire following the 2012-13 season, and these players cannot have their contracts renewed until a new CBA is implemented.
Beyond being eligible to re-sign, would the Penguins want to bring back some of these older players?
Penguins 2013-14 Depth Chart (Signed as of Today)

Kunitz – Crosby – Neal
Sutter – Malkin – Glass
Vitale

Letang – Orpik
Martin – Niskanen
Engelland

Fleury – Vokoun 
Pascal Dupuis, Tyler Kennedy, Matt Cooke and Craig Adams all have deals which will expire following 2012-13. Kennedy is coming off one of his least productive seasons with the Penguins. Adams will be 36. Dupuis and Cooke, despite coming off of career seasons in 2011-12, will be 34 and 35, respectively.
The NHL roster will shrink from 23 to 15 players by 2013-14 and the club's non-roster player list from 30 to 14. In addition, the club's cap payroll will be reduced some $8 million with the expiration of current contracts.
If Pittsburgh's best prospects are ready to push for NHL roles a year from now (not to mention the possibility of bringing in free agents from elsewhere, or the possibility of a drastically lowered cap ceiling), some of these unsigned veterans may be moving on.
Letang and Malkin Will Be Eligible to Negotiate Contract Extensions
Lockout or not, the Penguins will be focused on re-signing Evgeni Malkin and Kris Letang next summer.
Malkin is the reigning league MVP and Pittsburgh's most productive player since his arrival in 2006-07. He's led the team in points in three of his six NHL seasons and has captured more individual hardware than even Sidney Crosby (2009 & 2012 Art Ross Trophies, 2009 Conn Smythe, 2006 Calder, 2012 Hart).
Letang, like Malkin, will be eligible to re-sign with the Penguins at the start of free agency next summer (assuming a CBA has been ratified by then). Though he and Malkin will each play the 2013-14 season with Pittsburgh, both will be unrestricted free agents following that season.
Malkin and Letang are two of Pittsburgh's most indispensable talents and neither has tested free agency before. Whether the team is able to sign both will depend on restrictions to contract length and maximum value under a new CBA (owner proposals have thus far called for as little as five-year term limits in addition to severe cap ceiling reductions, though these figures will change).
If the lockout is to wipe out the pending season, all of Pittsburgh's personnel decisions will have to follow attempts to re-sign these two core players.