There has officially been enough conversation about which goaltender the Detroit Red Wings might protect for the Vegas Golden Knights expansion draft. It's going to be Petr Mrazek. Not Jimmy Howard. Definitely not Jared Coreau.
As the expansion draft approaches, plenty of articles have suggested that someone other than Mrazek should be the one goalie that the Red Wings protect. Here's one example. And another. And one more for good measure.
This thinking is shortsighted and silly. Here's why the logic of protecting Howard over Mrazek is flawed.
Quantitative Analysis
With statistics playing a larger role in roster management decisions than ever before, it's only fair to compare Mrazek and Howard based on their numbers. There's no doubt Howard had a better 2016-17 season, but how do the two stack up when career totals are taken into account?
Mrazek reached his 100th game this year – his fifth professional season. It was the same case for Howard, who played his 100th game part-way through the 2010-11 campaign. Here's how each fared through their first 100 NHL games:
| | | |
| --- | --- | --- |
| Metric | Petr Mrazek | Jimmy Howard |
| GP | 100 | 100 |
| W | 50 | 58 |
| L | 32 | 26 |
| OTL | 8 | 12 |
| SO | 9 | 5 |
| GAA | 2.30 | 2.40 |
| SV% | .921 | .919 |
It should be noted that Howard had a stronger team in front of him early in his career – Mrazek never had the benefit of Nicklas Lidstrom defending him. Though Howard won more games, Mrazek's performance metrics are slightly better. His goals-against average (GAA) is one-tenth of a goal lower, and he had nearly twice as many shutouts as Howard. Shutouts are a good indicator of talent – no matter what happened in the game, the goalie performed his job to perfection and did not allow a single goal to get by him.
Despite Mrazek having more shutouts and a better GAA than wins-leader Howard, let's consider these stats to be even. Then what? Then we consider what's next. With Howard turning 33 this past season, there's not much left in the tank according to just about every player regression model. Typically, when a player gets older, their abilities start to fade. Mrazek is nearly a decade younger than Howard and is about to enter his prime. Howard is just exiting his. Thus, Mrazek offers the higher probability of stellar play and brighter future in net.
Advantage: Mrazek
[irp]
Qualitative Analysis
Apart from their stats, goalies are evaluated on how they play during games. Taken into account are a number of physical attributes, positioning, and save decision-making. Here are how Mrazek and Howard compare in a number of categories, with the best of each criterion noted.
| | | |
| --- | --- | --- |
| Criteria | Mrazek | Howard |
| Angles/Positioning | PUSH | PUSH |
| Highlight Factor* | X | |
| Lateral Movement | X | |
| Poise | X | |
| Puckhandling | X | |
| Reaction Time | X | |
| Rebound Control | | X |
| Save Selection | | X |
| Shot/Pass Recovery | X | |
| Vision | | X |
*Highlight Factor is the ability to make a save that probably shouldn't have been saved. This may be a result of a rebound, tracking a pass/deflection, or being hung out to dry by the defense.
From a talent perspective, Mrazek is the better goalie. His above-average lateral movement and shot/pass recovery are his strong points – attributes Howard struggled with before knee and groin injuries took their toll on the veteran this past season. Mrazek's reaction time also tops his elder goaltending partner.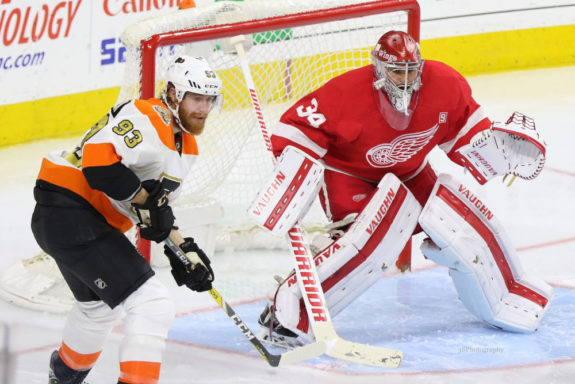 However, both have flaws to their games. Mrazek picked up bad habits, including poor rebound control and the inability to track the puck through screens. Howard does not display strong footwork around the net and has shown a tendency to crack under pressure in the past. His adjusted mindset coming into this past season helped with the latter issue, but it is still not completely resolved.
Both goalies have pros and cons – what's the difference? Rebound control and save selection techniques are developed through muscle memory. Tracking the puck can also be enhanced through repetition. In essence, practice makes perfect. Goaltending coach Jeff Salajko can easily work with Mrazek to resolve these deficiencies. Teaching Howard to push cross-crease stronger and react quicker at an older age is a much more difficult process.
Advantage: Mrazek
[irp]
Conclusion
Petr Mrazek is clearly the better goalie in Hockeytown and should be viewed as the future in net given his talent, Howard's age, and the lack of quality goaltending prospects in the pipeline. As a result, the young Czech goalie should be the one netminder protected during the Golden Knights expansion draft.
It should be noted, though, that just because Howard (and Coreau) would be eligible for Vegas to select, there's no guarantee that the Golden Knights will take a goalie from the Red Wings. There are 29 other NHL teams with expansion draft/roster management issues of their own.
In Pittsburgh, there's no guarantee that Marc-Andre Fleury will waive his no-movement clause and allow the Penguins to protect Matt Murray. Vegas would be lucky to have either. Florida and Washington also have two great, expansion draft-eligible goalies on their roster, and a slew of other teams have quality backups or prospects that will likely become available. George McPhee and the Golden Knights will have plenty of goaltending options to consider.
Don't kid yourself – between Mrazek and Howard, the Red Wings will protect Mrazek.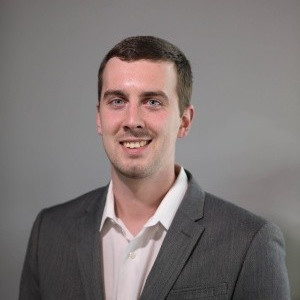 Tony Wolak is based in the Washington D.C. area and covers the Detroit Red Wings for THW. As a former junior and college hockey player, Tony has a unique perspective on Red Wings topics.