For defencemen in the ever-evolving, post-lockout NHL, mobility and smarts are slowly beginning to win the day in favour of the clutch-and-grab type of defending that previously dominated the league.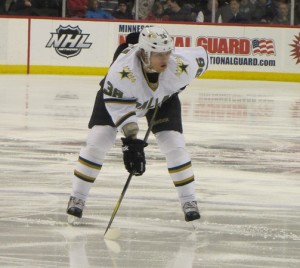 Right now there are few better examples of this than Dallas Stars rookie blueliner Philip Larsen.
Despite being only 22 and a bit undersized for a defenceman at 6'0″, 190 pounds, Larsen has been skyrocketing up Dallas' depth chart as of late. After spending most of the early part of the season with the AHL's Texas Stars, the smooth Dane now  looks poised to be a consistent fixture on Dallas' defensive corps, both now and in the future.
A quick skater with great hockey sense, Larsen has 1 goal and 4 assists in 24 games for the Stars so far this season. While those aren't earth-shattering stats for a young offensive defenceman, his defensive game is also up to NHL standards, using his speed and smarts to overcome his lack of size.
Impressively, Larsen has only held a minus rating in 3 out of his 24 games this season, and his that his all-around play has earned him more ice time, up now to 17:25 per game. Even more impressive is that he's doing so on a deep, and currently healthy, Dallas blueline, often forcing veteran Adam Pardy and former first round draft pick Mark Fistric to be healthy scratched.
Not bad for a 5th round draft choice from 2008. Although he received little hype coming to North America after honing his game with Vastra Frolunda of the Swedish Elite League, the silky blueliner is showing signs of being able to make a big splash in the NHL if his progress continues to rise.