We're merely two weeks away from Feb. 29, which marks the 2016 NHL trade deadline. So, of course we're going to ramp up our discussions about what may or may not happen prior to one of the most exciting, sometimes nerve-racking days on the NHL calendar. I recently discussed five potential fits for the Pittsburgh Penguins and I expect that a multitude of possibilities will continue to surface. In fact, PittsburghPostGame.com just released their most recent list of possibilities as well.
The Penguins will be one of the more interesting teams to watch, as no one has a beat on what general manager Jim Rutherford has up his sleeve. He has a knack to pull the trigger on big moves but he isn't quite as aggressive as his predecessor Ray Shero in that regard. Blockbusters became an expectation throughout Shero's tenure. It was a given that the Penguins would be "all-in" each and every year and would at least consider a move that mortgaged the future in order to win immediately. Will Rutherford follow suit?
Recently, it looks as if the Penguins aren't willing to sell the farm for rentals with expiring contracts. And, that's obviously great news for the long-term health of this organization. Rutherford did trade Kasperi Kapanen, his first-round selection from 2014 in the deal that brought Phil Kessel to Pittsburgh, but with Kessel locked up for seven years, that's a different situation. With a general lack of assets in the form of expendable NHL-caliber players, what should we expect?
No High-Profile Acquisitions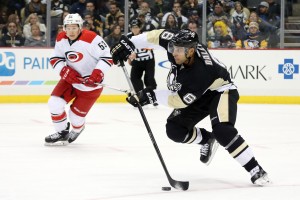 Like brick-and-mortar blockbuster video stores, blockbuster trades will be non-existent this season in Pittsburgh. The Penguins like what they have right now and won't run the risk of ruining a good thing. It would be hard to believe if you were reading this before the coaching change, but things are looking up in Pittsburgh following the moves that Rutherford has already completed.
The Trevor Daley acquisition has worked out surprisingly well and solved Pittsburgh's need for a top-four defenseman. The offloading of Rob Scuderi in that deal is underrated by some, mainly those that thought he could still contribute in a limited role. The end result of that move is Pittsburgh boasting a blue line that possesses the necessary skill set to deploy Mike Sullivan's system. No offense to Scuderi, but he simply couldn't get the job done.
Look for Rutherford to acquire a bottom-six forward that can contribute on the score sheet. P.A. Parenteau, despite his lack of speed, stands out to me. His 27 points this season would be a welcomed boost to a group that has struggled to chip-in offensively. Basically, if you're looking for a trade that ranks high on the Richter scale, you're going to be disappointed. If you like what you're seeing from the Penguins right now, like many of us do, this should be something to cheer about.
Ian Cole Will Be Traded
It's tough to imagine a huge market for Cole right now, especially since he has been relegated to press box duties over the last few weeks. However, there are teams out there that need a cap-friendly defenseman to man the blue line through a rebuild and Cole fits that mold. His $2.1 million against the cap would give teams that don't have a Derrick Pouliot waiting to supplant him a perfect third-pairing defenseman that has shown glimpses of being a skilled puck-mover.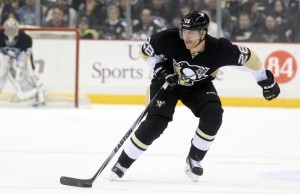 It pains me to think that Cole won't work out here, as he's a fantastic guy and showed a lot of promise last season after being acquired from St. Louis. However, he had plenty of time this season to find his game and simply couldn't make it work. Both Rutherford and Sullivan have stated that Pouliot's recall would likely be the last, as they weren't bringing him to the NHL until he was ready to stay. That doesn't bode well for Cole, especially considering that Ben Lovejoy seems to play well next to the young Pouliot, all but cementing his spot on the third pairing.
Barring injury, Cole is unlikely to see the ice down the stretch this season. If a deal presents itself that allows the Penguins to fill a need by including him, Rutherford will pull the trigger in a heartbeat. It won't be a blockbuster of course, but could he fetch a name like Parenteau, or even be part of a package that acquires someone like Tanner Pearson. Considering L.A's need for blue-line depth, I'd imagine it isn't out of the question.
Derrick Pouliot Will No Longer Be Untouchable
It's tough to predict that Pouliot will be moved, as the young defenseman has finally earned a spot in the NHL and is playing fairly well. Plus, as I've previously mentioned, he has assumed Cole's role on the blue line. However, the question remains as to whether or not the Penguins felt Pouliot was fully ready or maybe Cole simply left them with no choice. Cole struggled enough that the latter isn't that far-fetched.
It's clear that this staff has lost confidence in Pouliot and where his development will take him. Honestly, who could blame them? Outside of a few glimpses here and there of what he's capable of providing, he has been mostly underwhelming at the NHL level. Yes, he's still young, but he's at a pivotal point in his career and isn't showing the growth you'd like to see from a prospect with his pedigree. All of that tells me that this trade deadline, or even this coming summer, will be much different from last when Rutherford was unwilling to move Pouliot, no matter the return.
Thanks for reading. Follow me on Twitter at @Michael29Angelo for more conversation around the Pittsburgh Penguins and everything NHL.
Pittsburgh Penguins writer for TheHockeyWriters.Com and PittsburghHockeyNow.Com. Youth hockey coach, and student of the game.