The Pittsburgh Penguins have proved in recent weeks that they are indeed for real. Despite a multitude of injuries up front, they've continued an offensive onslaught under Head Coach Mike Sullivan.
Sidney Crosby has carried the torch with the help of Kris Letang and the Penguins are off and running, with their sights set on the post-season. This team can absolutely compete for the Stanley Cup as currently constructed but still, they're arguably one or two small pieces from being considered a Cup favorite.
Pittsburgh needs additional help on the blue line. I'm not inferring that they are a bad team defensively, as that simply isn't the case right now. However, Ben Lovejoy continues to play average at best, while Ian Cole has vanished to the press box to make way for Derrick Pouliot. So, adding another solid, defensive-minded blue-liner would benefit them greatly. Someone that could play alongside the likes of Kris Letang, Trevor Daley or Pouliot, all offensively minded individuals that need a responsible supporting cast. They have Brian Dumoulin and Olli Maatta to provide that stability but they're lacking a third pillar. The trade deadline could provide exactly that. There are also a few puck-movers available that could help this team, which we'll discuss but I see sound defensive play being high on Rutherford's want list.
Something that I've discussed in recent weeks, given the lack of production from Pittsburgh's bottom-six, is that the Penguins can really use a depth forward capable of contributing on the score sheet. Again, I don't feel that any move is absolutely necessary at this point but if a deal presents itself, they have to consider.
The names floating in the rumor mills vary from high-profile, blockbuster-style acquisitions to someone who would cost much less but still provide an upgrade over the struggling Cole, inconsistent Lovejoy and the wealth of AHL forwards currently on in the lineup. There are also a few names that aren't necessarily being tossed around but would make a lot of sense for the Penguins, especially up front. With Dustin Byfuglien officially locked up in Winnipeg and Dion Phaneuf traded to Ottawa, I'd expect some dominos to begin falling. The Penguins shouldn't be chasing the sexy, costly acquisitions that may be extremely tempting. Lets visit a few names that might fit the bill.
Justin Schultz – Defenseman, Edmonton Oilers
The eye test, according to many around the league, has concluded that Schultz is a bad defenseman. However, his underlying numbers tell a different story and his pedigree is something that's impossible to ignore. He's a 25-year old puck-mover with the potential to bloom given a change of scenery. Below is a comparison with Olli Maatta, courtesy of ownthepuck.blogspot.ca.
The two defensemen play very different games but their results, at least according to their rate states, aren't all that much different. When you consider that the Oilers are a bad possession team to begin with, his numbers begin to look even more impressive. You can use the drop-down boxes to compare him with others and I'll bet that he stacks up nicely next almost anyone in the same category, which is a fairly young defenseman capable of playing a second-to-third pairing role.
Schultz is far from a home run but as of right now, the Penguins don't need someone that's going to step in and change the world. His speed and offensive abilities could make this group even more dangerous than they are and would likely cost very little given his current reputation. Plus, he's a restricted free agent at season's end, so the Penguins would have total control over his future with the team.
P.A. Parenteau – Forward, Toronto Maple Leafs
Quite possibly the biggest need in Pittsburgh is bottom-six depth that can contribute on the score sheet. Parenteau is exactly that. He currently has 13 goals and 26 total points in Toronto, which would place him sixth on the Penguins in scoring. When you combine his output with his small cap hit of $1.5 million, it's a no-brainer.
Parenteau's name isn't one that you'll hear in the rumor mills right now but that will change as the deadline nears. Last summer, Toronto handed out plenty of one-year deals to depth forwards that would be valuable for contenders when the trade deadline rolls around and Parenteau is one of them. He isn't part of Toronto's long-term plans and with their season in a downward spiral, you can bank on them moving individuals like him for picks or prospects.
In his most recent ESPN Rumblings Blog, Pierre LeBrun discusses the fact that teams trading first and second round draft picks for rentals could be a thing of the past, based on his conversation with a Western Conference hockey exec. According to that executive…
There's no chance you're seeing first-round picks go out for rental players this year. 

Those days are over.
If that's the case, and the Penguins can get Parenteau for something like a third-round pick, it could be well worth the investment considering this team is very close to being considered a Cup favorite.
Tanner Pearson – Forward, Los Angeles Kings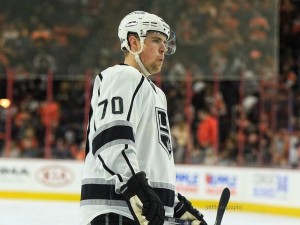 Similar to Parenteau, Pearson would be a huge addition to the Penguins bottom-six that has frequently consisted of AHL forwards as of late due to injuries. The 23-year old has six goals and 21 total points through 51 games so far this season and carries a cap-friendly salary of $1.4 million through 2017. The question on a lot of people's minds though, is why would the Kings trade him?
L.A. is stacked at left-wing and it seems they'd like to sign Milan Lucic past this season. In fact, Pearson found himself as a healthy scratch last night, which isn't necessarily a testament to his play, but rather the depth they have on the left side. There are no indications that Pearson's scratch in Boston has anything to do with an imminent trade but it has to be something the Kings are considering. Of course, the Penguins would have to find a fit for what L.A. needs, which is a defenseman.
The Kings were said to be front-runners for Dustin Byfuglien prior to his contract extension in Winnipeg. Now, they're left with a decision on whether they'll pursue other big names or simply look for blue line depth. It's tough to see a fitting deal with Pittsburgh but considering the trades we've seen in recently, nothing is impossible.
Kerby Rychel – Forward, Columbus Blue Jackets
This is a drum I'll continue to beat until the Blue Jackets either trade him or come out and say that he isn't available. Rychel possesses size and skill, with the willingness to mix it up when needed. He reminds me a bit of Patric Hornqvist, though he isn't quite at tenacious in front of the opponents' goaltender. He has nine points through 24 games at the NHL level this season and trumps almost anyone the Penguins have in their system right now at forward, with the exception of maybe Daniel Sprong. The 21-year old former first-rounder still has two more seasons remaining on his entry-level deal as well, which is obviously perfect for a cap team like Pittsburgh.
According to TheFourthPeriod.Com, Columbus is actively working the phones in order to make some changes to their lineup in what has been an extremely disappointing season. Rychel's name, along with Cam Atkinson and Scott Hartnell, continues to make the list of those that are available. It seems far too early for the Blue Jackets to give up on him but if they are looking to move him, Pittsburgh makes a lot of sense. Of course, there's the whole issue of division rivals not wanting to help each other but if both teams benefit, it isn't out of the question.
Brandon Pirri – Forward, Florida Panthers
Pirri's name circulated the rumor mills through recent weeks, with some around the league expecting the Panthers to include him in a deal for Andrew Ladd in Winnipeg. However, nothing concrete has come from those rumors and Pirri remains a Panther. If he's available, the Pittsburgh Penguins should definitely inquire.
Pirri has 24 points through 50 games-played so far this season and he's on pace to set a career high in that regard. Many have labeled him as streaky but his numbers are consistent with an effective third-line wing, which is exactly what Pittsburgh needs.
Similar to most names on this list, the Penguins will have contract control here as well, as Pirri is a restricted free agent at season's end. The Penguins are headed for an offseason that will require creativity in order to lock-up Olli Maatta, so inexpensive young forwards will be key. Guys like Pirri, Rychel, Pearson and even Schultz are names that could help both short-term and in the future.
I should also mention Dan Hamhuis as a possibility, though he strikes me as a bit too costly for a rental. A few other names that could be considered to fill the role of defensive minded blue-liner are John-Michael Liles and Ron Hainsey in Carolina or Roman Polak in Toronto. All three are rentals and could come at a price that's affordable for Pittsburgh but in Carolina, they have to decide if they can stay in the playoff race before selling off assets.
Thanks for reading. Follow me on Twitter at @Michael29Angelo for more conversation around the Pittsburgh Penguins and everything NHL.
Pittsburgh Penguins writer for TheHockeyWriters.Com and PittsburghHockeyNow.Com. Youth hockey coach, and student of the game.