The Pittsburgh Penguins and their front office staff, namely General Manager Jim Rutherford, gambled on a defensive corps that consisted of Kris Letang and then a lot of uncertainty.
Olli Maatta is as close to being a sure bet to succeed as any youngster in the league but still, from an injury standpoint, there's certainly reason to be concerned. From there, the Penguins were staffed with Ian Cole, Brian Dumoulin, Ben Lovejoy, Rob Scuderi and a cast of depth defensemen with very little to show for an NHL career.
I was in favor of this staff trusting the defensemen they had but just as Rutherford likely figured, I assumed that Derrick Pouliot was a sure bet for a top-four role this season. That was until he showed up for the team's prospect camp, which was followed by a rookie tournament in London, Ontario and looked both lackadaisical and out of shape.
The first question I had was simply, how is that possible after a summer's worth of training with Gary Roberts? Once I moved past the shocked stage I began to wonder, what will this team do with their blue line now?
Throughout the first three months of the 2015-16 campaign, the Penguins' defense struggled beyond what anyone had imagined. Analysts and fans alike looked at Pittsburgh as an okay defensive team due to their goals-against per game but the truth is, that was only due to Marc-Andre Fleury's brilliance. Maybe the most interesting piece of the story was that former head coach Mike Johnston was playing extremely conservative, with a focus on insulating his defense. Still, they struggled and ended up being a large reason for Pittsburgh's slow start this year. And, similar to most other aspects of the Penguins' game, their recent coaching change and a few roster moves made a major difference.
Changing of the Guard a Huge Boost for Pittsburgh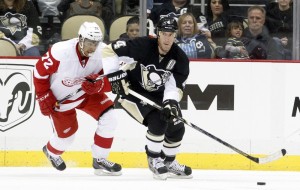 As it turns out, the fans and most media were correct in calling for a change when it came to veteran Rob Scuderi seeing the ice every night. Unfortunately, this was an idea that escaped Johnston during his stint this season and despite having multiple other options available to him, he continued to dress Scuderi. When Rutherford worked out a deal with Blackhawks' GM Stan Bowman to acquire Trevor Daley in exchange for Scuderi and $1 million in retained salary, it did wonders for this group. Of course, Johnston was already out of the picture, though barely, when this trade occurred but from a player utilization standpoint, I'm not sure it would have paid the dividends we've seen if he were still at the helm.
Recently, the Penguins recalled Derrick Pouliot after spending the entire season in Wilkes-Barre Scranton with Pittsburgh's AHL affiliate. It originally looked like a move to simply add bodies in the wake of a few key injuries but then Sullivan did something that has been quite rare in the Steel City. He scratched a struggling Ian Cole and infused the young Pouliot into the lineup in his place. Not only is he providing the youngster an ample opportunity to prove himself at the NHL level, he's also sending a message that the players performing the best will see the ice.
The biggest surprise so far this season, at least to many observers, is the strong play Pittsburgh is getting from Brian Dumoulin. However, I can't say I'm surprised and wrote about this very topic prior to the regular season for PensLabyrinth.Com. Dumoulin proved himself during last season's playoff exit at the hands of the New York Rangers. He's exactly the type of defenseman the Penguins need alongside offensively gifted individuals like Letang, Pouliot and Daley. I made a loose comparison in that article between Dumoulin and Cody Franson, mainly due to the buzz surrounding Franson in free agency. I wasn't implying that they are similar players but simply that Dumoulin was ready to offer similar quality of play. How does that comparison look now?
His offensive contributions likely won't increase much but one thing is for certain, the Penguins have themselves a very solid defender in the 24-year old, which they acquired as part of the Jordan Staal trade in 2012.
Goaltending Needs to Be Better Down the Stretch
I know what you're thinking already and trust me, I can't believe I typed the above heading either. However, the Penguins rank 21st in even-strength save-percentage from January 1st through today. They've played 12 games in that span and have allowed three or more goals in eight of those contests. And, though many will cite the fact that they're focused more on offense, which is leading to more scoring chances-against, it simply isn't true.
The Penguins are top-10 in scoring chances-against per 60 minutes since January 1st. They're ranked ninth to be exact. They're also 14th in the league in shots-against per 60 minutes, which is an improvement over where they stood during Johnston's stint this season. It's important to note that they are allowing the fifth most high-danger scoring chances-against per 60 minutes but in today's NHL, I don't put a ton of stock into that metric. Only three teams in the top-10 for goals scored in the league are also in the top-10 for high-danger scoring chances.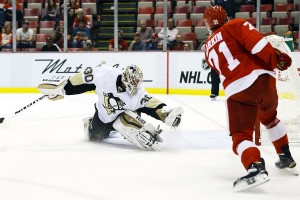 I want to be clear that I'm not bashing Fleury by any means and I'm also not necessarily concerned right now. Part of that save-percentage is Jeff Zatkoff as well and as I've said numerous times, the Penguins may want to consider bringing Matt Murray up for the next few months due to the demanding schedule and the fact that he gives them a better chance to win than Zatkoff. One thing is for sure though, the goaltending in Pittsburgh, which carried them through most of the 2015 portion of their schedule, hasn't played as well lately. They're going to need better performances over the next six-to-eight weeks.
Where do the Pittsburgh Penguins Go From Here?
Yesterday, I discussed the forwards group in Pittsburgh and the fact that they need to acquire a solid depth forward prior to the trade deadline at the end of this month. And, prior to the calendar flipping to 2016, I felt they needed a blockbuster in order to fix this defensive group. I don't necessarily feel that's the case anymore, though.
The previous metrics that I mentioned are a testament to how well this group has come together as of late. If there's a deal that doesn't impact their current lineup in a major way, it would be smart on Rutherford's part to acquire another solid defender for more injury insurance and if they happen to supplant Ben Lovejoy in the starting lineup, so be it. I like the idea of adding to this group but not at the cost of the recent play they've established. Would I like to see someone like Dustin Byfuglien in a Penguins jersey for the remainder of the season? Absolutely. TSN Insider Darren Dreger has stated that he sees a fit there as well.
https://twitter.com/NicholsOnHockey/status/694643676186746880
However, I don't think they're in a position to pull of a deal like that, nor do I think it's imperative that they try anymore. A solid bottom-four defenseman that isn't a liability with the puck on his stick but brings some physicality would be a great find. I'm not saying it's an easy thing to find, but something that would benefit the Penguins greatly. If they were to enter the playoffs with this current group, though, they still have a shot at going deep into the post-season.
Thanks for reading and of course, follow me on Twitter at @Michael29Angelo for round-the-clock hockey talk regarding the Penguins and everything NHL.